Though most people appreciate the tastiness of pork, not everyone is keen on chitterlings. These are pork intestines, renowned for their unique, rubbery chewiness, though sometimes, those from other animals may also be used. Chitterlings require a distinct cooking time to be considered safe to eat and to avoid exposure to yersiniosis. But you can learn how long is needed to properly cook chitterlings, and safety measures to follow before using them.
Chitterlings Nutrition Facts
Cleaning Chitterlings
Chitterlings are pretty hard to clean, especially if you purchase them raw. So, it's best to consider pre-cooked options for your recipes. Most butchers have this variety, and if you have some, they'll offer lesser risk to gem exposure.
But if you must buy raw chitterlings, knowing how to clean them properly is essential. And below are the steps to follow to properly clean them;
Ensure that everything you need to cook chitterlings is available and properly cleaned beforehand. And these include cutting boards, knives, seasonings, pans and pots, measuring cups, colanders, paper towels, and bleach.
Once the necessary materials are within reach, boil the chitterlings for five minutes to kill most of the germs, and drain them in a colander in the sink.
Soak the chitterlings in cold water, and check every piece for hair, straw, fecal matter, and undigested food. Keep the batch immersed in cold water throughout the observation period. Rinse the piece that needs such under running water in the sink, and transfer into another bowl of cold water for a few minutes.
If you notice an unclear color in the soak water, rinse the chitterlings out, and soak again in cleaner water. The water should be clearer after the soaking period before you commence cooking.
Once you're done cleaning, wash the materials and kitchen equipment used thoroughly with soap and water. Then, disinfect cutting surfaces and the kitchen floor with bleach.
Prepping Chitterlings
After the chitterlings have been thoroughly cleaned, tear or cut them into whatever size you prefer. Most prefer them in one-inch sizes, but you can make them larger or smaller. Remember to use thoroughly cleaned kitchen equipment before and after this purpose, so you don't expose the chitterlings to germs all over again. And if you're tearing them by hand, ensure to wash them vigorously with soap and water at both the start and end of prepping.
Seasoning Chitterlings
You can use any combination of seasonings for chitterlings, so the choice is quite extensive. Options for infusing flavor include black pepper, garlic, cayenne pepper, chili powder, paprika, red pepper flakes, and any type of seasoning salt. You can also select any herb including rosemary, thyme, coriander, cardamom, marjoram, sage, basil, parsley, and oregano.
Fresh spices and vegetables like jalapenos, bell peppers, chiles, and habanero can also be used. And ingredients like ginger, garlic, onions, shallots, celery, potatoes, leeks, and vinegar help mask the meat's strong odor with an appealing aroma. If you must use the latter ingredient, choose between apple cider or white vinegar.
View this post on Instagram

Cooking Time for Chitterlings
Different cooking methods can work for chitterlings, so consider the options listed below;
On the Stove
Chitterlings can be boiled or fried on the stovetop, and each method requires thorough cooking to ensure the meat is safe for eating.
Boiling- Combine the chitterlings with your preferred spices, herbs, and seasonings in a pan. Then, cover the pot and boil for three hours, drain the meat in a clean colander, and adjust the seasoning to taste.
Frying- You'll need to first boil chitterlings for three hours or more before frying to ensure they're safe for eating. Afterward, coat the pieces with batter, and fry to a crisp, golden color in three inches of oil. Then, season the fried chitterlings to taste and serve.
In the Oven
Clean the chitterlings as instructed and cut them into preferred sizes. Then, arrange them in a roasting pan, season with onions and preferred spices, and bake at 300F. Drain out the broth build-up in the pan as it cooks, but leave a bit for simmering. Drain the liquid when the chitterlings start to grow tender, adjust the seasoning and spices, and cook until it reaches the desired tenderness.
In a Crockpot
Ensure the chitterlings and cooking materials are thoroughly cleaned before proceeding. Then, cut to the desired size, and add the pieces into the slow cooker. Add the desired seasoning including onions or vinegar, stir to mix, and close the lid. Then, cook on HIGH for six hours.
In a Pressure Cooker
Start with cleaned chitterlings and cooking equipment. Then, add the cut chitterlings into the pot, followed by seasonings and your choice of aroma-changing ingredient. Add water or stock to the chitterlings, seal the lid, and cook at BEEF settings for 30 minutes on HIGH. After cooking, let the instant pot do a natural release, then vent the valve, open the lid, and serve.
Print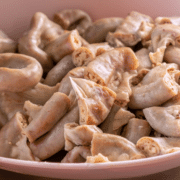 Fried Chitterlings (12 Servings)
---
10

pounds frozen chitterlings, thawed and thoroughly cleaned
One onion, chopped

Two teaspoons

of salt

One teaspoon

of minced garlic

One teaspoon

of crushed red pepper flakes.
---
Instructions
Ensure that all cooking surfaces and materials are sanitized after cleaning the chitterlings before cooking.
Put the chitterlings in a pot and add water, then let it reach a full boil.
Add the onions, garlic, salt, and red pepper flakes, reduce the heat to a simmer, and leave it for three to four hours.
Serve the chitterlings when they reach the desired tenderness.
You can also check this video for more ideas.