Carrots can be consumed either raw or cooked. Raw carrots are consumed as a snack or as an appetizer, and they are sliced, diced, or grated to be used in salads.
Notably, fresh carrots are frequently used in stir-fries, casseroles, quiches, omelets, soups, and stews. Carrots' sweet flavor also makes them a favorite ingredient in baking cakes, muffins, bread, and cookies.
Read on as you learn how to cook some fresh carrots, I also highlighted excellent tips and a recipe for your benefit.
Carrots Nutrition Facts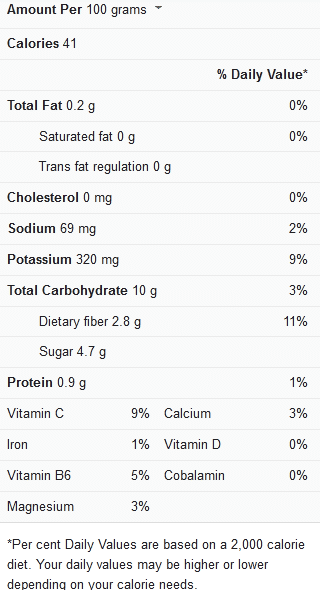 Tips on How to Cook Fresh Carrots
Selecting the carrots – When you are buying carrots, you should watch out for carrots that are uniform in color from top to bottom and have smooth and crack-free skin. Although the carrots may be slightly green at the crown, dark coloring at the crown signals that the carrots are going old.
When choosing carrots with their stems still attached, you should select those with vibrant greens. Make sure you avoid carrots that have sprouted, have blemishes, soft spots, or huge green regions at the head, and have gone floppy.
Clean the carrots – You should scrub carrots gently under cold running water to eliminate any dirt on the surface. Do not wash until you are ready to use it, keep the carrots unwashed.
Peel the carrots – If desired, you can also peel the carrots. You should get a vegetable peeler to cut small slices lengthwise from the surface until the entire surface is peeled. You should make sure you remove any unhealthy spots from the carrots by cutting them out with a little knife.
When peeled carrots are stored, they can develop a dry and white coating. They can be rehydrated by soaking in cold water for a short length of time, this should remove the white covering from the carrots and return them to their natural color.
Cutting the carrots – Carrots can be chopped into a variety of shapes and sizes. The manner in which the carrots are cut will be determined by their intended usage in recipes as well as a personal preference.
Storage – Wilting occurs when carrots are not adequately hydrated, therefore removing the green, leafy carrot tops is the first step in keeping carrots fresh for as long as possible.
The carrots should be stored and refrigerated in water. Even if you don't have access to a root cellar, you can keep carrots fresh by submerging them completely in cold water in a jar, large glass or plastic container, or tight plastic bag.
How to Cook Fresh Carrots – Notably, Carrots are eaten as a side dish on their own or in combination with other vegetables when cooked. And they can be prepared in a variety of ways, including boiling, steaming, sautéing, roasting, and grilling.
I am going to highlight a good guide for boiling fresh carrots. Once peeled and either sliced or kept whole, you can boil your fresh carrots according to these simple instructions:
Start with bringing a large pot of water to a boil. You need to make sure there is enough water to completely submerge the carrots.
Then return the saucepan of water to a boil and add the sliced carrots.
The sliced carrots should then be boiled for 4-5 minutes, baby carrots for 6-7 minutes, and entire carrots for 10-15 minutes. Depending on the thickness of the carrots, this time will vary somewhat.
When the carrots are fork-tender, that means they are done boiling. You can simply poke the carrots with a fork to see whether they are cooked through.
You need to drain the carrots in a colander in the sink or remove them from the saucepan of hot water with a slotted spoon. It is critical to drain as much water as possible from the surface of the carrots so that they are not mushy when served.
Serving – Notably, carrots have a lot of taste and don't require much in the way of additional seasonings before eating. Nonetheless, just before serving, you can add any of the following sweeteners to cooked carrots: pure maple syrup, honey, brown sugar, or coconut sugar.
You will find that a light drizzle of oil or melted butter, together with a pinch of salt, works wonders to bring out their natural taste. Dill, parsley, thyme, cilantro, chives, and green onions also go very nicely with the boiled carrots.
 

View this post on Instagram

 
How Long to Cook Fresh Carrots
| | | |
| --- | --- | --- |
| Preparation Time | Cooking Time | Total Time |
| 10 minutes | 30 minutes | 40 minutes |
Print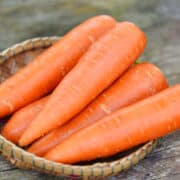 Roasted Carrots to Perfection (4 Servings)
---
2

pounds of fresh carrots

2 tablespoons

of extra-virgin olive oil

½ teaspoon

of fine sea salt
Freshly ground black pepper

2 teaspoons

of chopped fresh chives, green onions, parsley, or dill
---
Instructions
Preheat the oven to 400 degrees F. You should line a large rimmed baking sheet with parchment paper for easy cleanup.
Go ahead and peel your carrots and cut them on the diagonal so that each piece is approximately 12 inches thick at the widest point.
Then proceed to arrange the carrots on a baking pan, then add the olive oil, salt, and pepper to taste.
You can toss the carrots in the oil and seasonings until they are gently coated.
Make a single layer of them, then roast the carrots for 25 to 40 minutes – stirring midway – until caramelized on the edges and easily pierced with a fork. Notably, Heirloom carrots can be roasted in as little as 25 minutes, but normal carrots are denser and take 35 to 40 minutes to roast.
If you like, you can sprinkle fresh herbs over the cooked carrots.
The warm carrots can be served straight off the sheet pan or in a serving dish.
Notably, carrots can be stored in the refrigerator, covered and chilled, for 3 to 4 days. Before serving, gently reheat
If you want to make the honey butter version, you should melt the butter in your smallest saucepan over medium heat when the carrots are almost done roasting.
Cover the pan to avoid splatters and continue cooking, rotating the pan regularly, for about 2 minutes, until golden flecks appear at the bottom. Take the pan off the heat and add the honey. When the carrots are done, drizzle with the mixture and toss to coat.
You can watch this video recipe to know how to prepare and cook fresh beets from the garden.