If you're searching for a unique method to turn your next weeknight supper into something extra special, crab cakes should definitely be one of your top choices to try. Combining the right cooking instructions with appropriate ingredients will guarantee that you end up with amazing results.
In this article, we'll teach you how to cook crab cakes in the oven and all the right things to do in order to achieve tasty results. Also, pay close attention to our helpful tips and cooking guidelines to get the best out of your cooking.
Crab Cakes Nutrition Facts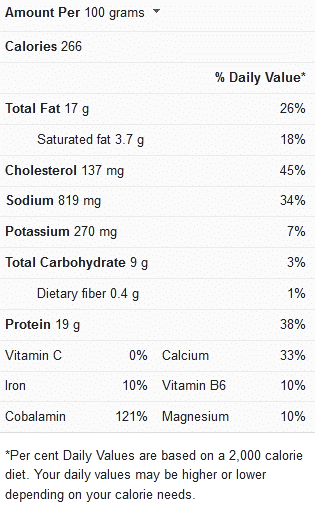 Tips for Cooking Crab Cakes in Oven
Cooking crab cakes in the oven results in a delicious meal option, but only if you follow the right cooking instructions. The following helpful tips and guidelines are necessary to keep in mind when cooking crab cakes in the oven:
The best crab meat to use – We recommend making use of lump crab meat or a combination of backfin meat and lump crab meat for the most ideal results with crab cake recipes (the same goes for crab dips). Lump crab meat ensures large, succulent chunks of crab in your resulting cakes. The rest of the ingredients you'll need for your recipe are reasonably priced, so don't worry much about this.
Things to look out for during your crab meat selection – Regardless of the crab type you use, look for "hand-selected" or "fresh-picked" crab meat, which indicates that the crab flesh has been sorted through for cartilage and shells. Carefully running your fingertips through the crab meat for any leftover fragments of hard cartilage is also recommended.
Canned, frozen, and fresh (refrigerated) crab meat are typically available at the market. Canned crab meat that hasn't been refrigerated doesn't offer the best taste for crab cakes. If you must use canned crab meat however, search for it in the refrigerated department of your local supermarket. The crab cake will typically taste so much better if the crab meat is fresh. Inquire with your grocer about where to get the best crab meat in the market that is as fresh as possible .
Use a good filler – Mayonnaise and egg are known to serve as binders, but crab cakes will typically still require a filling to ensure that they stay together when cooked. Cracker crumbs are the most popular crab cake filler. Bread crumbs are bland and overly gritty. You can smash the crackers with a rolling pin in a zipped-top bag, or you can use a large food processor or even a blender to make the crumbs.
View this post on Instagram
Cooking Time for Crab Cakes in Oven
The ideal cooking time for crab cakes in the oven has been described in the table below:
| | |
| --- | --- |
| Cooking Procedure | Cooking Time |
| Baking ½-cup-sized crab cakes in the oven at 450 degrees Fahrenheit | 12 to 14 minutes |
Print
Maryland Crab Cakes Recipe (6 Servings)
---
1

large egg

¼ cup

of mayonnaise

1 tablespoon

of chopped fresh parsley (or

2 teaspoons

of a dried variant)

2 teaspoons

of dijon mustard

2 teaspoons

of Worcestershire sauce

1 teaspoon

of Old Bay seasoning (If you want a spicier kick, use up to

1½ teaspoons

)

1 teaspoon

of fresh lemon juice, plus more for serving

⅛ teaspoon

of salt

1

pound of fresh crab meat

⅔ cup

of Saltine cracker crumbs (about

14

crackers)

2 tablespoons

of melted salted or unsalted butter (optional ingredient)
---
Instructions
In a large mixing bowl, combine the mayonnaise, egg, parsley, Worcestershire sauce, dijon mustard, lemon juice, Old Bay seasoning lemon, and salt. On top of the crab meat, sprinkle the cracker crumbs. Fold the mixture together gently and carefully using a spoon or rubber spatula. That crab meat must not be broken up, so be careful
Refrigerate the mixture for a minimum of 30 minutes or up to 1 whole day, ensure that the mixture is well covered during this period.
Preheat the oven to 450 degrees Fahrenheit (232 degrees Celsius). Using butter or a nonstick spray, lubricate a rimmed baking sheet generously, or line the sheet using a silicone baking mat.
Divide the crab cake mixture into six separate mounds on the baking sheet using a ½ cup-sized measuring cup. (Avoid flattening the mounds while you're forming them). Mold up each individual mound with a spoon or your hands so there are no chunks sticking out of it or falling apart. Afterward, brush each mound with some melted butter for added flavor. This isn't required in the recipe, but it's a good idea.
Bake the crab cakes for 12 to 14 minutes, or until the edges and top are lightly browned. Serve the crab cakes warm, and drizzled with fresh lemon juice.
Refrigerate any leftover crab cakes for up to five days or freeze them for up to 3 months.
This recipe for crab cakes yields delicious results and we definitely recommend that you try it out. The entire cooking time for this recipe is 55 minutes, including a prep time of 40 minutes and a cook time of 15 minutes.
If you'd like to see more recipe ideas or inspiration for crab cakes, we recommend that you check out this video recipe.
Notes
Instructions for freezing: The portioned unbaked crab cakes can be frozen for about 3 months. Afterwards, when you're ready to bake them, thaw them inside the refrigerator, then brush them with melted butter and bake according to the directions in the recipe you're following. Already baked crab cakes can also be frozen for up to three months, but they must be cooled first after cooking. Thaw the crab cakes before warming in a 350°F (177°C) oven for about 10 to 15 minutes or until they're thoroughly warmed. Alternatively, you could bake frozen crab cakes for 25 to 30 minutes at 350°F (177°C).
Ideal crab meat to use in your recipes: Fresh (stored in the fridge) lump crab meat is highly recommended.
For smaller-sized crab cakes: Split the mixture for the crab cakes into 12 ¼-cup sections for smaller crab cakes. Divide the crab cakes into 24 2-tablespoon parts for miniature crab cakes. Bake the crab cakes in the oven at the same temperature specified in the recipe above. For the smaller sizes however, the baking time will need to be reduced. Watch out for the tops and edges of the crab cakes getting gently browned, that's how you'll know they are ready.