This pan-fried bratwurst recipe yields a tender, juicy sausage with a crispy, flavorful crust and a legendary taste. Look no further if you're wondering how to fried bratwurst, trust me, this is the most effective method.
Cook the bratwurst in a pan over low heat until it's done, once it's fully browned and aromatic. That's it to pan-frying bratwurst.
Everything you need to know about pan-frying bratwurst like an expert is covered in this article. So read on and enjoy.
Bratwurst Nutrition Facts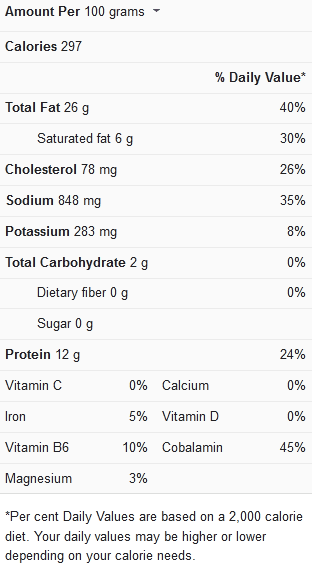 Tips on How to Cook Bratwurst in a Pan
You can get the best bratwurst cooking tips and methods all in one place.
Picking the right bratwurst – If you are looking for the best brats in your area, you can go to your neighborhood grocery store.
Don't be afraid to make your own bratwursts with your favorite sausages and other ingredients. If you have fresh uncooked brats, a nice grinder, and a sausage stuffer, you'll be able to produce great brats in the comfort of your own home. Homemade brats are always a hit, and everyone prefers them.
Butter – Notably, butter adds taste to most cuisine, and bratwurst isn't an exception. You can try using olive oil, vegetable oil, or maize oil, but none of them will match the flavor of genuine butter. One of the keys to the best-tasting bratwurst is to melt some butter.
After preheating the cast-iron skillet over high heat, you can add several tablespoons of butter. Then allow it to melt and turn a light brown color. If you are using an IR thermometer, the temperature should read between 325 and 350 degrees Fahrenheit.
Sear your brats in a pan – Bratwurst, like any other raw meat or sausage, will benefit immensely from searing. Notably, it will take on a lovely hue and a delectable flavor.
You can sear your brats for 3 minutes on each side until a rich golden brown hue has formed. If your cast iron pan was not overheated, the brats will not burst and it will remain completely fine.
Using a beer substitute in your cooking– 1 cup of beer is approximately 250 mL. You can substitute chicken or beef broth for the beer if you don't want to cook with it (the alcohol will simmer off).
How To Cook a Bratwurst in a Pan – Bratwurst should be seared first over high heat, then cooked to doneness, just like a fine steak. Notably, any sausage such as this or Italian sausage benefits greatly from searing.
You can follow this step-by-step guide to learn how to cook bratwurst in a pan.
First and foremost, preheat your large cast-iron skillet to medium-high to high heat. Once the pan is hot, you can add your bratwurst sausages. You should be able to hear a sizzling right away in the pan.
Proceed to cook for 5-6 minutes on each side. Turn your bratwurst to the next side every 5 or 6 minutes. This will be done on all four sides – you will have to consider the bratwurst to have three sides: top, bottom, left, and right.
Also, I enjoy slightly "burnt" brat casings. If you don't like your meat to be completely caramelized, either rotate at 3 minutes or cook at a lower heat. Note that if you wish to speed up the whole process, you can add 1 cup of water to the heated pan, cover, and cook for 5-10 minutes.
It is about time to check the internal temperature of your bratwursts after you have cooked each side for 5-6 minutes. This is an important step since uncooked brats can contain bacteria that can make you sick, so make sure you check.
Go on and insert your meat thermometer into the end of one of the bratwursts to correctly check the temperature. You are good to go if it reads at least 160 degrees Fahrenheit.
You can eat the bratwurst as soon as they are done cooking. I like to eat my bratwurst with a traditional hotdog bun or split-top hotdog buns, you can try it out too.
Do not poke the bratwurst; it will leak out its juices, and it could potentially cause melted fat to shoot you in the eye. So be careful with that. You should also let the bratwurst rest for two minutes after cooking it and before eating it.
View this post on Instagram

How Long to Cook Bratwurst in a Pan
It will take 15-20 minutes for an uncooked brat to brown evenly. Meanwhile, a pre-cooked brat will take about 10 minutes to cook. It is also critical to remember to flip the brats on both sides to ensure even browning.
So, depending on the sort of brat you're using, such as raw or pre-cooked, you can adjust the cooking time. To get fantastic brats, keep the oven temperature between 160 and 170 degrees Fahrenheit.
| | | |
| --- | --- | --- |
| Preparation Time | Cooking Time | Total Time |
| 5 minutes | 45 minutes | 50 minutes |
Print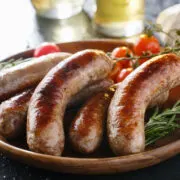 Pan-Fried Bratwurts (4 Servings)
---
---
Instructions
Start by placing the bratwursts in a frying pan set over medium heat.
I begin with a dry pan and then add a small amount of oil or butter, perhaps 1 tablespoon. You won't need much because the bratwursts have a lot of fat within.
While cooking, as the sides of the brats brown, you should rotate the sides in the pan. As my brats cook in the pan, I also usually cover them.
Notably, each of the "four" sides takes roughly 45 minutes to cook. The brats cook faster when the pan is covered because steam is generated when the pan is covered. While the side down is frying, this wet heat is cooking the other three sides.
You can check the bratwursts' internal temperature when it is about time. Check to see if the brat is cooked all the way through once it has been browned all the way around. The best way to do this is to check the core temperature with a thermometer. Notably, the internal temperature of the bratwurst should be between 160 and 165 degrees Fahrenheit.
Serve and enjoy when the bratwursts are done.
You can watch this video recipe to know how to cook bratwurst in a pan perfectly.