You absolutely love the tasty and crunchy milanesa steak, but you're trying to cut down on the carbs? Don't worry at all! There's a milanesa steak recipe that exists which excludes breading. It's a must-know for everyone who loves the delicious milanesa but wants to tweak up their version a little bit for a more healthy outcome.
Below, we have compiled the tips, guidelines, and cooking instructions that are absolutely necessary if you want a very satisfactory dish of milanesa— but without the breading part. Just ensure you pay enough attention and take notes where necessary and you'll discover these guidelines will be very handy for you.
Steak Nutrition Facts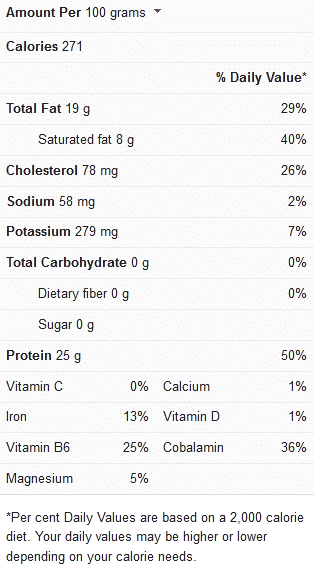 Tips for Cooking Milanesa Steak without Breading
What kind of meat to buy – when preparing your milanesa steak, keep in mind that you can make use of both pork and regular cow beef, as they're both healthy in their own ways. But if you want a low-fat diet, it's good to note that beef cuts are typically lower in total fat while low-fat pork chops contain more nutrients than beef cuts. So, it's your decision to make, don't just head for the meat that contains the most fat if you're trying to reduce the fat in your diet.
You can make salads – to add a little more spice to your meal, you can make a simple salad so your dish wouldn't be all steak and oil. If you want a healthier dish, add a salad to it using tomatoes, cucumbers, avocado, and whatever else you'd like to add.
Check temperature when cooking – since this particular recipe for milanesa streak excludes breading, you should be aware of the meat when they're in the pan. Since the slices of milanesa are very thin to the point that they're see-through, they have a higher chance of burning easily. So ensure that they're cooking at medium heat and not higher than that.
Preheat your pan – for better-tasting results with your steak, preheat your pan for two or three minutes to give the meat extra crispiness when they're ready.
Rest your milanesa – if it's not your first time cooking milanesa, you might already know that it's best to rest them when they're out of the pan. If it's your first time, take note. Resting your milanesa allows them to cool off a bit and helps them to still retain their flavor.
When resting your milanesa, place them on a clean paper towel, so they can be drained off of the oil they contain.
Defrost your meat – if your milanesa had been in the fridge before you started cooking, it's best to defrost your meat in the oven for about 5 minutes or so. Ensure that they're at room temperature before you start cooking them to ensure they cook faster and aren't tough when ready.
Caramelize your onions – slowly cooking your onions in hot oil will caramelize them, which brings out their sweetness and adds more flavor to your milanesa when they go into the pan.
You can make a torta – there are other ways to eat your milanesa steak if you find the traditional way too basic. You can make a torta with milanesa steak using either Italian bread, bolillo, everyday rolls, or basically any kind of bread you like. Just add your mayonnaise, the meat, some lettuce, tomatoes, and avocado, and you've just created a homemade torta.
Cooking Time for Milanesa Steak without Breading
Below are the basic and appropriate timing guidelines you should execute when cooking your milanesa steak without adding flour.
| | |
| --- | --- |
| Cooking procedure | Cooking time |
| Cooking milanesa on the stove at medium heat | 1 hour, 30 minutes |
Print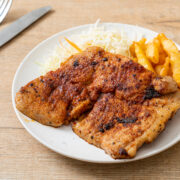 Milanesa Steak without breading Recipe (2 to 3 servings)
---
1

lb of thinly sliced beef or pork (

500 g

)

1

onion bulb

1 tsp

of pepper (to taste)

½ tsp

of salt (to taste)
Cooking oil (you can use vegetable oil or olive oil)

1

whole lettuce

3

to

4

medium tomatoes

2

medium avocados

2

cucumbers
Meat seasoning

2 cups

of milk
Mayonnaise
Italian bread or bolillos
---
Instructions
Dice half an onion and garlic, and mix this with your pepper and salt in a plate. Add your seasoning and pour all this mixture into the milk. Pour all of this into a blender and mix well until it all looks like milk.
Soak your meat slices in the milk mixture for one hour.
Cut up your tomatoes, cucumbers, and lettuce into 1-inch or half-inch slices.
After an hour, remove your meat from the milk and hold up to drain any excess milk on the meat.
Sprinkle the seasoning and pepper on the meat. Leave to marinate for 5 minutes.
Heat up your pan with some oil. When the pan is hot, add the milanesas to the pan. Fry in medium heat for about 10 minutes or until they're a beautiful golden brown color. Ensure you turn them over every once in a while.
When they're ready, shake off most of the oil on them and place them on a paper towel, to remove any lingering oil on the milanesas.
You can serve your milanesa steaks on a dish along with the lettuce, tomatoes, avocados and cucumbers. Or, you can make it as a torta, using the same ingredients. Just combine them with some mayonnaise in bread, and you have your delicious torta.
This recipe is healthy, tasty and very quick to make. It doesn't even take you up to two hours, and you're already done! It's amazing with salads, rice, beans or anything you'd be making in your kitchen, and your friends and family are sure to love it greatly.
Keep in mind that cooking milanesas without breading is very similar to the traditional way of cooking milanesa steaks, except the breading part, of course. You can cook this dish any time of the day and practically with your eyes closed, and it's sure to still turn out delicious.
If you want more ideas on how to cook your milanesa steaks without breading, make sure that you check out this video recipe.