Many people have diverse experiences with meatloaf recipes, ranging from dry and bland to delicate, flavorful bites covered with wonderful toppings. If you've ever been turned off by dry or flavorless meatloaf, we think it's time to revisit this timeless recipe, but this time with the best cooking strategies at your disposal.
In this article, we've compiled the best tips for the best results with meatloaf recipes, such that you'll always be guaranteed moist, flavorful results when you take a bite of your finished product. Also, make sure to remember and adhere to the timing guidelines.
Meatloaf Nutrition Facts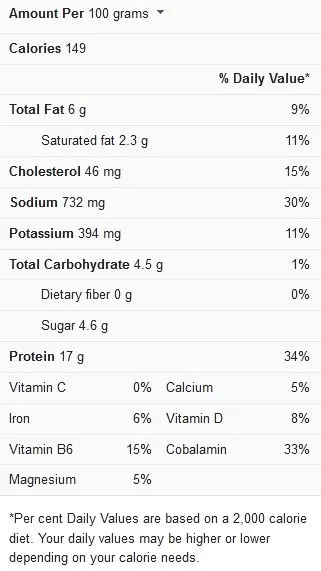 Tips for Cooking Meatloaf in the Oven
Below, we have compiled a number of tips that will always guarantee the best results when making a homemade meatloaf from scratch:
The ideal formula for a great meatloaf – Essentially, all meatloaf recipes begin with pretty much the same basic formula: 2 pounds of a ground meat kind and a "panade" composed of soaked bread or crackers. This panade, together with a few eggs, serves to hold the ground meat in place, as well as to add moisture to the combination. There's no need to worry about your meatloaf tasting like bread, but if the bread is missing, you'll notice it in the end results.
The right kind of meat – Meatloaf can be made using any kind of ground meat, including beef, veal, pork, or lamb. You may choose to use just a single type of meat or combine a number of different types to create a meatloaf with a variety of flavors and textures.
Many people prefer a 70/30 blend of beef (for flavor) and pork (for texture, as well as for its fatty richness). You'll typically need a little fat in your meatloaf mix to keep it from becoming dry and crumbly. You can opt for beef that is only 80 to 85 percent lean.
Incorporating veggies into the mix – A veggie mix of small chopped onions, celery and carrots is traditional, but you may also choose to use any one of your favorite vegetables instead: mushrooms, additional carrots, peas, or even broccoli are some examples to try. Regardless of the vegetables, you decide to use, what's important is to make sure they're cooked before adding them to the meatloaf mix so that they're tender and tasty instead of crunchy.
View this post on Instagram
Cooking Time for Meatloaf in Oven
The following timing guidelines will ensure the best results every time you make a meatloaf recipe:
| | |
| --- | --- |
| Cooking procedure | Cooking time |
| Cooking the veggies in a skillet | 6 to 8 minutes |
| Baking the meatloaf in the oven at 350 F | 55 to 60 minutes |
Print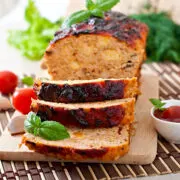 Meatloaf (10 Servings)
---
1 cup

of torn-up bread pieces, or

½ cup

of bread crumbs

½ cup

of whole or

2

% milk

1

small onion, diced small

1

small carrot, peeled and diced small

1

stalk of celery, diced into small bits

2

to

3

cloves garlic, minced

½ teaspoon

of dried thyme

1 tablespoon

of tomato paste

2

pounds of ground meat, such as beef, pork, veal, lamb, or a mix

2

large eggs, beaten

2 teaspoons

of Worcestershire sauce

1 teaspoon

of salt
Pepper, for taste

½ cup

of ketchup, bbq sauce, or any other sauce for coating (optional ingredient)

8 ounces

of bacon (optional ingredient)
---
Instructions
Preheat the oven to 350°F and place a rack in its bottom third. Aluminum foil should be used to line a rimmed baking sheet or any other baking dish while the oven is heating up.
In a small bowl, combine the pieces of bread with the milk. Allow this mixture to rest until the bread pieces have broken down into a thick porridge-like consistency; make sure to stir the mixture regularly and squeeze the bread against the bowl's sides. You can soak the bread with the crusts on or off; however if you choose to leave the crusts on, remove any large chunks that don't break down after soaking.
In a skillet, warm up a few teaspoons of olive oil over medium heat until it shimmers. Combine the diced onion bits, carrots, and celery in a large mixing bowl. Cook this mixture for 6 to 8 minutes, or until the onions are transparent and the carrots get softened. Reduce the heat as soon as the vegetables begin to brown. Stir in the garlic for about 30 seconds, or until it becomes fragrant. Afterward, stir in the herbs and tomato paste until thoroughly combined. Remove from the heat and set aside to cool.
In a large mixing bowl, combine the ground beef, beaten eggs, salt and pepper, Worcestershire sauce, cooked vegetables, as well as the soaked bread and milk. Working fast, blend the ingredients with your hands until they are barely mixed.
Move the meatloaf to a foil-lined baking sheet or in a baking dish and assemble it. Make a rough 9×5-inch loaf out of it. (If you choose to use a loaf pan, place the meatloaf mix in the pan and pat it down.)
¼ cup of the ketchup mixture should be spread over the meatloaf after arranging it (keep the remaining ¼ cup for later use). Alternatively, bacon slices could also be draped over the loaf.
Leave the meatloaf to bake in the oven for 45 minutes.
Cover the loaf with the remaining ¼ cup of ketchup that was reserved earlier. Bake the meatloaf for another 10 to 15 minutes, or until an instant-read thermometer in the center of the loaf registers at least 155°F (about 1 hour of cooking time in total).
Allow a period of 15 minutes at least for the loaf to cool before serving. Drain the liquid fat from the meatloaf if it was baked in a loaf pan before moving it to a clean chopping board. Serve by slicing into thick pieces.
This meatloaf recipe is delicious and most importantly, easy to adopt. When followed properly, the instructions will guide you to moist and flavorful results. If you need more recipe ideas for cooking meatloaf in the oven, then check out this video recipe for the best classic meatloaf.