Turkey bacon contains fewer calories and less fat than regular bacon. This is ideal for family and friends concerned about their heart health or lowering their cholesterol.
The potential of cooking turkey bacon in the oven is a game-changer! It's the most consistent way to make crispy, flawless bacon every time. After trying this approach, you will never go back to stove-top bacon.
Making turkey bacon or any other bacon in the oven is a quick and simple way to achieve crispy, tasty bacon. There's no need to stand over a sputtering, hot frying pan! Make bacon in the oven; the results are fantastic.
Turkey Bacon Nutrition Facts
Why Cook Turkey Bacon in Oven
Turkey bacon is believed to be lower in calories than regular bacon – pork bacon. The trouble is that turkey bacon doesn't seem to have that iconic, crisp bacon texture no matter how hard you try. Cooking it in the oven, on the other hand, drastically changes the game.
I have broken down the cooking times for you to customize this bacon recipe to your liking.
Preparing for a large group, a sheet pan of bacon may be ready in minutes, especially on busy mornings.
It's the quickest and easiest way to achieve flawlessly cooked turkey bacon consistently.
Cooking bacon in the oven requires very little attention, especially if you've done it a few times. This means you do not have to worry about paying too much attention to a hot pan of grease – hoping you don't leave the bacon in the pan for an extra 30 seconds.
Because the grease does not splatter as it does on the stove, there is no mess to clean up afterward.
Tips for Cooking Turkey Bacon in Oven
Before cooking, defrost the frozen bacon overnight in the refrigerator.
To add more flavor and taste to your turkey bacon, sprinkle one teaspoon to ½ tablespoon of black pepper on the turkey bacon before putting it in the oven.
Bake turkey bacon for 15 minutes at 400 degrees on a sheet pan. Whether you prefer chewy or crispy, add a bit more or less time. Flip the bacon pieces for extra crispiness when you are halfway through the cooking. To make clean-up easier for yourself, line the sheet pan with foil.
When making the bacon for the first time in the oven, keep an eye on it to certify it gets the crispiness you desire in your bacon. Take note of how long it takes, and you'll always get excellent bacon from the oven.
To bake bacon in the oven, I suggest placing it on a wire cooling rack on a rimmed baking sheet. In principle, this should result in crispier bacon, but I've found that bacon cooked without a rack is perfectly crispy.
Place your oven rack in the midpoint of the oven if you're only cooking one pan of bacon. This will ensure that the bacon cooks equally all around.
When the bacon reaches a nice golden brown color, it is done.
You may take the bacon out of the oven once it has acquired the right texture and crispiness for turkey bacon. Then, on a platter covered in paper towels, arrange pieces of turkey bacon and serve.
It may be crispier than it appears. My best advice is to take a chunk out and give it a taste test – be cautious since it will still be hot. But it cools down and gets crispier than it appears.
Turkey bacon does not curl while it cooks due to its decreased fat level, leaving you with perfectly straight strips of bacon. If you want the health advantages of turkey bacon but not the wavy texture, make firm ridges out of a piece of heavy-duty aluminum foil and place it beneath the turkey bacon in the oven. As the bacon strips bake, they will retain the shape of the ridges, giving them that distinct wavy texture.
Uncooked bacon can be frozen for up to 3-6 months. Place the uncooked bacon in a zip-top bag, squeeze out any excess air, and seal before freezing.
View this post on Instagram

How to Cook Turkey Bacon in Oven
This method for cooking ideal crispy bacon is quick, simple, and mess-free. It's great for breakfast, but it's also great in salads, sandwiches, and soups.
Step 1: Start by preheating the oven to 400 degrees Fahrenheit.
Step 2: Spray a cookie sheet with cooking spray and line it with parchment paper (PAM).
Step 3: Make sure the bacon does not overlap on the baking pan – you might need to do two batches.
Step 4: Season with black pepper to taste.
Step 5: Place in the oven for 12 minutes, then watch it until it reaches the desired crispiness. I usually keep it in for 15 minutes.
Step 6: Remove the bacon from the oven and place it on a platter lined with paper towels to drain.
Cooking Time
The cook time is determined by the thickness of the bacon and how thoroughly you prefer your bacon cooked. After around 12 minutes in the oven, or 10 minutes if your bacon is thinly sliced, I recommend checking on it. Bacon may quickly go from perfectly crispy to burnt, so keep an eye on it as the baking time approaches.
Bacon
Temperature
Time
Floppy Bacon
400 degree F
10 – 12 minutes
Crispy Bacon
400 degree F
18 – 20 minutes
Print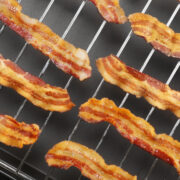 Cooking Bacon in the Oven (8 Servings)
---
---
Instructions
Preheat the oven to 400°F.
Line a rimmed baking sheet (for easier clean-up). To keep the bacon grease contained, fold the edges of the foil up a little.
Place the bacon slices on the foil in a single layer.
Bake for 12-20 minutes, or until bacon is cooked to your preference. (Thicker bacon takes longer to cook, but thinner bacon cooks faster.)
Start checking on the bacon at 12 minutes and keep an eye on it as it gets closer to the conclusion of the cooking time because it can easily go from crisp to charred.
Place the cooked bacon on a paper towel-lined dish to absorb extra fat. Serve.
You can watch this video recipe to cook turkey bacon in the oven.