The air fryer is fantastic for many reasons, one of the most favorite ones being that it helps you avoid deep frying food items in oil, thus lowering the total fat and calorie content of the resulting meal.
When it comes to fish-based recipes, in particular, the air fryer ensures a nutritious meal all the way through, especially if you choose to skip the breading and the added calories that it introduces into fried foods. The popularly craved crispy exterior is still guaranteed with this cooking method, but the result is a lot healthier.
In this article, we'll teach you how to cook fish in the air fryer without breading and still achieve a delicious crispy quality in the results. Also, look out for our helpful tips and suggestions so that you can get the best out of your recipe.
Fish Nutrition Facts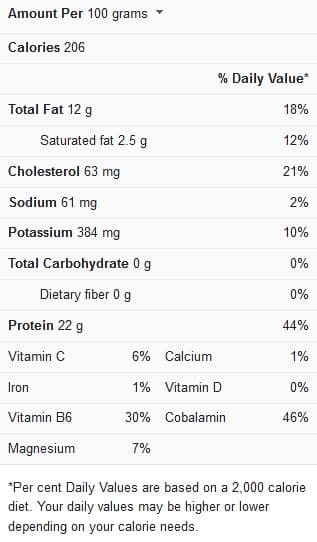 Tips for Cooking Fish in Air Fryer with No Breading
We have compiled many helpful tips below to guide you through the process of cooking fish without breading in an air fryer, so pay close attention:
Use perforated air fryer liners – There will be no sticking and simple clean-up if you use perforated parchment paper within your air fryer during the cooking process. This is why parchment paper or baking sheets are really useful. They make it a lot simpler to remove fragile fish from the air fryer without the fish getting stuck or broken in the process.
The perforations on the air fryer liners also allow air to circulate and produce more uniform cooking. They are also quite simple to use, with various sizes available. It's thus important to choose the right size that fits your air fryer basket perfectly.
Determining doneness – The best way to check if fish is done would be to use a fork; it should easily flake and be opaque. In addition, you can also try using a meat thermometer; it should read 145 degrees F / 63 degrees C when you check the internal temperature of the fish. The length of time it takes to cook a fish typically depends on its thickness, but with a meat thermometer, you'll be able to know for sure.
Explore some recipe variations – With air fryer fish recipes, there are so many options to explore. Try some of these if you're feeling adventurous:
Switch up the fish: You can use a different fish kind if you want; some kinds to try include cod, tilapia, halibut, catfish, Pollock, or whatever kind you like.
Try some tacos: You can make air fryer fish tacos by cooking the fish specified in your preferred recipe, then slicing it and adding it to taco shells with some salsa, shredded cabbage, sour cream, avocado, and other toppings.
Explore other seasoning ideas: Try using some salt and pepper or Old Bay Seasoning. You could also combine some creole seasoning with a pinch of red pepper flakes or cayenne pepper for extra heat. You could also toss in some black pepper and onion powder. You may also easily make any of your favorite homemade seasonings.
Whatever you decide to try, your recipe will come out with wonderful flavors, especially if you introduce the seasonings in the right proportion.
View this post on Instagram

Cooking Time for Fish in Air Fryer with No Breading
The following timing guide in the table below is ideal for cooking fish without breading in an air fryer:
Cooking Procedure
Cooking Time
Cooking fish in the air fryer at 360 degrees Fahrenheit
6 to 12 minutes
Print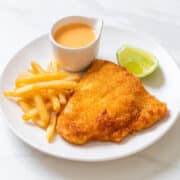 Air Fryer Healthy White Fish with Garlic and Lemon (2 Servings)
---
12 ounces

of tilapia fillets or other white fish (2 filets, each about

6 ounces

)

½ teaspoon

of garlic powder

½ teaspoon

of lemon pepper seasoning

½ teaspoon

of onion powder, optional
Kosher salt or sea salt, to taste
Fresh cracked black pepper, to taste
Fresh chopped parsley
Lemon wedges
---
Instructions
Heat the Air Fryer to a minimum temperature of 360 degrees Fahrenheit, and leave it to preheat for about 5 minutes. In the meantime, clean the fish filets by rinsing them and drying them. Afterward, sprinkle some onion powder, lemon pepper, garlic powder, salt, and pepper after spraying or coating with olive oil spray. Repeat the process on the flip part of the filets.
Place the perforated air fryer baking parchment into the air fryer's base to aid sticking. Spray the paper lightly. (If a liner is not available, spray the bottom of the air fryer's basket with sufficient olive oil spray to keep the fillet from getting stuck)
Atop the baking paper, arrange the seasoned fish. Next to the fish, place a few lemon wedges.
At 360°F, air fry the fish for 6 to 12 minutes, or until you can flake the fish with a fork. The length of time it will take to cook the fish in the air fryer typically depends on the thickness of the filets you're working with, how cold they are, and your personal preference.
(optional) Serve warm, garnished with chopped fresh parsley and toasted lemon wedges.
With the air fryer, there are a lot of possibilities with fish recipes in particular. Feel free to explore with your preferred spices and air fry whatever form of fish you like. Just keep the necessary cooking guidelines and helpful tips in mind to arrive at desirable results.
If you'd like some more inspiration or ideas for cooking fish in the air fryer without breading, we recommend checking out this video recipe.
Notes
Reducing the cooking time by some minutes may be necessary if the air fryer is already heated or if cooking many batches (except if preheating is required in the recipe you're following).
Add a few minutes to the cooking time if you're preparing a fish with a thicker quality, such as halibut or cod.
Perforated parchment or baking paper was used in the air fryer for this recipe to keep the fish from clinging to the basket and breaking as a result.