If you're a fish skeptic, halibut in a pan might be the recipe to convert you. Pan-fried halibut may seem like a high-end restaurant-style dish, but it's quite simple to prepare. It'll typically be ready in about 5 minutes of prep time and 15 minutes of cooking time. It will also taste delicious, especially when prepared with the correct ingredients, and be a nutritious dinner.
Here, we'll teach you how to cook halibut in a pan for the best results. Also, watch out for tips, instructions, and timing guidelines that help you get flavorful results.
Tips for Cooking Halibut in a Pan
The following tips can help you arrive at the best out of pan-fried halibut recipes:
What to expect with pan-seared halibut recipes -Essentially, a simple and inexpensive white fish with butter sauce recipe is what pan-seared halibut with lemon offers.
In terms of flavor, halibut cooks rapidly and has a sweet, mild flavor, similar to most white fish. The halibut's flavor is elevated with the introduction of ingredients such as butter, Lemon, garlic, parsley, salt, and herbs, but at the same time, it remains neutral enough to mix with a range of side dishes.
Halibut should have a light, flaky, and juicy texture. When it comes to maintaining the most halibut fillets, the lemon juice-infused buttery sauce works wonders.
If using parsley – In most supermarkets, there are two types of parsley to choose from. Make sure you get flat-leaf Italian parsley if you're going to use it to season your halibut. Curly parsley possesses a milder flavor and is mostly used as a garnish.
Use lemon juice – Lemon juice keeps the fish supple while also bringing out its best taste. When it comes to flavoring white fish with this zesty fruit, you can't go wrong, so it's always a recommended ingredient in halibut-based recipes.
Pat your fillets – Remove as much moisture from the fillets as you can before you begin to cook them. This will definitely assist in the formation of a lovely crust on the fish and prevent oil from escaping from the pan.
Handle your fish fillets with extreme care – Because halibut is so delicate, be extra careful while flipping it and make sure it's been on the stove long enough to produce a lovely crust. To make the process even easier, it is recommended that you use a fish spatula.
Each fillet should only need to be flipped once. The more you toil with it, the more it will crumble while cooking, so take note of this.
Ideal timing – Once you've placed the fish in the heated pan, it should only take about 3 to 4 minutes for the halibut fillets to cook on the first side, plus an extra 2 to 3 minutes on the second side. To avoid the fish developing a rubbery quality, remove it from the pan as soon as it's done cooking.
Always check the internal temperature – Check the internal temperature of your halibut with a thermometer to remove any guessing. The internal temperature should be 118°F, ideally.
Storage and reheating tips – Take note of the following instructions when storing cooked halibut:
To refrigerate your halibut: Keep your halibut refrigerated in an airtight container. It will last three days in the refrigerator.
To freeze your halibut: Place your cooked halibut fillets in one single layer on a baking pan to freeze. Put the baking sheet in the freezer as a whole. Transfer frozen fillets to freezer-safe plastic bags in portions.
View this post on Instagram

Cooking Time for Halibut in a Pan
Ideally, the timing guidelines in the table below should be adhered to when cooking halibut in a pan:
Cooking Procedure
Cooking Time
Pan-searing halibut fillets
3 to 4 minutes per side
Print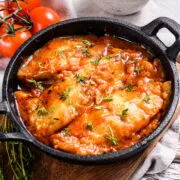 Pan-seared Halibut with Lemon Butter Sauce (4 Servings)
---
For the Lemon Butter Sauce
---
Instructions
Blot the halibut fillets dry with paper towels to promote equal browning. Paprika, garlic powder, black pepper, and sea salt should be sprinkled on both sides of the fish. After doing this, set the halibut fillets aside.
Heat the olive oil over a medium-high heat level for about 2 minutes in a large skillet.
Place the halibut fillets in a uniform layer (if all of the fish fillets won't fit in one single layer, you can cook them in batches). Sear the halibut fillets for 3 to 4 minutes, without moving them, until the edges are opaque. Cook them for another 2 to 4 minutes on the other side until cooked through.
Remove the fillets from the pan and wrap them tightly in foil to keep the fish warm.
Squeeze the lemon juice from both halves of the Lemon into the pan using a lemon squeezer. Bring this juice to a simmer, then decrease to low heat and continue to cook for 3 to 4 minutes, making sure to stir frequently, until the volume has been reduced by half. Even so, the lemon butter sauce will have a thin consistency.
Using a pastry brush, smear a bit of lemon butter sauce over each dish containing the halibuts. Place the pan-seared halibut fillets on the sauce and drizzle with additional sauce.
This recipe for pan-seared halibut results in delicious and flavorful fish, and it's also a healthy meal option. The total cooking time for this recipe is 15 minutes, including a prep time of 5 minutes and a cook time of 10 minutes.
The lemon butter sauce also makes for a delicious accompaniment to the pan-seared halibut fillets, and we're sure you and your loved ones will enjoy it. If you need more recipe ideas for cooking halibut in a pan, watch this recipe.