Burgers should be one of the most popular foods cheap, delicious, and easy to make at home. We all know that making burgers is always related to a grill or associated with cookouts. Still, burgers are made in so many ways, and cooking a burger in an oven is another way of making juicy and delicious burgers.
Apart from the ingredients, the temperature and time are important factors to consider when making a burger recipe; cooking a burger at 450°f is one of the acceptable safe temperatures to cook at, and as for the time it takes to cook a Burger at that temperature, it depends on your recipe. Still, I'll be giving you a guideline to know the estimated time for cooking a burger, but first, let's look at some great tips to note when cooking burgers.
Burgers Nutrition Facts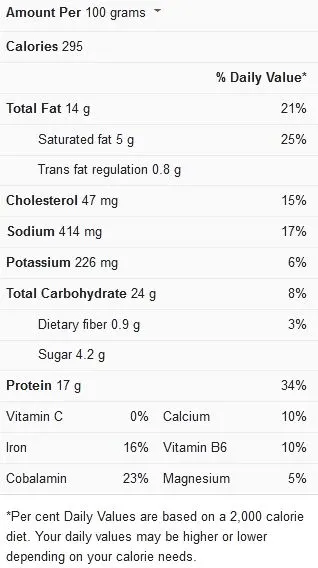 Tips for Making the Most Delicious Burger Recipe
To get a tasty and juicy result, you should try some of these tips when making a burger recipe:
Get the right meat cut- the type of meat you buy is important for the texture of your burgers; using high-quality meat that would make your burgers moist is important, like brisket, short rib, and chuck. They are all good meat cuts to use for your burger recipe.
Do not pack too much meat for your patties- for you to achieve that juicy texture for your burgers, avoid using too much meat when making your patties, instead make a thinner patty of around 4-5 ounces, this not only allows you to get a juicy burger but it becomes easier to cook. Try using one pound of meat to make four patties and 2 pounds of meat to make eight patties.
Add some butter to your buns- adding butter on your buns before and even after your grill or baking them adds a bit of sweet toasted flavor to your burger. For the best bun option for burgers, try using a softer bun like challah or brioche roll. To toast your bun, place them on a baking sheet and toast in an oven for 2 to 3 minutes.
Press thumb the patties when shaping them- pressing your thumb into the uncooked patties would help give them a good shape once cooked. Most burgers tend to swell up when it is cooked, so when you make an indentation with your thumb in the center of your party, once the patty is being cooked, the mark would disappear and leave you with a fine flat-shaped patty that isn't shrunk up too.
Use the right Crisp lettuce and meaty tomato- lettuce and tomato are the basic vegetables in burgers. To get a good burger's full flavor and texture, use crispy lettuce and meaty tomato like the San Marzano. Also, remember to place them correctly with the lettuce underneath the patty and the tomato above; this arrangement allows the juices of the tomato to mix with the patty and the lettuce underneath prevents the juices from entering the bun.
Place the pan after pre-heating the oven- placing the pan in the pre-heated oven and leaving it for 5 minutes before removing it and placing your patties makes the patties lock their juices nicely when it is finally placed on the pan. Don't forget to spray the pan with a nonstick cooking spray before cooking.
Cover your burgers with aluminum foil- this helps with retaining and locking the moisture in the patty, which would result in a juicy burger. Another use of aluminum foil in baking burger patties is to reduce the mess on the baking sheet when placed below the patties.
Use a rack to separate the fat from the meat for a low-fat burger recipe- placing a rack over a baking sheet lined with aluminum foil would help separate the patties from the drippings and fat produced when cooking.
View this post on Instagram
Cooking Time for Burgers in an Oven at 450
The time estimated for burgers to cook at 450 degrees in an oven has been described in the table below:
| | |
| --- | --- |
| Cooking procedure | Cooking time |
| Cooking burgers in an oven at 450° F | 10-11 minutes on each side |
Print
Oven-baked burgers (6 servings)
---
---
Instructions
Start by heating your oven to 450° F.
In a large bowl, put in your ground beef with the steak sauce, garlic powder, Worcestershire sauce, salt, black pepper, and cayenne pepper then blend thoroughly until it is evenly mixed.
Next, you'd want to put on your gloves or wash your hands again and start shaping your patties into 6 equal flat circles, remember to make an indentation in the middle to avoid swelling when it is being cooked.
Place your baking sheet in for 5 minutes before removing it then start laying the fresh patties on the pan. You could do this method or sear the patties on both sides on a heated oven safe-skillet or grill pan on a stovetop for like 2-3 minutes, either if this method would help brown the patties and lock the moisture.
Take the baking sheet with the patties on them and place it in the oven, bake each side for about 10 minutes or longer until you reach the recommended safe internal food temperature of at least 160° F.
After baking the patties, bring them out and place your cheese on top of it then place the baking sheet back in the oven for like 20 seconds so it melts properly on the meat, this part depends on how much you want your cheese to melt.
Once you've melted your cheese, bring it out of the oven and arrange them on your bun with your toppings like tomato and lettuce (feel free to use any other topping and condiments of your choice).
If you'd still want more ideas on how to use an oven to make a burger recipe you should check out this video recipe