We all love burgers, and there's no doubt about it. And proof of this fact is evident in the tons of burger varieties available. But not all burgers cook the same way, even when using this method. So it's why you'll be pleased to find these varying cooking times for different types of air fryer burger recipes.
Burgers Nutrition Facts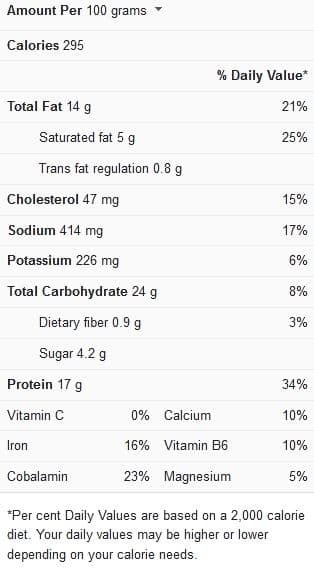 Making Burgers Patties
Most burger patties contain similar spices, including paprika, black pepper, and salt. And minced garlic, onions, or even finely chopped fresh peppers can be added to the mix. You'll also find popular options like cumin, chili powder, Cajun seasoning, Worcestershire sauce, or soy sauce in the mix. And after cooking, a rich slather of BBQ sauce can come with juicy patties.
Eggs, cheese, or breadcrumbs offer a structure base in burger patties. And mayo, harissa paste, or aromatic purees can be included to contribute moisture. But vegan options replace the eggs with flaxseeds and vegan cheese. And the patties are usually kept at a half-inch thickness maximum, so they'll cook better in an air fryer.
Beef Burgers: Mix the ground beef with seasonings and spice in a bowl, not over-handling the meat. Then, divide the ground beef and mold into patties of desired thickness. Then, sort the patties in the air fryer basket and cook at 400F for six minutes. Then, turn the patties and cook for another three to five minutes. The burgers are ready when they reach 160F. If you're making cheeseburgers, add the cheese atop the patties at the last 30 seconds, and extend the cooking time by another half a minute.
 

View this post on Instagram

 

Chicken Burgers: Combine the ground chicken with seasonings, spices, and minced aromatics, and gently fold the mixture. Then, form the patties and arrange them in the air fryer basket. Cook the chicken patties for eight to 10 minutes at 350F, then assemble on your buns as preferred.
Black Bean Burgers: First, black beans are baked in a 350F oven for 10 to 12 minutes to dry them out slightly. Then, they're cooled, roughly mashed, and mixed with spices, sautéed aromatics, and vegetables. Then, they're formed into patties, chilled till needed, and cooked directly from the fridge in a 400F air fryer for six minutes, flipping them halfway through the time.
Turkey Burgers: Mix the ground turkey with your selected spices and seasonings in a bowl, gently folding it to mix. Form the patties to desired thickness and arrange them in the air fryer basket when that's done. Then, cook the turkey patties for 15 minutes at 350F, ensuring turning them half the time. Set the burgers down when the internal temperature reads 165F.
Portobello Mushroom Burgers: The Portobello mushrooms need to be first marinated for two hours to infuse flavor. Then, they're breaded and air-fried at 350F for 15 minutes to achieve a crisp but tender texture. The mushrooms may cook faster than expected, so check for doneness half the time. Then, they're topped as desired and served.
Pork Burgers: Mix the burger ingredients in a bowl and gently fold the spices and seasonings into the meat. Then, divide the ground pork and shape them into individual patties. Then, sort the patties in the air fryer basket and cook the burgers for five minutes per side at 350F. Remember that pork must reach internal doneness of 165F, so check for this with a meat thermometer before setting them down.
 

View this post on Instagram

 

Lamb Burgers: Mix ground lamb with your chosen ingredients and gently mix till it's even. Then, shape the mince into patties and arrange them in an air fryer basket. Cook the patties for 18 minutes at 350F until the lamb reaches 160F.
Salmon Burgers: These types need to cook for 12 to 14 minutes at 400F. The patties are first formed by combining wild salmon with aromatics, spices, and a binder of your choosing. Then, they're laid in the basket, cooked to doneness, and served as desired.
Beyond Burgers: The air fryer needs to heat to 400F, and the Beyond Burger patties are lightly coated with fat-free cooking spray. Then, they're arranged in the basket and cooked for eight minutes, flipping about two to three times, so the patties evenly cook.
 

View this post on Instagram

 

More Tips
Always ensure the patties are evenly sized, so they'll cook simultaneously.
Start the patties on a greased basket so they don't stick to the grates as they cook.
Keep a meat thermometer for meat-based burgers so that you can tell the correct doneness.
Toppings like onions and bell peppers taste better after a brief sauté in olive oil.
Ensure the patties are properly spaced in the basket when cooking them. And if your air fryer isn't big enough to take all of them, cook the patties in batches.
You can use a burger press to form the patties, so you don't have to warm them with your hands.
Always mix meat burgers chilled from the fridge to form the patties evenly. You can also keep any formed burger patties in the fridge for later use, and they'll hold for four days or freeze for one month.
Print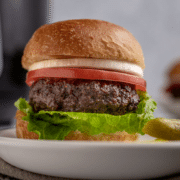 Air Fryer Hamburgers (4 Servings)
---
One pound ground beef, 80/20

½ teaspoon

pepper

½ teaspoon

onion powder

½ teaspoon

salt

¼ teaspoon

garlic powder
---
Instructions
Gently mix the ground beef with the seasonings and salt in a bowl, then chill in the fridge for a few minutes to one hour.
Take the bowl out, divide the ground beef into four parts, and gently form the patties to half-inch thickness. Then, imprint a small dent in the middle of each patty using your thumb.
Grease the air fryer basket with non-stick spray, and arrange the patties in it, ensuring they're evenly spaced. And if they aren't, cook the patties in batches.
Air fry the beef burgers for six minutes, turn them over and cook for another three to five minutes. Poke a meat thermometer at the burgers' side till the probe reaches the middle, and confirm if it's cooked to 160F.
Serve with your desired toppings on burger buns.
You can also find more help in this video.