You should consider using your air fryer the next time you crave a restaurant-style hamburger. What you'll get is juicy, delicious hamburgers cooked to satisfactory perfection right in the comfort of your own home. These hamburgers are extremely quick and simple to prepare and maybe cooked satisfactorily with only a little effort.
If this is a recipe you want to try, then follow the instructions we have outlined in this article. It's also important that you pay attention to all the tips and cooking guidelines that we have provided in this article, as they're necessary to achieve great results.
Hamburger Patty Nutrition Facts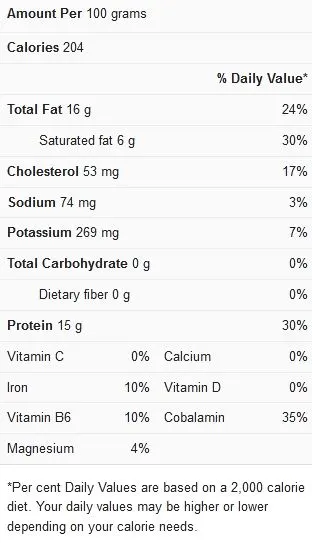 Tips for Cooking Hamburger Patty in Air Fryer
We have outlined the following tips to help you scale through the cooking process for hamburger patties in an air fryer, so we advise that you pay attention:
Necessary cooking ingredients – The ingredients you'll typically need to make hamburger patty recipes in an air fryer have been described below:
Beef: Using fresh ground beef is a popular option, just like you'll find out when you make your own favorite hamburger recipe. The correct amount of fat in an 80/20 blend keeps the patties moist without too much greasy fat running off the patties. You may also choose to make turkey burgers with ground turkey.
Seasoning: Ideally, you should season the hamburger patties with salt and pepper, as well as a pinch of garlic and onion powder. Because you may not have enough time to prepare fresh onion and garlic, you can as well use powders in your recipe. Alternatively, you can try other delicious hamburger seasoning varieties.
BBQ Sauce: This is pretty much an optional ingredient; however, if you choose to use it, you'll find that it aids caramelization and tastes delicious in hamburger patties. You may choose to make your barbecue sauce from scratch, but if you choose store-bought variations, you'll definitely find some really delicious options.
View this post on Instagram

How to time your cooking – If you're not familiar with your air fryer machine, the timing could be a bit of a challenge. The thickness of your hamburger patties, as well as the brand of your air fryer, will typically be part of the determinants of how long the cooking process will last.
Ideally, you should start cooking for about 10 minutes and then work your way from there. You'll need to reduce the overall cook time for thinner air-fried burger patties. Conversely, increase the cooking time for thicker ones, beginning with a few minutes.
The ideal temperature to employ – At 350 degrees Fahrenheit / 180 degrees Celsius, you'll arrive at the right temperature to air fry hamburgers. Keep in mind that the cooking time will be determined by the thickness of the burgers.
Different doneness degrees to work towards – Degrees of doneness for hamburgers in an air fryer is a measurement of how well the meat has been cooked based on color and internal temperature.
To check the temperature, always make sure to use a meat thermometer. Rare, medium-rare, medium, medium well, and well done are standard gradations for hamburger patties, so these are the doneness degrees you should be working towards:
Rare: For rare hamburger patties, expect a cold red core with an interior temperature of 52 degrees Celsius (125F).
Medium-rare: At this doneness level, the patties will have a warm red center with an interior temperature of 57°C (135F).
Medium: At this degree of doneness, the patties have a 63°C internal temperature with a warm pink center (145F).
Medium-Well: This level of doneness means the patties have an internal temperature of 66°C, as well as a slightly pink center (150F).
Well-done: With an internal temperature of 71°C, a burger that is well done will have a very little pink color or no pink at all (160F).
Storage and reheating tips – Follow the instructions below:
To make ahead: Prepare your patties ahead of time by assembling the burgers and storing them in the refrigerator until you need them.
To store in the refrigerator: Keep the patties refrigerated for up to 3 days in an airtight container.
To reheat: Cooked burger patties can be reheated using your air fryer. Simply heat it up to 350°F/180°C, then warm the cooked patties for 3 to 4 minutes, or until they get thoroughly heated through.
To freeze: You can definitely freeze a large number of hamburgers if cooked beforehand. Double or triple the ingredients in the recipe you're following, form the burgers into patties, then freeze individual burgers in a freezer bag between baking parchment. You can choose to air fry these frozen patties straight from the freezer, or you can thaw them first before cooking. Ideally, you should freeze patties for up to three months.
Cooking Time for Hamburger Patty in Air Fryer
The timing guidelines in the table below are ideal for cooking hamburger patties in an air fryer:
| | |
| --- | --- |
| Cooking procedure | Cooking time |
| Cooking hamburger patties in an air fryer at 350 F | 8 to 12 minutes |
Print
Air Fryer Hamburgers (4 Servings)
---
---
Instructions
Heat up the air fryer to a temperature of 350 degrees Fahrenheit / 180 degrees Celsius.
In a mixing dish, combine the beef, salt, and black pepper.
Make four burger patties out of the beef mixture.
Place the burgers in the air fryer basket, ensure to spray the basket first before doing this.
Cook the hamburger patties for 8 to 12 minutes, depending on how do you want them, then turn them halfway through.
When the air fryer has finished cooking the hamburger patties, turn it off, then top each patty with cheese and close the lid. Allow the cheese to melt sufficiently on the burgers, this should take between 1 and 2 minutes.
Build your burgers before serving.
Don't forget to use a reliable meat thermometer to verify the doneness of your hamburger patties.
The entire cooking duration for this recipe is 15 minutes, including a prep time of 5 minutes and a cook time of 15 minutes.
If you're interested in more recipe ideas for hamburger patties in an air fryer, then we're sure you'll like to see this video recipe.