One of the simplest ways to cook a tasty and delicious burger is to use frozen patties in an air fryer. There is no need to defrost, and cleanup is simple.
Moreover, when you're craving burgers, these frozen air fryer burgers can quickly help you have dinner on the table. Yes, air frying frozen hamburgers is a game-changer because they're so simple and quick, and you might find yourself obsessed with air fryer frozen hamburgers.
Frozen Hamburgers Nutrition Facts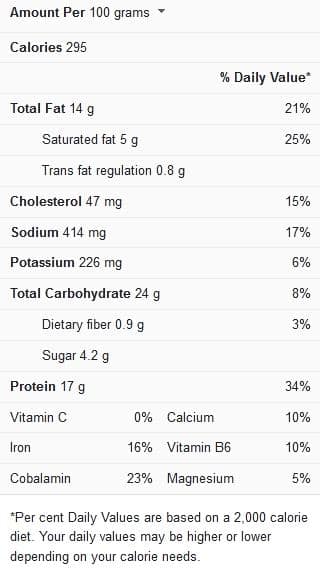 Why Frozen Hamburgers in Air Fryer
You don't need to defrost frozen burgers before using the air fryer! Simply put them on frozen, lay them aside, and move on about other business.
Cleanup is a breeze with frozen air fryer burgers. Notably, it is even easier if you put some aluminum foil in the bottom of the air fryer.
Grilling your burgers does not require many activities at all. Cook your frozen burgers in the convenience of your own home.
Tips for Frozen Hamburgers in Air Fryer 
You don't need to preheat the air fryer, and the frozen patties should not be cooked at a high temperature for an extended period of time. You don't want the center of the patty to remain frozen while the outside is overcooked.
A small oil spray on both sides of the beef patties will keep them moist and prevent them from drying out. So keep that in mind.
Since there are so many different air fryer models, styles, and brands of burger patties, the timing will change.
You may need to lower the cooking time by a few minutes if your air fryer is preheated or cooking many batches.
For about a minute, air fry your burger buns. I promise those warm hamburger buns are delicious.
 

View this post on Instagram

 

How to Cook Frozen Hamburgers in Air Fryer
Place your hamburger patty in the air fryer's basket/tray.
Then preheat your air fryer to 350°F/176°C and cook your burger for 8-10 minutes. Flip the patty over at the 5-minute point (halfway through cooking your hamburger) to ensure that it cooks evenly.
After the air fryer has finished cooking. Add a slice of cheese, and you can choose to heat for another minute at 350 degrees F to melt the cheese.
Put the hamburger on the bun after removing it from the air fryer basket. Then proceed and enjoy with preferred toppings!
Print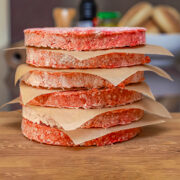 Frozen Hamburgers in Air Fryer
---
---
Instructions
In an air fryer basket or on an air fryer tray, lay frozen burger patties.
Cook the burger for 7 minutes at 370°F.
For more consistent cooking, flip the frozen hamburger patty.
Cook for an additional 5-7 minutes, or until the burger reaches an internal temperature of 165°.
You can serve your hamburger with cheese and any other hamburger toppings or condiments on a bun.
You can watch this video recipe to know more about frozen hamburgers in the air fryers.