Frozen onion rings in the air fryer are a great way to enjoy a classic burger side dish at home. With a pack of your beloved frozen onion rings and your air fryer, you'll be shocked at the quality outcomes you can make.
Tips for Cooking Frozen Onion Rings in Air Fryer
You may need to consider these tips when cooking frozen onion rings in an air fryer.
Adjusting The Timing: The way frozen onion rings cook is influenced by a number of factors. As they all differ in size, thickness, and occasionally coating, you'll have to alter your timing accordingly.
Don't Thaw First: When onion rings are cooked straight from the freezer, they appear to be at the crispiest. Therefore, there is no need to thaw it first.
Don't Fill The Air Fryer Tray Up: The more you fill the air fryer tray, the more you will need to shake it to ensure that everything cooks uniformly. Therefore, don't overfill the tray; the maximum you should fill it is around half the tray.
Cooking Frozen Onion Rings in Air Fryer
Ready to cook some frozen onion rings in an air fryer? Follow these detailed instructions.
Prepare The Mixture
You will need four bowls. Then combine flour, paprika, and ½ teaspoon of salt in the first and mix buttermilk and egg in the second bowl. Then add ¼ cup of the flour mixture from the first bowl to the second.
Combine panko breadcrumbs, ½ teaspoon of salt, andolive oil. Mix until the oil is uniformly distributed. Then place half of the panko in a fourth bowl so you can move on to the second part once the first becomes sticky.
Dredge The Frozen Onion Rings In
Use a fork to dredge the onion rings in the flour mixture, then in the buttermilk mixture, and last in the panko mixture.
View this post on Instagram

Spray with Oil and Arrange
Coat the air fryer tray with an oil spray. Then, In the Air Fryer basket, arrange onion rings in a single layer. If necessary, smaller rings can be placed inside larger rings, and just make sure there is enough room between them.
Cook The Onion Rings
Cook at 400°F for 11-15 minutes, or until golden brown and crispy. After around 6 minutes, spray with cooking spray. Furthermore, you may not need to turn the onion rings.
Print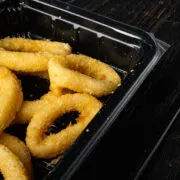 How To Cook Frozen Onion Rings in Air Fryer
---
---
Instructions
Spread out the frozen onion rings equally in the air fryer basket. You may decide not to use an oil spray after all.
Then air fry for 10 minutes at 400°F/205°C. About halfway through the cooking, give it a good shake and a gentle toss. If you're making larger batches or the onion rings aren't frying evenly, turn them many times in subsequent batches.
If necessary, air-fried for a further 1-4 minutes at 400°F/205°C or until crisped to your taste. If you desire, you can season it with salt and pepper.
Check out this video recipe to learn more about cooking frozen rings in the air fryer.