Tilapia is one of the most delicious and nutritious fish you can prepare; I know that several people may believe that preparing tilapia delicacies requires a lot of effort to cook.
Tilapia may be cooked in the air fryer in no time. With an air fryer, you don't have to complicate things in the kitchen. You will definitely love this recipe that I will share with you.
Moreover, since we will be using an air fryer, I guarantee that this is the easiest and healthiest method you can do with your tilapia. As a result, I've put together this simple air fryer tilapia recipe for you to try at home.
Tilapia Nutrition Facts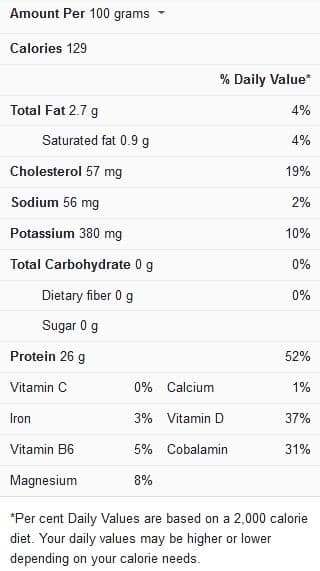 Why Tilapia in Air Fryer
It's a simple and quick meal–Yes, you won't need any typical ingredients or equipment to cook in an air fryer. Simply season the tilapia, place it in the air fryer, and wait for the wonder to unfold.
It's a budget-friendly and nutritious meal option – Tilapia is one of the more economical white fish selections and can be found in most supermarket stores.
Tips for Cooking Tilapia in Air Fryer
Enjoy these amazing tips to help you prepare tilapia in an air fryer.
Checking for doneness – When the fish reaches a temperature of about 145 degrees Fahrenheit on the inside, it's done. If you don't have a meat thermometer, cook until the thickest section of the fish can easily be flaked with a fork. The fish should be completely transparent.
A maximum number of portions – The size of your air fryer will determine this though. Nonetheless, it is vital to cook tilapia in a single layer in an air fryer, so if many pieces don't fit, you don't need to force it. You can definitely cook multiple pieces if your air fryer is larger.
Each air fryer cooks at a varied rate – So, after 6-7 minutes, you will have to monitor and check the Tilapia if it is readily cooked.
View this post on Instagram

Cooking Tilapia in Air Fryer
In order to properly cook tilapia in the air fryer, follow this guide.
Preheat the air fryer to 400 degrees Fahrenheit.
Coat your tilapia filets in olive oil before placing them in the air fryer basket.
Season your fish with the seasonings of your choice.
Fresh or frozen tilapia filets should be placed in the air fryer tray.
Frozen tilapia fillets should be cooked at 400° for 10-13 minutes, depending on the size and thickness of the fish. It is advised, but not needed, to flip the fish halfway through the cooking procedure.
Furthermore, the FDA recommends that air fryer tilapia be cooked to an internal temperature of at least 145°.
You can serve with a squeeze of fresh lemon juice on top.
Print
How to Cook Tilapia in Air Fryer
---
---
Instructions
Use olive oil to brush or spray all sides of the fish. Then season the filets with your preferred seasonings.
Preheat your Air Fryer to 400 degrees Fahrenheit. Then spray your air fryer basket with olive oil cooking spray.
Proceed to cook the tilapia for 8-12 minutes at 400°F – rotating once halfway through.
You can then serve right away with a squeeze of lemon juice on top.
Watch this video recipe to learn more about air fryer tilapia.