An air fryer can bake a few cookies in approximately half the time it takes in an oven, and it requires very little preheating time. Plus, you will still get the same texture and flavor as ever. 
Tips on Making Cookies in Air Fryer 
Prepare the dough – Divide it into even portions based on the yield of the recipe, spray the inner basket with nonstick cooking spray, and bake. I recommend you gently remove the finished cookies and transfer them to a wire rack to cool when it is ready.
Monitor the temperature – A simple chocolate chip cookie will bake for five minutes at 350°F and turn out perfectly. When air frying, lower the machine's temperature by around 25°F – if a cookie recipe calls for 350°F in a regular oven, adjust it to 325°). It's not difficult to change. 
Making Cookies in Air Fryer 
These cookies are a simple snack that will undoubtedly rank among the tastiest cookies you've ever tasted.
Step 1
Allow 2 sticks of unsalted butter to soften in the bowl of a stand mixer fitted with the paddle attachment. Though a big mixing bowl and an electric hand mixer can be used.
With 3 to 4 minutes on medium speed, beat ¾ cup of granulated sugar and ¾ cup of packed dark brown sugar until mixed and frothy.
Combine 1 tablespoon of the vanilla extract, eggs, and 1 teaspoon of kosher salt in a mixing bowl and whisk just until well mixed. In small increments, add 1 teaspoon of baking soda and 2⅓ cups of all-purpose flour, mixing until it's well mixed.
 

View this post on Instagram

 

Step 2
With a rubber spatula, whisk in 2 cups chocolate chunks and 3/4 cup chopped walnuts until evenly mixed.
Step 3
Preheat an Instant Vortex Plus 7-in-1 Air Fryer Oven to 350oF and 5 minutes on the BAKE setting.
Line the air fryer racks with parchment paper, leaving enough space for air to flow on both sides. Place 2-tablespoon dough scoops on the racks, spacing them 1-inch apart. To produce a cookie shape, gently flatten each scoop. If used, season with flaky sea salt. Bake for 5 minutes, or until golden brown.
Remove the racks from the air fryer and lay them aside to cool for 3 to 5 minutes. Rep with the rest of the dough. Warm the dish before serving.
Print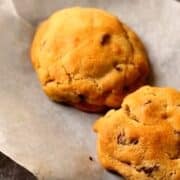 Cookies in Air Fryer
---
1 cup

of unsalted butter

¾ cup

of granulated sugar

¾ cup

of packed dark brown sugar

1 tablespoon

of vanilla extract

2

eggs

1 teaspoon

of kosher salt

1 teaspoon

of baking soda

2⅓ cups

of all-purpose flour

2 cups

of chocolate chunks or chips

¾ cup

of chopped walnuts
Cooking spray
Flaky sea salt, for garnish (optional)

---
Instructions
Microwave the butter for 20 seconds in a microwave-safe bowl. Some of the butter should be melted, but the great majority should be soft yet firm.
Mix in the brown and white sugars.
Combine the egg, vanilla, and almond essence in a mixing bowl. Mix them all together.
Mix in the dry ingredients until they're all well blended, about 50 percent. Combine the chocolate chips with the rest of the ingredients and stir to combine. You should refrigerate the dough for an hour at this point if desired.
Make dough balls that are about 2 inches in diameter.
In the air fryer basket, place a piece of parchment paper. Place cookies on parchment paper. Preheat oven to 300°F and bake for 8 minutes.
Allow the cookies to cool for 4-5 minutes before removing them from the pan.
To know more about this exciting recipe, watch this video