In most traditional cooking worldwide, hams are among the most storied of all cured meats. The rich flavor of an excellent ham comes through whether it's wet-cured or dry-cured, smoked or unsmoked.
On the other hand, some cooks find it difficult to obtain a moist, delicate, melt-in-your-mouth quality in baked ham meals.
Read on as you find some excellent tips on how to cook a ham roast. I also highlighted a detailed guide and recipe on how to cook your ham delightfully.
Ham Roast Nutrition Facts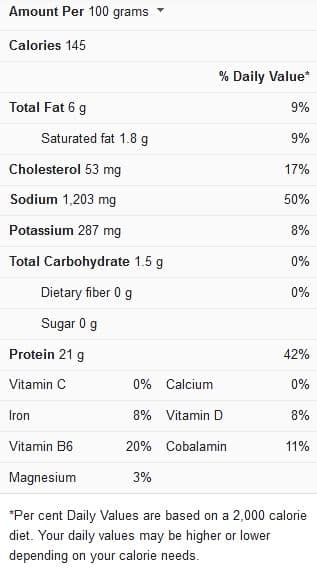 Tips for Cooking a Ham Roast
Knowing a few essential tips can make getting the outcome you want much easier.
Don't Boil – If you start by poaching your ham in water, make sure you are not boiling it. Note that if you boil it, the ham will become tough and tight, so keep it on a low heat setting, around 85 degrees – try not to go higher than that.
Cook Slow and Use a Bag – Most importantly, you will want to cook it slowly to keep it moist.
When it comes to cooking ham, I have always observed that using an oven cooking bag is an excellent option. They help to ensure more even cooking and reduce cooking time.
Preheating – You can preheat the oven to 325°F and bake the ham for 20 to 25 minutes per pound, or until an internal temperature of 155°F is reached on a meat thermometer. Otherwise, the cooking bag may melt if it comes into contact with the oven's walls or top.
Trim and Glaze the Ham – You can trim any excess fat from the ham, leaving about ¼ inch to prevent the ham from drying out.
You can glaze the ham before placing it in a hot slow cooker with ¼ cup water, white wine, or cider. The liquid helps to create steam in the slow cooker, which helps to keep the moisture in the ham wet.
The Ham Stock – You have to keep the stock once the ham has been cooked. It is lovely for preparing soups, wonderful for putting through casseroles or braising; you can even use it for cooking veggies – sprouts are incredible when cooked in ham stock instead of boiling water. Just make sure it is not very salty or smokey in flavor.
Let It Rest – You can leave the ham to rest for up to 30 minutes before slicing it and savoring your ham for optimal tenderness and moisture.
View this post on Instagram

How to Cook a Ham Roast
Follow this cooking guide, which shows an excellent approach to cooking a ham. It takes a little time, and it is sure to delight a large party using honey, mustard, cloves, and orange zest. Served hot or cold, this dish is one delicious meal you would enjoy.
You can start by slicing a small bit off the end of your ham. Then fry it in a little oil to see how salty it is. If the ham is extremely salty, soak it in cold water for 12 hours, changing it once.
Then bring to a boil – the cooking water should be drained and discarded.
You can now place the ham joint in a big pan. Cover with new cold water, and add the leeks, onion, carrot, peppercorns, and bay leaves once the ham is ready to cook.
Bring to a boil, then reduce to low heat and cook the ham for 20 minutes per 450g/1lb.
You should stick a cold skewer into the center of the ham and keep it there for 10 seconds to see if it is done. Check how hot it is – it should be really hot.
It would help if you allowed the ham to cool somewhat in its cooking liquid before carefully lifting it out and placing it on a cutting board. Note that the cooking liquid can still be a tasty stock in other recipes.
Allow the ham to cool for a few more minutes.
Then you should carefully cut the skin from the ham with a tiny sharp knife – leaving a good even layer of fat behind.
Proceed to score the fat in a diagonal criss-cross pattern. Note that you can either chill the ham for up to two days or bake it right immediately.
The next thing is to proceed to preheat the oven.
Get a pestle and mortar to grind the coriander seeds.
Combine the grated orange zest, sugars, and powdered coriander seeds in a mixing bowl.
Then, sift the mustard powder over the ham evenly, spread the sugar mixture on the work area, and roll the ham to coat the fat.
In the fat of the ham, press a clove into the center of each diamond. Drizzle the honey over the top.
It would help if you covered the uncovered end of the ham with foil – get a few toothpicks to keep it in place.
Then, bake the ham for 15 minutes on a rack inside a roasting tray – until the glaze is sticky and crunchy – with a little charring here and there.
You can serve and eat it warm or cold.
Print
12

pounds of bone-in ham

½ cup

of whole cloves

1 cup

of packed brown sugar
Water
---
Instructions
Start by preheating the oven to 350°F (175 degrees C).
Then get a roasting pan, place the ham, and press whole cloves into it. You can get brown sugar and layer it on top.
Proceed to fill the roasting pan with enough water to cover the bottom by 1 inch. Ensure aluminum foil or a lid should be used to cover the pan tightly.
Now get back to the preheated oven. Bake the ham for 4½ to 5 hours. In essence, bake until the internal temperature of the ham reaches 160 degrees F – you also need to ensure that the meat thermometer does not come into contact with the bone.
You can allow for a 20-minute rest before carving.
Serve and enjoy.
This delightfully flavored ham, baked with juicy tenderness, is a delectable way to enjoy
important and special occasions or have a lovely supper with friends and family.
You can watch this video recipe below to learn how to cook a ham roast.