Dry beans are one of those foods that has some beneficial properties. Beans are low-cost, high-fiber, high-protein, and naturally low in fat, sugar, and sodium and are a good source of many vitamins and minerals.
Dry beans are the foundation of so many delicious recipes, and they're incredibly cheap when made from scratch in the slow cooker. If you do not know how to cook dry beans in a slow cooker, then the guidelines in this article should prove very helpful in helping you through the process.
Beans Nutrition Facts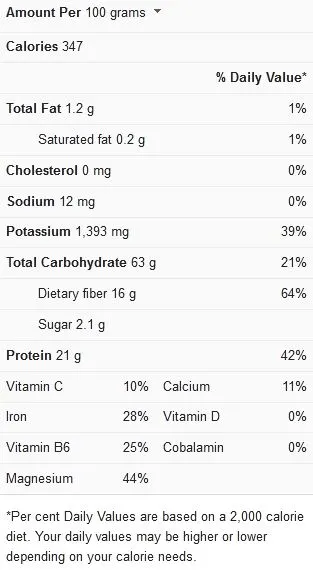 Tips for Cooking Dry Beans in a Slow Cooker
Beans cooked from scratch are delicious no matter how they're prepared: on the stove, in a slow cooker, in the oven, or a pressure cooker. There are many dishes to try once you've mastered the art of cooking beans properly.
The following should help you get the best results when cooking dry beans from scratch in a slow cooker:
Slow cooker time factor – Slow cookers vary in how quickly or slowly they cook. Start monitoring beans on the early side of the cooking estimates and every 30 minutes until they're done, if feasible. You'll know how long your slow cooker takes for your favorite beans after a few batches. Plan a shorter boiling time if you're using fresh dry beans, such as heritage beans.
Pot size: A small slow cooker (3 ½ quarts or smaller) can be used to cook one pound or less of beans. A larger crockpot (6+ quarts) will be required if you are cooking a greater quantity of beans or using a recipe that asks for beans along with other ingredients. For example, in a 6-7 quart slow cooker, 1 pound of beans can conveniently be cooked.
Make sure it's still fresh – Although dried beans have a long shelf life (up to two years), they should be cooked within a year of purchase. You'll want to make sure that the beans you plan to cook have not exceeded their shelf life for the best results.
Examine the dried beans – Spread the beans out on a baking pan and inspect for small rocks or debris before cooking. Remove any beans that are shriveled up, rotten, or discolored.
You may need to soak the beans – Soaking beans is a simple step that can speed up the cooking process once you get started. It may also aid in making them more digestible, according to some sources. It may, however, be unnecessary to soak fresh, dried beans.
It's all about the flavor – Although simple beans can be cooked with just water and salt, adding broth, spices, herbs, and aromatics can greatly enhance the flavors contained in the recipe. So, experiment with whatever spice or flavors you crave in your bean recipes.
Know how much you're cooking – For adults, ½ cup of beans is considered a suggested serving size. For example, a one-pound bag of dry beans (or two cups) yields around 6 cups of drained cooked beans. Remember that "recommended serving size" and "portion size" isn't always synonymous.
Cooking factors – The cooking time is affected by the freshness and size of your beans. If your beans never soften and tenderize, they are most likely too old. Some people claim that adding acidic components (vinegar, tomatoes, lemon juice, etc.) early in the cooking process will keep the beans from softening, but this may not occur when using fresh dry beans.
View this post on Instagram

Cooking Dry Beans in a Slow Cooker
How to Soak Beans
If you're using fresh, dried beans, there's probably no need to soak them at all. If, however, you would still prefer or need to soak your beans, you can do it using one of the two techniques described below:
Soak the beans overnight: Do this in a saucepan with two inches of water and two tablespoons of kosher salt for each pound of beans, and soak for 5-12 hours. After that, drain and rinse the beans completely. If you are using fresher beans, there's a slight chance they may get over soaked, so you'll want to take note of that.
Quick soak: To soak the beans quickly, place them in a pot on the stove, cover them with two inches of water, and bring to a boil. Turn off the heat and set aside for an hour to soak. Drain and rinse thoroughly.
How to Cook Dry Beans in a Slow Cooker
The following steps should be adhered to when cooking dry beans in a slow cooker:
Step 1: Look for little rocks or debris in the beans, then soak the beans if desired. Then, fill your slow cooker with the drained and washed beans and enough water or broth to cover them by 2 inches.
Step 2: For each pound of beans, add one teaspoon of salt. Spices, herbs, and aromatics such as onion, celery, carrots, garlic, a bay leaf, fresh herbs, and so on can be added if desired.
Step 3: The time it takes to cook any beans depends on their type and whether you decide to cook the beans on high or low heat. Beans can, however, take anything from 2 to 8 hours to cook. Unsoaked black beans, for example, may soften in 2 hours or less, but giant white beans can take up to 8 hours to cook.
The beans are done when soft and creamy throughout but still firm and intact.
Simmering Beans Vs. Boiling Beans
When preparing beans in the slow cooker, try to maintain them at a gentle simmer rather than a complete boil. Boiling a bean can cause the outside to overcook before the inside is fully cooked, causing the beans to fall apart.
Print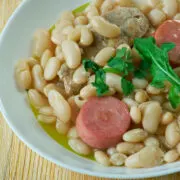 Slow Cooker Ham and Bean Soup
---
1.5

pounds dry navy beans (picked and rinsed)
One large onion, chopped fine
Two cloves of minced garlic
Two finely chopped celery stalks

1

–

2

diced carrots, diced (optional)

1

pound of ham steak, cut into bite-sized pieces, or larger ham bone
Salt & Pepper

¼ cup

of chopped fresh parsley
---
Instructions
Melt butter and sauté onion and celery until softened in a slow cooker. After adding the garlic, cook for one minute. Add beans, carrots, and ham. Add enough water to cover the beans.
Bring the mixture to a boil for around 10 minutes if your slow cooker has that capability. If necessary, add extra water. Cook on low for 6-8 hours or high for 3-4 hours, covered.
If you used a ham bone, set it aside to cool before dicing the meat and adding it back to the soup. If you want a thicker soup, crush some of the beans against the pot's side.
Add salt & pepper to taste, garnish with parsley, if desired.
For more ideas on cooking beans in a slow cooker, you can check out this video.