Slow cooker meals are a favorite around here, and this one is one of the best. This delightful homemade recipe is one of the most straightforward dinners you can make, even on a weeknight. All you need do is make a mixture of all the ingredients in the crockpot and set it aside until ready to serve.
Corned beef and cabbage, synonymous with American St. Patrick's Day celebrations, is the ideal hearty meal for a chilly mid-March night. Though this slow cooker version can be completed in 4 to 4 1/2 hours on high, the brisket is best cooked low and slow. Try this corned beef brisket with a homemade blend if you want to branch out from the spice packet.
Corned Beef Nutrition Facts
Cooking Tips
Replace the malt vinegar with apple cider vinegar to make this recipe gluten-free.
While it is possible to cook vegetables in the poaching liquid, I would not recommend it. The vegetables will be very soft and may have a slight vinegar flavor. Cooking some sides in another slow cooker is a better option.
You may require less fluid if you have a smaller slow cooker or piece of meat. If this happens, then you need to cut the amount of vinegar in half.
The carrot and onion can be omitted, but they do add flavor to the dish. It is entirely up to you whether you want to eat these at the end or simply discard them.
Allowing the meat to cool will help keep it from falling apart when cutting thin slices.
 Corned Beef Side Dishes
There are numerous side dishes that complement this corned beef. If you have an extra slow cooker or crockpot lying around, a dish like the cheesy hash brown casserole is a great one to try. Cauliflower cheese is another great side dish to serve with this. It takes some time to cook and prepare, but it is well worth it. Personally, I like to serve this delicious beef with crunchy roast potatoes and gravy.
 Corned Beef Cooking Time
If you decide you want to prepare a meal of corned beef in a slow cooker, you should know that cooking time will take many hours. Often when I choose to prepare corned beef in a slow cooker, I start very early in the morning before departing for work, then leave it to cook while I'm away at work. By the time I'm back home in the evening, my wholesome meal of corned beef will be ready. Yes, corned beef takes a lot of time to cook. If you're cooking on high heat, cooking time is between 4-6 hours, but it takes about 8-10 hours on low heat.
Print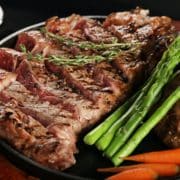 How Long to Cook Corned Beef in a Slow Cooker
---
3

large carrots

2

stalk celery
Kosher salt
Freshly ground pepper

2

bay leaves
Malt vinegar

1

pack of pickling spice

1

(2-3 lb)corned beef brisket

3

sprigs thyme

1/2

green cabbage
---
Instructions
Fill a slow cooker halfway with corned beef brisket, fat side up; season with pickling spice.
Sprinkle whole cloves over the brisket. Add the garlic, bay leaves, and 2 cups of water, or enough to cover the brisket by at least 1 inch.
Cook for 4-5 hours on low heat, covered. In the slow cooker, combine the carrots and potatoes. Cook on for an additional 2-3 hours on low or until the potatoes are tender.
Cut the corned beef into thin slices against the grain. Serve immediately with carrots and potatoes, if desired, garnished with parsley.