One popular, must-have meal for St. Patrick's Day celebrations is corned Beef. The resulting Beef tends to be soft and moist with precisely cooked vegetables and potatoes, thanks to an instant pot in the cooking process.
Using an instant pot is one of the simplest and most delightful ways to enjoy this Irish classic. The results will make you a fan, and it is also great for serving guests during gatherings. If you're not familiar with the cooking process, follow all the tips and guidelines outlined in this article for the best results.
Corned Beef Nutrition Facts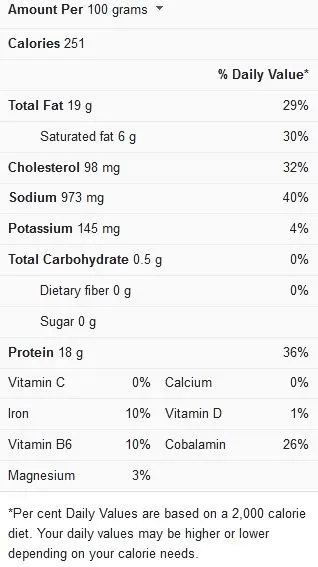 Tips for Cooking Corned Beef in Instant Pot
When cooking corned beef recipes in an instant pot, it is important to pay attention to the following tips as they will guarantee desirable results:
The origin of Corned Beef – This meal was originally prepared with boiling bacon, but when the Irish moved to America, they couldn't afford to buy pork or bacon. Instead, they went with corned beef brisket as an alternative option. They served it with cabbage and potatoes, the cheapest veggies available. Since then, this meal has become a traditional recipe throughout America.
What is corned beef? – Corned Beef is typically made from beef brisket that has been brined and cured with salt and herbs. The sodium nitrate employed in the curing process is responsible for the characteristic pink color of corned beef. Corned Beef comes in various cuts and is best cooked for a long time to ensure a delicate tenderness. It can be cooked in various ways, including boiling, slow cooking, and roasting.
Ideas for buying corned Beef – Even though you can typically purchase corned Beef all year, March is the best time to buy it. Corned Beef is most commonly found in two-cut varieties. The pointcut brisket and the flat cut brisket. Corned beef roasts are also available occasionally, but they are less popular due to their low-fat content and tendency to dry up quickly.
The cuts to search for and purchase are the flat cut and point cut brisket. The flat cut is popular because it has a consistent shape and size. This makes cutting the corned Beef a breeze, and you can easily trim the fat from the top. Point slices have the fattest, but they also have the most tender quality.
Picking your potatoes – Use waxy potatoes for the greatest results because they don't break down as quickly when cooked. Yukon gold potatoes, yellow potatoes, red potatoes, and fingerling potatoes are all excellent alternatives to use too. Russets should generally be avoided since, when cooked, they can easily turn to mush.
Spices and seasonings – Most Corned Beef packages will come with a spice packet. This is similar to pickling spices, and you can easily use them for convenience. You may also opt for a mixture of allspice berries, mustard seeds, coriander seeds, bay leaves, and whole cloves, that is if you don't find the packet in your corned beef package. Season with salt and pepper for added taste.
Cut your meat against the grain – One of the most crucial steps for ensuring delicate, melt-in-your-mouth meat is to cut the meat against the grain. When you observe your corned Beef, you should notice that the strands of meat are all oriented in the same direction, which is usually lengthwise. You'll want to cut against it or at a perpendicular angle to it. When you eat the meat, it will be soft rather than fibrous due to this cutting action.
View this post on Instagram

Cooking Time for Corned Beef in Instant Pot
The following timing guidelines are ideal to follow when cooking corned beef recipes in an Instant Pot:
Cooking Procedure
Cooking Time
Cooking the corned Beef in high pressure
70 minutes
Cooking the vegetables in high pressure
2 to 3 minutes
Print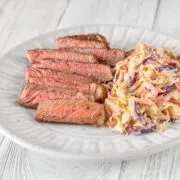 Instant Pot Corned Beef and Cabbage (6 Servings)
---
2

pounds of corned Beef (

1.5

inches in thickness)

4 cups

of cold water
One medium onion, quartered
Four cloves of garlic, crushed

One teaspoon

of yellow mustard seeds

One teaspoon

of whole black peppercorns

One teaspoon

of coriander seeds

½ teaspoon

of whole allspice
Three whole cloves
Three bay leaves

½ teaspoon

of ground ginger (optional)
Six carrots, peeled and cut into 2.5-inch length
Four red potatoes, cut into quarters
One cabbage, cut into eight wedges
---
Instructions
Rinse the corned beef under cold water, making sure it is thoroughly rinsed.
In an Instant Pot pressure cooker, combine the washed Corned Beef, divided onion, crushed garlic cloves, pickling spices seasoning, and 4 cups of cold water.
Close the lid with the Venting Knob in the Venting Position, then turn the Venting Knob to the Sealing position. Cook the corned beef for 70 minutes on high pressure with a 15-minute natural release.
If after 15 minutes the floating valve still hasn't dropped, release the residual pressure by rotating the venting knob from sealing to venting. Afterward, carefully remove the cover.
Begin to prepare the vegetables while the Instant Pot is on natural release.
In a large serving bowl, set aside the cooked corned Beef and 750ml of the boiling liquid (you should still have about 1.5 – 2 cups of liquid remaining in the Instant Pot). Combine the divided red potatoes, carrots, and cabbage wedges in the Instant Pot.
Close the lid with the Venting Knob in the Venting Position, then turn the Venting Knob to the Sealing position. Cook for 2–3 minutes on high pressure with a quick release. Carefully remove the cover.
Cut the corned Beef into ⅛-inch slices against the grain on a chopping board. Serve with red potatoes, carrots, and cabbage wedges.
This recipe can be made within an entire duration of 2 hours, including a prep time of 5 minutes and a cook time of 1 hour and 55 minutes. If you'd like to see more ideas on how to make corned beef recipes using an instant pot, then check out this video recipe.