Red potato recipes are tasty and simple, especially when using the air fryer. On the outside, they develop a deliciously crisp quality, yet they retain a nice and soft consistency on the inside. The results are also so delicious and can be introduced as an accompaniment to a wide range of delicious recipes.
You must try making air fryer potatoes right away if you haven't already! They're a wonderful side dish that's simple to prepare and can be finished in around 30 minutes or less! You'll adore this recipe if you're new to air frying, especially if you pay close attention to this article's instructions, tips, and guidelines.
Potatoes Nutrition Facts
Tips for Cooking Red Potatoes in Air Fryer
The following tips are ideal for keeping in mind to obtain desirable results when cooking red potatoes in an air fryer:
To Peel Red Potatoes or Not
It's completely up to you whether or not to peel your red potatoes. You can avoid peeling your potatoes if you'd rather not do that before air frying them as long as you give them a good enough cleaning. Also, make sure to get the potatoes completely dry before frying them, as water on them could result in them steaming rather than frying within the air fryer.
Choose a uniform size for your potato pieces – To ensure consistent cooking, chop your red potatoes into uniform sizes, preferably 1-inch chunks. The larger the pieces of potato you're working with, the longer they will take to cook. If you want larger-sized potatoes, plan to extend the cooking time and test for doneness by putting a poke into the potato. If it's cooked through, the tines of the fork should slide right in.
Seasoning suggestions – To enable your seasonings to adhere better to the potatoes, a little layer of olive oil is required. You can also use oil spray if you prefer. Seasonings are optional, and you may use anything you like. Great options include salt, pepper, garlic powder, and Italian seasoning.
Always preheat your air fryer before cooking and avoid overcrowding it – Allow time for your air fryer to heat up before adding the potatoes to cook. This enhances the crispiness of your results.
Make sure your potatoes aren't overcrowding the air fryer basket. When your air fryer is congested, your potatoes will steam rather than roast. Also, to ensure consistency and even cooking, shake the potato basket halfway through.
If you're planning to use parchment paper in the basket of your air fryer, ensure that you only put it in after the air fryer has been preheated. The parchment paper will not burn as a result of this precaution.
If working with numerous batches, preheat your oven and then turn it off if you're working with a smaller air fryer and need to complete numerous red potatoes. To keep the potatoes warm after cooking, place the finished batches inside your warm oven while you finish the other batches.
 

View this post on Instagram

 

Recipe variations to consider trying – Consider experimenting with the following:
To make your air fryer potatoes even spicier, mix in additional cayenne pepper or red chili flakes with your spice.
To make it more herb-flavored, season the red potatoes with additional dry herbs of your choosing.
Add some garlic powder or freshly minced garlic to introduce a delicious garlicky quality into your recipe.
Substitute red potatoes for Yukon gold potatoes or russet potatoes (small ones will work just fine if that's what you can find).
If you don't own an air fryer, heat your oven to 400 degrees F and bake the red potatoes for 30 to 40 minutes, or until they develop a crispy and golden brown quality. Halfway through the cooking period, toss at least once.
Regardless of what you decide on, you can be sure you'll get delicious results, so feel free to explore your recipe.
Storage and reheating tips – You can typically refrigerate leftover air fryer red potatoes for 3 to 5 days as long as they're first kept in sealed containers. They can also be frozen in an airtight vessel or freezer-safe bag for six months.
Whenever you're ready, reheat the cooked potatoes in the air fryer at 350 degrees until heated through, or try using your microwave.
Cooking Time for Red Potatoes in Air Fryer
The ideal cooking duration for red potatoes in an air fryer has been described in the table below:
Cooking Procedure
Cooking Time
Cooking red potatoes in the air fryer at 400 F
20 minutes
Print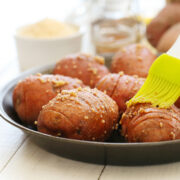 Air Fryer Red Potatoes (4 Servings)
---
---
Instructions
Adjust the air fryer to an ideal temperature of 400 degrees Fahrenheit and leave it to preheat. In the meantime (while your air fryer is preheating), clean up your red potatoes and then cut them into smaller pieces if you haven't previously done so.
Combine the cleaned and cut potatoes with olive oil, oregano, garlic powder, paprika, cayenne, salt, and pepper in a large mixing basin. If you're unsure about the right quantity of salt and pepper to use, start with a small amount and add more afterward.
Place the potatoes in an air fryer basket and leave them to cook for 10 minutes.
Take the basket out of the air fryer and shake it a little. Allow for another 10 minutes of cooking, or until the red potatoes get properly cooked.
Remove the cooked potatoes from the air fryer and serve them to your taste.
This recipe for air fryer red potatoes yields really tasty results. If you use really good seasoning options, you'll be able to maximize the flavor of the results and discover for yourself a new favorite way to enjoy red potatoes.
For more inspiration on how to cook red potatoes in the air fryer, we recommend that you look at this video recipe.