One major advantage of cooking on the stovetop is that the recipes tend to come together quickly. This is the same for red potatoes; they're quick and easy to make and yield great results. If you also have the right cooking instructions, the process gets easier, and the results are more satisfying.
This article will show you how best to cook red potatoes on the stovetop. Pay attention to the guidelines and take advantage of our helpful tips to achieve desired end products.
Potatoes Nutrition Facts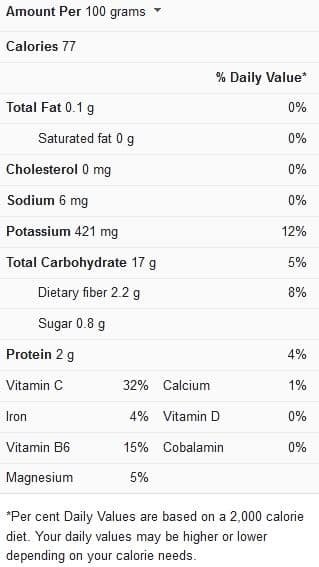 Tips for Cooking Red Potatoes on the Stove
The following tips are necessary to keep in mind when cooking red potatoes on the stovetop:
Seasoning options – Anything goes when trying flavoring ideas for your stove top-cooked red potatoes. Hardly will you encounter any pairing with undesirable results. Here are some options to consider:
Necessary equipment – Below are some of the necessary equipment:
Skillet: For your recipe, try using a non-stick skillet (dishwasher-safe and simple to clean). A cast-iron skillet is also a good option that works well!
Cutting board: To chop the potatoes, use a cutting board. Also, opt for a dishwasher-safe option.
Cutting knife: When it comes to cutting up potatoes, a decent knife makes all the difference!
The ideal size – Depending on how large or small you chop your potatoes, the time to cook them will vary. Smaller chunks will cook faster, and they're great if you'd prefer not to stand for long hours beside your stove, but generally, any size will result in great results.
Regardless of the size you choose to cut your potatoes into, make sure they're all of the uniform sizes to guarantee equal cooking. Increase the heat and let the potatoes get some dark, crusty patches on the exterior if you like them a little crispier on the outside; this is a terrific way to savor red potatoes.
Other cooking methods to try – Pan-frying is one of the more popular methods for cooking potatoes. The pan-frying method has been described in the recipe section of this article.
However, with the stovetop method of cooking, you can also boil your red potatoes aside from pan-frying them. The boiling method has been described below.
Boiling red potatoes on the stove
Follow these easy steps if you choose to boil your potatoes on the stovetop rather than pan-frying them:
The potatoes should first be washed. If they're large, dice them into ¾ to 1-inch wide bite-sized pieces, or chop them in half if they're little (you can also choose to boil the red potatoes in their whole form if you buy the smaller kind). Once the water is boiling, pour in the potatoes and cook them for 12 to 15 minutes, or until they are fork-tender (you may need a longer cooking time if you're boiling them whole).
Drain the potatoes and place them in a bowl. Toss them gently with the butter, herbs, freshly ground black pepper, and ¾ teaspoon of kosher salt; this quantity can be more or less. Just add until it reaches your desired taste.
View this post on Instagram

Cooking Time for Red Potatoes on the Stove
The ideal cooking duration for stove-cooked red potatoes has been described in the table below:
Cooking Procedure
Cooking Time
Pan-frying red potatoes on the stove
20 to 22 minutes
Boiling red potatoes on the stove
12 to 15 minutes
Print
The Best Pan-Roasted Potatoes (2 to 10 Servings)
---
Small red bliss, Yukon gold, or other waxy potatoes, 1½ to 2 inches in size
Kosher salt (Morton Kosher salt is preferable as it is more coarse than Diamond Crystal)
---
Instructions
Place the cut surface of the potatoes down after cutting them in half, then divide each half again, keeping the halves together.
Select a cast-iron pan that is sufficiently large enough to hold the halved potatoes. Pour enough olive oil into the pan to cover its bottom and make a ⅛-inch depth of oil. Heat the oil until it starts to simmer over medium heat.
Pour a good amount of salt onto the pan's bottom, spreading it out in a thin layer as evenly as possible. Place the half-potatoes directly on the salt (ensure that the pieces from the second cutting stage are kept together, so the potatoes resemble one half).
Fry the potatoes at medium heat (don't peek at them) until you're certain the potatoes aren't burning (they are not, there's no need to fret); this should last for around 10 to 12 minutes based on their size. Turn a potato half over after 10 minutes to examine if it is well browned; if not, cook for a few more minutes.
Reduce the heat to low and cover the pan once the potatoes are beautifully browned. As the potatoes begin to steam, you will hear spattering noises, and they will keep getting brown while they're covered.
Cook the red potatoes for about 20 minutes with the lid on. When a knife can easily glide into one of the potato pieces, you'll know they're ready.
Serve the potatoes immediately. They should typically keep for around 30 minutes or more if covered and kept warm. Drain any extra oil from the skillet if you'll let them sit. They're just as tasty at room temperature.
This recipe for pan-roasted red potatoes yields delicious results, especially if the cooking instructions are followed appropriately. If you'd like to see more ideas for cooking red potatoes on the stove, then check out this video recipe.