Red snapper is a type of white fish with a tasty quality that pairs well with fresh herbs and yields flavorful results, especially when cooked properly. Due to the characteristic thinness of snapper filets, it is typical to choose the roasting method to cook the fish whole to ensure that no meat is wasted. However, you can still bake, sauté, or grill red snapper filets if you'd rather not buy the whole fish.
The ideal procedure for cooking red snapper filets has been described in this article, with several helpful tips to guide you to tasty results.
Snapper Nutrition Facts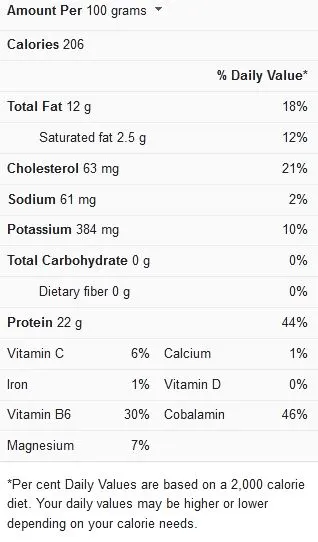 Tips for Cooking Red Snapper Filets
These tips have been compiled to aid you through the cooking process for red snapper filets and to guarantee desirable results at the end of your cooking:
A guide for buying red snapper – The name "snapper" has grown so common that it's frequently used about any white fish. As a result, it's frequently mislabeled as a less appealing fish, such as rock cod. Make sure to buy snapper from a reputable fishmonger to know you're getting the real deal.
Snapper comes in various colors, but red snapper should be recognizable by its bright-red skin with a metallic appearance. The skin should be left on when purchasing red snapper filets since it adds taste and helps to maintain the fish's structure when cooking. Filets with shiny pink skin as well as firm meat are ideal. Per serving size, ¼ to ⅓ pound is required.
Seasoning suggestions – Light seasonings enhance the fresh flavor of red snapper, making it delectable. You will need to season the fish with salt, pepper, and a squeeze of lemon juice to taste. It's also important to butter the insides of the fish, especially if you're cooking it whole, to help it retain moisture while baking.
Include some thyme, rosemary, or basil to the fish filets if you want the meal to have a herbal flavor.
Place sliced carrots, onions, or potatoes to surround the fish filets within the baking dish for a complete meal. The vegetables will be cooked at the same time as the fish.
Cooking methods to try – Besides the baking method described in the recipe in this article, red snapper filets can also be sauteed, grilled, or deep-fried.
Sauteing
Follow these easy steps:
To ensure the filets are thoroughly dry, pat them down using a paper towel and season the two sides using salt and pepper.
Over medium heat, let the oil go until it is hot but not smoking.
Place the filets in the pan once the oil is hot. Cook for three minutes or until the skin turns golden brown. While cooking, keep an eye on the fire to ensure that the fish skin doesn't burn. Reduce the heat if it starts to brown too quickly.
Cook the filets for another three minutes on the other side. It's done when the fish is no longer transparent and flakes readily when pierced with a fork.
Filets are ready to be served. With lemon juice and melted butter, they're fantastic.
Grilling
Cook it on the grill in a pan according to the instructions for sautéing. If you must cook it directly on the grill, make sure to grease the grill well before putting the fish on it, or it may stick and be difficult to remove.
View this post on Instagram

Cooking Time for Red Snapper Filets
The ideal timing for red snapper filet recipes has been described in the table below:
Cooking Procedure
Cooking Time
Sauteing red snapper filets in a pan
3 minutes per side
Baking red snapper fillets in the oven at 400 F
12 minutes
Print
Baked Red Snapper with Garlic and Herbs (2 Servings)
---
---
Instructions
Collect the necessary cooking ingredients before the commencement of the cooking process. In the meantime, heat your oven to 400 degrees Fahrenheit.
Spray a baking dish with nonstick cooking spray and arrange the snapper filets inside it.
Melt the butter, Worcestershire sauce, garlic, Creole seasoning blend, parsley, pepper, and chives (if you're using it) in a skillet. Cook the mixture for 2 minutes over low heat to combine all the flavors.
Brush the herb and butter mixture on the two sides of the snapper filets.
Combine the breadcrumbs, remaining butter mixture, and Parmesan cheese (if you're using it) in a mixing bowl.
Spread an equal amount of the resulting breadcrumb mixture over each filet. Spread the mixture out evenly with your hands and press it well on the surfaces of the filets.
According to the thickness of the files you're working with, bake for 12 minutes in a preheated oven. When the fish is done, it should have an opaque quality and flake readily with a fork.
Serve your cooked filets according to your preferences and enjoy your meal.
If you'd like more interesting ideas to try with red snapper filets, we suggest that you look at this video recipe.
Notes
This baked recipe for red snapper filets can easily be doubled, tripled, or quadrupled for a family lunch. If you're managing your saturated fat intake, feel free to substitute the extra-virgin olive oil for up to half the amount of melted butter used in the recipe.
You may choose to serve your baked filets with roasted potatoes or quinoa as a grain, or you could try a steamed green vegetable, such as green beans.
You can also use another delicate white fish in place of red snapper in the recipe. Good selections include haddock, tilapia, pollock, and cod. Remember that the cooking time may need to be adjusted based on the fish type and how thick the filets are.