It used to be that the best way to prepare sweet potatoes with deliciously crisped exteriors was to bake them for a long period. However, this is no longer the case. Nowadays, you can simply switch to the air fryer when you want a quick sweet potato dish.
Cooking sweet potatoes in the air fryer may be just what you need to do to get fluffy sweet potatoes in no time. If you're not sure how to go about it, there is no need to worry. This article has covered all the basics, with a few extra tips to ensure that your results are absolutely perfect.
Sweet Potatoes Nutrition Facts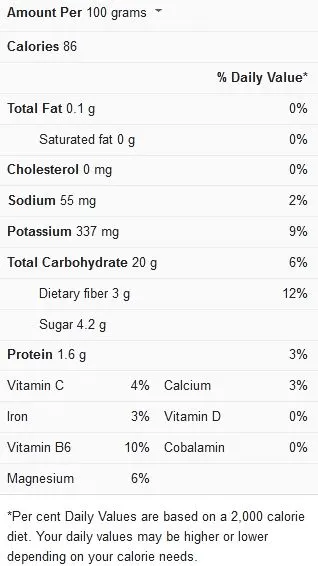 Tips for Cooking Sweet Potatoes
The process of cooking sweet potatoes in the air fryer is straightforward and mostly hands-off. However, there are still a few pointers you'll need that can help you achieve the best outcomes every time.
Pay attention to these helpful tips:
Begin with potatoes of similar size – It's critical to start with sweet potatoes that are all approximately the same size to ensure that the potatoes are all cooked equally. When it comes to sweet potatoes, choose a long, thin variety. Sweet potatoes that are round or bulbous may cook unevenly, which is why skinnier sweet potatoes are better.
Preparing the sweet potatoes – Make sure your potatoes are washed and scrubbed clean before cooking them. Potatoes are typically cultivated in dirt and will need to be cleaned thoroughly.
Prick your potatoes – To achieve even cooking and prevent the sweet potatoes from exploding in the air fryer, pierce the skin 5-6 times each potato with a small knife or the tines of a fork. This little but crucial step permits steam to escape during the cooking process.
Rub potatoes with oil – The potatoes should be rubbed with oil. Applying a little layer of cooking oil to the sweet potatoes' skins helps to keep the skins crisp.
Don't soak the potatoes – Before air frying whole sweet potatoes, there's no need to soak them. Sometimes homemade fry recipes call for soaking the potatoes before cooking to remove some of the vegetable's starch and achieve extra-crispy fries, but this isn't essential with air frying.
Knowing when the sweet potatoes are done – When sweet potatoes are done, the skin will be wrinkled, and caramelized juice will have poured out of the holes where the potato was pierced with a fork. Inserting a sharp knife into the flesh of a sweet potato is the easiest way to know whether it's done. There should be no resistance, and the knife should be able to slide right in.
Cooking Sweet Potatoes in an Air Fryer
When using an air fryer for cooking sweet potatoes, there are several methods to choose from, and roasting and baking are popular methods.
Roasting Sweet Potatoes
When roasting sweet potatoes in the air fryer, you'll be needing the following:
Air Fryer
Potato peeler
Knife
Mixing bowl
Follow these steps to roast sweet potatoes in the air fryer:
Preheat the air fryer to 390°F (190°C), and you can prepare the potatoes while it preheats.
Afterward, the potatoes should be washed and peeled. Place them in a mixing dish, make sure to cut them into 1′′ cubes.
Drizzle the oil, garlic salt, paprika, and pepper over the sweet potatoes. Toss everything together until the potatoes are coated evenly.
Place the potatoes in the air fryer for 10 minutes to cook. Cook for another four minutes, or until crispy and cooked through, after tossing them halfway through.
Baking Sweet Potatoes
When baking sweet potatoes, you can follow these easy steps:
Preheat the air fryer to 390°F and place the air fryer basket.
The sweet potatoes should be washed and dried.
Drizzle the olive oil over the sweet potatoes. For each sweet potato, delicately pierce the skin all over with a fork.
Using kosher salt, season the sweet potatoes.
Arrange the sweet potatoes in a single layer in the air fryer basket. Cook for 40-45 minutes at 390 degrees Fahrenheit.
Remove the sweet potatoes from the air fryer basket with care.
Before serving, slice the sweet cooked potatoes open, fluff the sweet potato flesh, and sprinkle with your favorite toppings.
Baked sweet potatoes can be topped with a variety of ingredients, including:
Cooking Time for Sweet Potatoes
The ideal time to cook sweet potatoes in the air fryer depends on the cooking method you choose. Generally, you can follow the timing guidelines in the table below:
| | |
| --- | --- |
| Cooking method and temperature | Cooking time |
| Roasting in the air fryer (390°F) | 14 minutes |
| Baking in the air fryer (390°F) | 40 to 45 minutes |
Print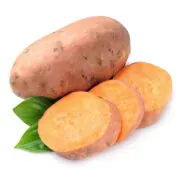 Air Fryer Sweet Potato (2 Servings)
---
2

medium-sized sweet potatoes (about

8

to

10

ounces each)

1 teaspoon

of neutral oil, such as peanut or vegetable oil

½ teaspoon

of kosher salt, plus extra for serving
---
Instructions
To begin, first, preheat the air fryer to 400 F.
Meanwhile, prepare 2 medium sweet potatoes by rinsing, scrubbing, and drying them.
Poke the potatoes a few times using the tines of a fork. Rub 1 teaspoon of neutral oil onto the potatoes to properly coat them, using your hands. Afterward, season the potatoes with ½ teaspoon of kosher salt.
In the air fryer, place the potatoes. Air fry them for 35 to 40 minutes, or until they get soft and readily punctured with a paring knife. Tongs can then be used to remove the potatoes from the air fryer.
Cut the potatoes in half lengthwise with a knife, then fluff the flesh with a fork.
Serve with butter, salt, and pepper on top, or any toppings you choose.
Serving suggestions for this recipe include the following:
Butter and freshly ground black pepper
Butter, brown sugar, cinnamon
Maple, butter, and toasted pecans
Sour cream and chives
Yogurt, granola, berries
Notes
The entire cook time for this sweet potato recipe is 35 to 40 minutes, with a prep time of 5 minutes. If you need more ideas on how to cook sweet potatoes with an air fryer, check out this video recipe.