Apart from having an excellent taste and being very adaptable, rice pudding is one of the more delicious ways to use leftover rice in your kitchen. On a dismal day, a dish of warm rice pudding might be just the comfort food you need. And when it is cooked well, rice pudding offers endless possibilities for taste.
This article covers the basics of transforming your cooked rice into delicious rice pudding meals. So, if this was previously an unfamiliar topic, you should be a pro at cooking up rice pudding recipes by the end of this article.
Rice Nutrition Facts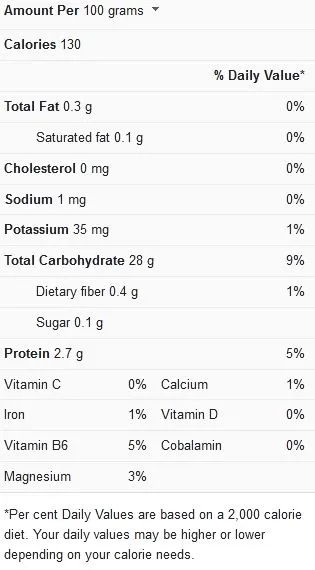 Tips for Cooking Rice Pudding
These tips will prove really helpful to you in the cooking process for rice pudding, so we advise that you pay close attention:
The right kind of rice to use – When creating rice pudding recipes, it's critical to utilize the appropriate kind of rice. Although some recipes emphasize different flavors, conventional rice pudding is made with white rice.
Although this meal is most usually made with long-grain white rice (some even use Thai Jasmine Rice), many contend that fragrant Basmati rice, which contains starch, should be used to achieve a balance of consistency and flavor.
Whether or not to rinse uncooked rice before cooking – You may have heard that you should rinse the rice before cooking it. Rinsing the rice is recommended for some rice pudding recipes since it helps to remove unwanted dirt and starch.
You might be wondering why we'd remove the very element that gives this meal its creamy texture, but if too much starch is added, the dish would become too mushy and lose its creamy texture.
Cooking Rice Pudding with Cooked Rice
Rice pudding is made by cooking rice with sweetened milk. As the rice cooks, it releases starch, which thickens the milk and suspends the soft rice grains, giving it a creamy texture. You can start with either uncooked or cooked rice, which is ideal if you have leftover rice. The recipe in this article includes instructions for both.
Main Ingredients for Cooking Rice Pudding
When cooking rice pudding, there are five core ingredients needed for the process:
Rice: This is the first (and most obvious) ingredient. Uncooked long- or short-grain white rice can be used for rice pudding recipes, but not uncooked brown rice. This is because uncooked brown rice requires more cooking liquid than white rice. However, if you decide to start with cooked rice, you can choose to use either white or brown rice.
Milk: Any type of milk will work with rice pudding, albeit the results will be much creamier if the milk has a higher fat content. If you prefer a dairy-free or vegan diet, use unsweetened non-dairy milk. Some people also recommend cashew milk and oat milk as delicious options to try. You can also use canned coconut milk, but be aware that the flavor will be very strong (or try the subtler variant found in boxes). If you're starting with uncooked rice, use 4 cups of milk; if you're starting with cooked rice, use 3 cups.
Vanilla: You can either add vanilla bean paste or half a vanilla bean right at the start to infuse the rice pudding or stir in vanilla extract right at the finish.
Sugar: If you want your rice pudding to have a sweeter taste, start with 1/3 cup granulated sugar and add more at the end. You could also experiment with brown sugars or liquid sweeteners, but start with a few tablespoons and adjust as needed.
Salt: Ensure that you don't skip the salt when gathering your ingredients since it is needed to bring out all of the flavors in your rice pudding.
View this post on Instagram

Cooking and Serving the Rice Pudding
Rice pudding is made simply by combining all of the ingredients described above in a pot and cooking over low heat until the rice is very soft and the mixture thickens. Make sure to stir it occasionally to avoid scorching on the bottom.
Some rice pudding recipes call for tempering egg yolks to add richness, but it's a time-consuming procedure that risks scrambling the eggs. Instead, add a tablespoon of unsalted butter at the end to make the rice pudding extremely rich.
Rice pudding can be served at any preferred temperature: right from the pot, warm, or even cold. It will thicken as it cools, so thin it out with extra milk if necessary to achieve the ideal texture.
Cooking Time for Rice Pudding
Typically, the time it takes to make rice pudding depends on whether or not your rice has been cooked first. These guidelines in the table below should give you a general idea of the proper timing for rice pudding:
| | |
| --- | --- |
| Cooking the pudding with: | Cooking time |
| Cooked rice | 10 to 12 minutes |
| Uncooked rice | 20 to 22 minutes |
Print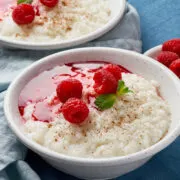 Rice Pudding (6 to 8 Servings)
---
3 cups

cooked rice or

1 cup

of uncooked short-grain or long-grain white rice

3

to

4

cups of dairy or unsweetened non-dairy milk

⅓ cup

of granulated sugar, plus extra as needed

¼ teaspoon

of kosher salt

½

vanilla bean, or

1 ½ teaspoon

of vanilla bean paste or vanilla extract

1 tablespoon

of unsalted butter (optional)
Add-in options: ½ cup of raisins, ¼ teaspoon of ground cinnamon
---
Instructions
In a large pot, combine 1 cup of uncooked short-grain or long-grain white rice and 3 cups of cooked rice. Use 4 cups of milk if using uncooked rice; use 3 cups of milk for cooked rice.
Add ¼ teaspoon of kosher salt and ⅓ cup of granulated sugar to the pot. Scrape the seeds from the vanilla bean and put both the seeds and pod into the pot. If using vanilla bean paste instead, add 1½ tablespoons, then include any extras (from the add-in options) of your choice.
Over medium-high heat, bring the mixture to a vigorous simmer, stirring regularly and scraping the bottom of the pan with a wooden spoon or rubber spatula to prevent the rice from sticking.
Reduce the heat to a low degree and cook, uncovered, until the rice is very soft and the sauce begins to thicken. Estimate about 20 to 22 minutes if using uncooked rice, and 10 to 12 minutes if using cooked rice.
Remove from the heat and, if preferred, mix in 1 ½ teaspoon of vanilla extract and 1 tablespoon of unsalted butter until melted. If necessary, remove the vanilla bean pod. Taste the pudding and adjust the amount of sugar if necessary.
As the rice pudding becomes cool, it will get even thicker. If preferred, thin with extra milk and serve warm or cold.
Notes
This recipe for rice pudding, as you can see, works with cooked or uncooked rice and delivers absolutely delicious results. The entire cooking duration is 25 to 45 minutes, including a prep time of 5 minutes.
If you would prefer other methods or need other ideas on how to cook rice pudding, then check out this video recipe.