A russet potato, often known as an Idaho potato, is a large potato with dark brown skin. The flesh is white, dry, mushy, and mealy, and it can be baked, mashed, or used to make French fries. Russets are excellent for making light and fluffy mashed potatoes, and they are also the potato of choice for baking, as they fry up crisp and golden brown.
This article will take you through the basics of cooking a russet potato, as well as all the extra tips and suggestions you'll need for the best results.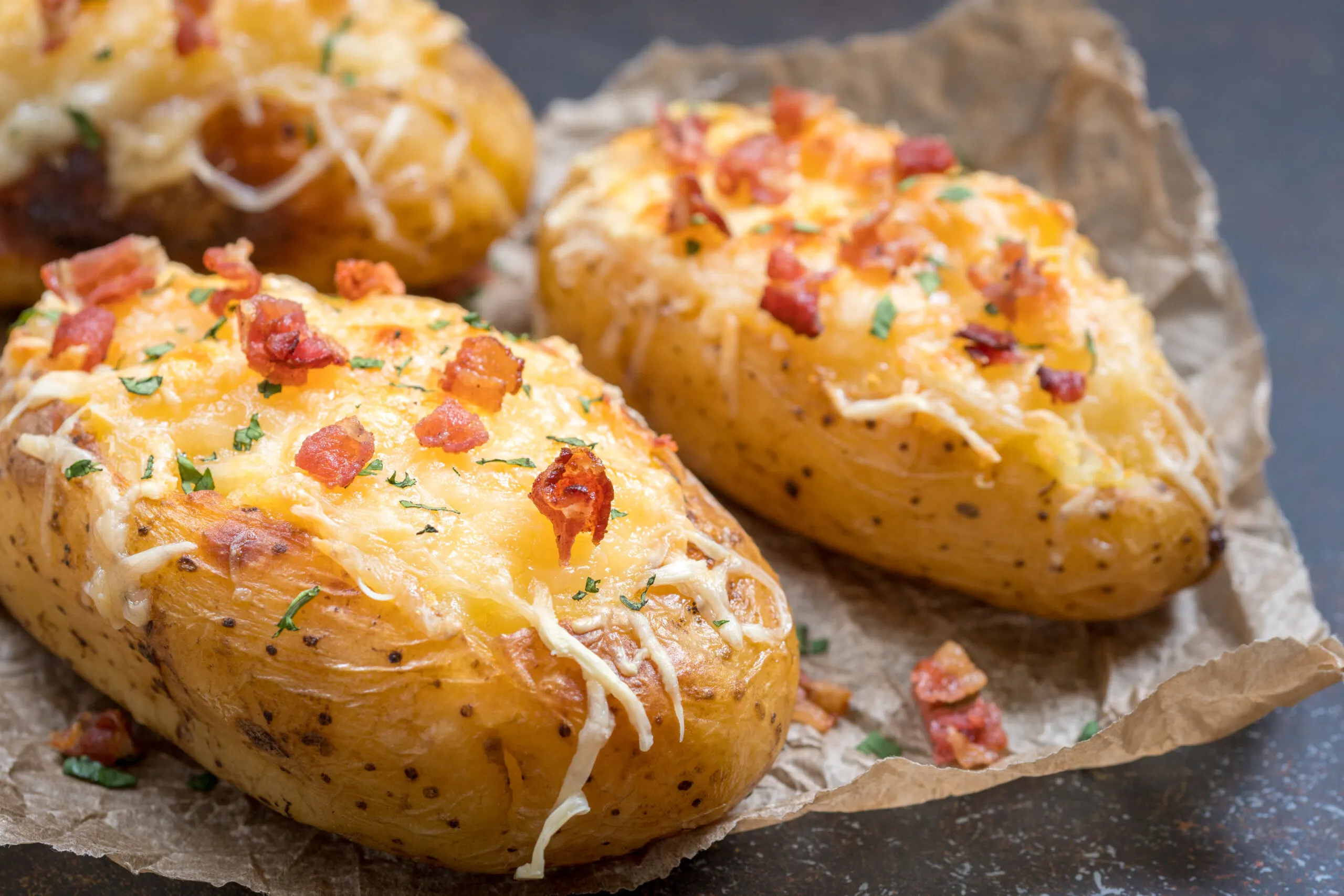 Tips for Cooking Russet Potatoes
Take note of these tips when cooking russet potato recipes:
Uniform sizes are important – Make sure the potatoes are sliced into uniform-sized pieces. Potatoes with a uniform surface area will roast at the same rate, ensuring that no slices are overcooked or undercooked.
Allow space in your pan – Make sure the pan isn't overcrowded. When potato pieces are stacked on top of or touching each other, the surface area that can become crispy is reduced, and the potatoes simmer rather than roast.
If roasting, cook at high heat – 400 degrees F is the best temperature for roasting russet potatoes. If you're cooking something else in the oven at the same time as the potatoes and need a different temperature, go a few degrees higher (425 degrees F) or lower (375 degrees F), and you'll be OK.
Leave the skin on, if you want – You are free to peel the potatoes if you prefer. The skin, however, has strong fiber content and adds an added crunch when roasted. With the skin on, roasted fingerling potatoes, for example, are much more delicious.
Flip the potatoes if roasting – Flip the potatoes in the middle of the roasting process. It permits different sides of the potatoes to face the heat with a fast flick of a spatula, which lets the potatoes crisp up as much as possible.
Other potato options to use in your recipes – Russet potatoes aren't the only potato kind to consider for your potato-based dishes. Here are some examples of potato varieties. Choose your favorite or give them all a shot:
Yukon Golds: These potatoes are a good compromise between russets and less desirable varieties. They contain more starch than russet potatoes, giving the interior a richer, creamier texture (making them perfect for grilled potatoes). It does, however, mean that the outside does not get as crispy as russets.
Red potatoes: Oven-roasted red potatoes crisp up like Yukon golds but lose their crispness and become softer after a few minutes out of the oven.
Cooking Russet Potatoes
There are different methods to choose from when cooking russet potatoes. Some of such methods have been described below:
Baking Russet Potatoes
Ingredients
Instructions
Preheat the oven to 350 degrees Fahrenheit.
Using cold water, scrub the potato thoroughly, then pat dry. Poke a bunch of deep holes all over the potato using a fork. Coat lightly with oil and season with salt before placing on a middle-of-the-oven rack. (A baking sheet can be placed on the lowest rack to catch any dripping oil.)
Bake the potato for 1 hour, or until the skin, is crisp yet puckers when pierced with a fork, revealing the soft interior beneath. Slice the potato open, fluff it with a fork, then top with whatever you want.
View this post on Instagram

Pan-Roasting Russet Potatoes
Ingredients
1 pound of small waxy potatoes (such as russet potatoes)
Extra-virgin olive oil
Kosher salt (coarser salts work better)
Instructions
Cut the potatoes in half and lay them cut side down. Each half should be halved again, but these halves should be kept together.
It is advisable to use a cast-iron skillet that can hold all of the potatoes in one layer. Pour in enough olive oil to coat the pan's bottom, which should be about ⅛ inches deep. Over medium heat, heat the oil until it begins to shimmer. Into the oil, sprinkle a thick layer of salt evenly. Place the half-potatoes on the salt (let the quarters stay together, so they appear just like one half). Fry the potatoes at medium heat (try not to take a peek at them) for 10 to 12 minutes, or until you're sure the potatoes may begin to burn (don't worry though, they're not burning).
Reduce the heat to low and cover the pan once the potatoes are beautifully browned. Cook for around 20 minutes. When a sharp knife easily glides into a potato, it's ready. Serve immediately. They will keep for 30 minutes or more if covered and kept warm.
Cooking Time for Russet Potatoes
Follow these timing guidelines in the table below:
| | |
| --- | --- |
| Cooking procedure | Cooking time |
| Baking russet potatoes | 1 hour |
| Roasting russet potatoes in a pan | 30 to 32 minutes |
Print
Oven-Roasted Russet Potatoes (4 Servings)
---
1½

pounds of waxy potatoes, scrubbed clean with peels left on, cut into

1

-inch pieces, russet potatoes are a great choice.

6

whole cloves of garlic, peeled (optional ingredient)

2 tablespoons

of extra virgin olive oil

¾ teaspoon

of kosher salt, divided

¼ teaspoon

of ground black pepper

½ teaspoon

of dried rosemary or 1 tablespoon of fresh rosemary, very finely chopped (optional ingredient)
---
Instructions
Preheat the oven to 400 degrees Fahrenheit with a rack in the center. Line a large, rimmed baking dish with parchment paper or a silicone baking mat for easy cleanup.
Arrange the potatoes and cloves of garlic in the baking sheet's center.
Whisk together the olive oil, 1⁄2 teaspoon of salt, black pepper, and rosemary in a small mixing basin or large liquid measuring cup. Pour the potatoes and garlic over the top.
Toss the potatoes and garlic in the mixing bowl until evenly covered. Afterwards, place the cut sides of the potatoes against the baking sheet and spread them into a uniform layer.
Roast the potatoes for 45 to 55 minutes, until they get dark brown and crisp, tossing once and rotating the pan 180 degrees halfway through (the cooking time for the potatoes will differ based upon how crowded your pan is and the type of potatoes you use).
Remove the baking pan from the oven and add the remaining 1⁄4 teaspoon of kosher salt. Allow the potatoes to cool for a few minutes before serving.
This recipe cooks in a total of 1 hour and 10 minutes, including a prep time of 15 minutes and a cook time of 55 minutes. If you'd like more ideas on how to cook russet potatoes, check out this video recipe.