Frozen chicken thighs may not be the easiest thing to cook for most amateur cooks, especially when the cooking process is with an instant pot. These instant pots may be tricky and intimidating to many who have not made a dish with them, but after a one-time trial, you realize that it may be the simplest way to cook chicken thighs.
In this article, I have listed some guidelines and tips to help you through your instant pot journey, and I've also included a table showing the entire time duration required to get the most tender and delicious chicken thighs.
You follow our guidelines to get the best results whenever you cook with an instant pot.
Chicken Thighs Nutrition Facts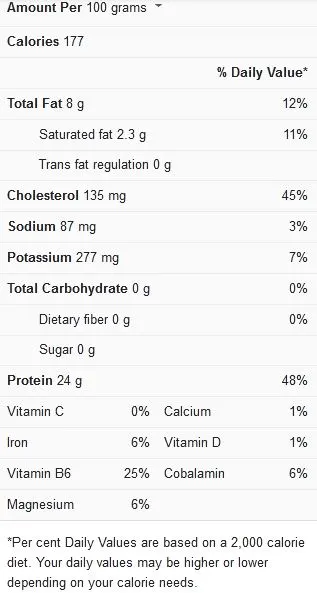 Tips to Cook Chicken Thighs in Instant Pot
As an amateur cook, it is easy to panic when faced with an instant pot, but keeping to these guidelines will make your chicken thighs look and taste great each time.
Defrost the chicken – The first step to take when cooking chicken thighs in an instant pot is to defrost the chicken because they will be rock solid. Put the frozen chicken thighs under running warm water for some seconds to do this. This will cause the chicken to break easily to allow easy entrance into the instant pot. Doing this will also shorten your time on your chicken thigh recipe.
Use a chicken broth – I've seen some cooks use water as the liquid for their chicken thighs in the instant pot, but it is best to use chicken broth for a more delicious chicken. It adds to the umami flavor of your dish.
Season your meat before cooking – You should not season your chicken thighs after your meat has been cooked (some people do this); instead, you should do it before cooking your chicken; the aim is to let in enough flavors when you pressure cook your chicken. If you do not have a lot of seasonings on hand, a little sprinkle of salt and black pepper will do just fine.
Bone-in or Boneless? – The type of meat you are working with actually plays a significant role here. Bone-in chicken thighs would take longer to cook than boneless ones. When using boneless chicken thighs, your chicken should be ready in 20 minutes, while bone-in chicken thighs usually cook for 25 minutes.
Do not open prematurely – You could quick pressure release when you cook chicken thighs in an instant pot, but if you want very tender and flavorful meat, I would recommend a natural pressure release; the meat will keep sitting in steam for a little longer, and this makes the meat a lot softer.
Do not follow your exact recipe time – If a recipe calls for a 10 minute cook time, you should expect your food to be complete in about 20 to 30 minutes; we'll this is because the instant pot would take some time to come up to pressure, and some more time to release the pressure naturally.
Use a tong – If you are new to the instant pot, this is probably the first thing you should know. You don't want to reach into your instant pot with your hand; you will get burned, you should use a utensil, and the perfect one is a tong.
View this post on Instagram

Cooking Time for Chicken Thighs in Instant Pot
The timing guidelines in the table below are crucial to obtaining desirable results when cooking frozen chicken thighs in an instant pot.
| | |
| --- | --- |
| Cooking method | Cooking time |
| Prepping the chicken | 2 minutes |
| Cooking time | 13 minutes |
| Broiling time | 10 minutes |
Print
Quick Frozen Chicken Thighs in Instant Pot
---
---
Instructions
Pour 3 cups of water into your instant pot, this will act as the liquid for pressure cooking your frozen chicken thighs, you can also use 3 cups of chicken broth for an intense umami flavor.
Now it's time to mix in your spices. Crush 5 chicken bullion cubes into a small bowl, add 1/4 teaspoons of garlic salt, 1/4 teaspoons of onion powder, 1/4 teaspoons of thyme, and 3 bay leaves. Mix all of these seasonings, pour them into the liquid in your instant pot, and whisk well.
Place your chicken inside the instant pot, and set your timer to 25 minutes (if your chicken is still frozen together in a big clump, you should set it to 30- 40 minutes) When the time is up, allow the instant pot to naturally release, this should take a couple of minutes.
Next, grab a tong and remove your cooked chicken from the instant pot, also remove the bay leaves.
In the leftover chicken broth, add 2 and 1/2 cups of rice, whisk well, cover the lid, and set the control to "rice".
While waiting for the rice to cook, separate the cooked chicken from the bones with your hand. You can store these bones inside a plastic bag in the freezer for a future purpose (to make chicken broth). Cut the boiled chicken into bite-size pieces
When the rice is cooked, also allow the pressure to release naturally, stir in the chicken, grab a can of peas and strain out the liquid, also add in the peas, and give the rice a good stir to properly mix everything.
Place the instant pot lid back on and cook for another 5 minutes to heat the chicken and peas.
Transfer your food from the instant pot to a serving dish and enjoy.
This delicious recipe works like a charm each time I prepare it, give it a try today if you are short on ideas for your chicken thighs. If you require more ideas on how to chicken thighs in an instant pot, check out this video recipe