When we talk about sausages, chicken sausage does not quickly come to mind like beef or pork sausage; this has sadly contributed to the low number of chicken sausage recipes in the arsenals of many home chefs.
If you are faced with a chicken sausage recipe as an amateur chef and find yourself struggling to achieve the perfect chicken sausage, you've come to the right place.
I've listed some tips to get the perfect chicken sausage each time in this article. I've also indicated how long it takes to prepare a chicken sausage. Finally, I've included a delicious chicken sausages recipe in case you lack inspiration.
Sausage Nutrition Facts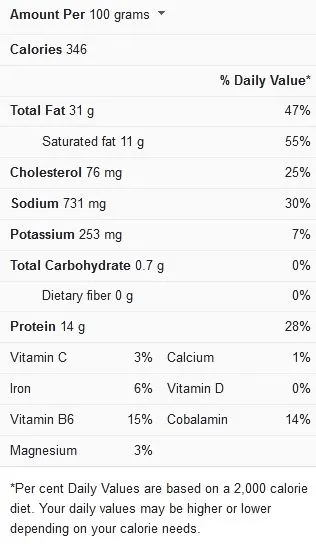 Tip for Cooking Chicken Sausage
To achieve a decent chicken sausage every time you cook, the following tip and guidelines should be followed; we advise you to pay close attention to these tips:
Understanding your recipe – Before you even start cooking chicken sausages, you should understand what works best for your recipe; if you have a recipe that involves air frying, you take the sausages from the pack and into the air fryer cook them at 400°F for 12 minutes. If it involves frying the sausages in oil, you should defrost them before sautéing them for 5 minutes. But if your recipe involves grilling, it may be a bit more intricate, so I will be breaking down the steps to achieve the perfectly grilled chicken sausages.
Boil the sausages – Most of the time, when we cook sausages, it's over a barbecue grill, and it normally goes from packet to grill almost instantaneously. This method is pretty quick, no doubt, but most times, the insides of your sausages will be undercooked.
To get a perfectly cooked chicken sausage (both inside and outside), we recommend you boil them briefly in water before throwing them on the grill; you could also boil them in cider or beer for extra flavor.
Pro tip – Bring the water to a boil, and simmer for about 5 to 6 minutes.
Do not prick sausage with a fork – Nobody wants their sausages ruined before it gets the chance to be served. Therefore, most people prick their sausages before boiling. True that this will help remove steam that would accumulate inside the sausage, but one thing you should know is that by poking holes in the sausage, most of the fat contents will get lost during the cooking process. Instead of juicy sausage, you will be left with a dry sausage with a lot of the juice gone.
Seasoning matters – Chicken has a bland flavor, so cooking with chicken requires creativity; think of chicken sausage as a blank canvas, and you are the artist; whatever season mix you choose to use will play a huge role in the final flavor of the meal.
View this post on Instagram
Cooking Time for Chicken Sausage
The following timing guidelines in the table below are necessary to get the perfectly cooked chicken sausage.
| | |
| --- | --- |
| Cooking Procedure | Cooking Time |
| Defrosting chicken sausage | 3 to 5 minutes (depending on the sausage size) |
| Pre-boiling chicken sausage | 5 to 6 minutes |
| Sautéing chicken sausage on low heat | 5 to 7 minutes |
Print
Chicken sausage chili recipe (1 to 2 servings)
---
---
Instructions
Chop 800 grams of chicken sausage into bite-size pieces, this will enable them to be consumed with ease. You can use a kitchen scale to make sure you have the right quantity for 1 to 2 servings.
Dice two big onions, this should also be chopped into bite-size pieces for convenience. After chopping the onions, you should separate the onion layers.
Cut the green been pepper in half and remove the seeds from the skin. The next thing is to chop the pepper into small triangles (you can also cut into any shape)
Chop 3 to 4 cloves of garlic, chop some ginger, and finely chop the combination of garlic and ginger to incorporate them properly. This combo should be about 2 tablespoons
Chop one green chili pepper, then chop two big tomatoes into small rectangular portions
Drizzle 2 tablespoons of vegetable oil in a pan and heat at a low temperature for 10 seconds, then you should introduce your chopped chicken sausages and continue to stir-fry continuously until they are properly cooked in the oil.
Remove the sausages from the pan, and heat 1 tablespoon of vegetable oil again on low heat.
Fry the chopped garlic and ginger combo in the already heated oil, next throw in the chopped green chili, and stir-fry to mix properly.
Add the diced tomatoes to the mixture, and salt. If you decided to use turmeric powder, now would be a good time to throw that in too.
In a bowl, mix 5 tablespoons of tomato ketchup, 2 tablespoons of soy sauce, and 2 tablespoons of warm water to create a sauce.
Add the sauce you just created to what you have in the pan, also throw in the chopped bell peppers, 1/4 teaspoons of meat masala curry powder, and stir to properly incorporate everything, also throw in 1/2 tablespoons of chili flakes.
Next, you should reintroduce the fried sausage to this mixture and stir to properly coat the sausages with the sauce.
Add the chopped red onions and also your spring onions, and stir-fry until the onions become slightly soft. Your chicken sausage chili is ready to be served.
This Chicken sausage recipe is loaded with a lot of delicious flavors, and when you follow our guidelines you will always get excellent results. If you'd like to see more recipe ideas, we recommend that you check out this video recipe.