From salads to sandwiches and even simple dinner recipes, crockpot chicken breast pairs well with almost every recipe. It is easy to make, juicy, and delicious to eat, and also gives room for the addition of sauces and marinades to enhance its flavor.
With just a few minutes and ingredients, you could make a crockpot chicken breast recipe that has just the right texture and is full of flavor. So, if you're new to making crockpot chicken breast, keep reading because this article will give you some great tips to note when making yours, along with the estimated cooking time.
Chicken Breast Nutrition Facts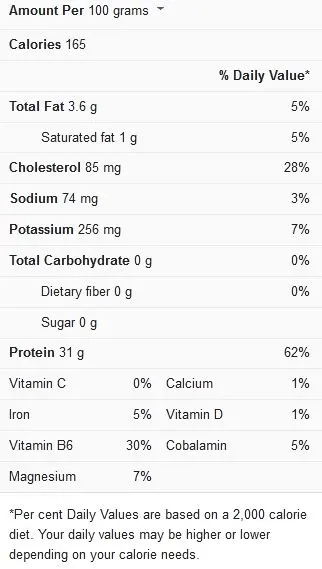 Tips to Note When Cooking your Crockpot Chicken Breast
When making your slow cooker chicken breast recipe, here are some tips to consider in your recipe.
Don't overcook the chicken- avoid cooking your chicken for longer periods with a normal half water content in your pot; this would make the chicken boil faster and get mushy fast instead. If you want a longer cooking time fill the slow cooker with more than half-full water, and this would slow down the cooking time without overcooking your chicken.
Stick to a good quality chicken- if you're reading this article, you must already be familiar with some chicken brands, and you might have one you often purchase. The quality of each chicken may vary, so pay close attention when shopping for one.
Work with a meat thermometer- it is highly beneficial to have a meat thermometer with you when making this recipe; a thermometer would help you conveniently check for doneness in your chicken without cutting open the chicken.
Try searing your chicken for extra flavor- searing fresh meat or poultry is always a great way to add flavor; you could choose to sear your chicken breast before slow cooking if you'd want and choose not to if you don't.
Try adding butter to your recipe- adding butter or margarine is another unique way of incorporating some flavor and juiciness in your chicken breast recipe. Most meat or poultry cut with fatty content tends to have a unique taste when cooked. So, adding some fat to the chicken breast would make your recipe more flavorful and juicy.
Use organic chicken- you can use any chicken of your choice, whether organic or non-organic, but you'll find out that the result is juicy and less tough when you use organic chicken for this recipe.
Don't cut the chicken- when making crockpot chicken breast, it's best to cook the chicken when it's whole because that way, it locks in the moisture. Chicken breast is low in fat, so cutting them into smaller chunks would make it dry and tough when cooked.
Experiment and try out different marinades and seasonings- variety they say is the spice of life. When making this recipe, you could experiment with different marinades and seasonings like sweet potatoes, rosemary, lemon, lime juice, and spices like cumin or chili powder.
Cooking Chicken Breast in a Slow Cooker
The table below contains the estimated time used in making a slow cooker chicken breast recipe:
| | |
| --- | --- |
| Cooking procedure | Cooking time |
| Cooking chicken breast in a slow cooker | 3hrs – 3hrs 10 minutes |
Print
Crockpot chicken breast (4 servings)
---
Equipment
Slow cooker
Tongs
Meat thermometer
Measuring spoons
---
Instructions
Pour the salt, dried parsley, black pepper, onion powder, garlic powder, paprika, and mix thoroughly. Use this spice to rub on the chicken breast before cooking.
You could also go ahead and use a homemade marinade if you have one, you could just add that directly to the pot and place the chicken breast inside.
If you're not using a marinade and you've already spiced your chicken breast from the first step then bring your slow cooker, turn on the heat, and add the chicken broth and butter to it, let the butter cook and combine while you stir it.
Then add your seasoned chicken breast to the slow cooker and cook on high for about 3 hours or until you reach the safe internal food temperature which is 165 degrees F. You could add some veggies like Carrots or Potatoes if you wish.
Don't fret about cooking on high for 3 hours because the recipe would still come out juicy and delicious for you.
When it is ready, remove the chicken from the heat and let it cool for about 10 minutes then slice neatly on a cutting board or serve just the way you want.
If you need more help and ideas relating to the preparation of crockpot chicken breast then you should check out this video recipe