One great thing about cooking chicken sausage in the oven is how simply you can adapt it to fit your schedule, personal tastes, and what's available in your kitchen! Essentially, you can have a quick and easy meal option on the table in no time.
This article will teach you how best to cook chicken sausage in the oven for the best results, as well as really helpful tips that can guarantee an extra dash of deliciousness. Make sure to pay attention to all our instructions and guidelines to get the best out of your recipe.
Sausage Nutrition Facts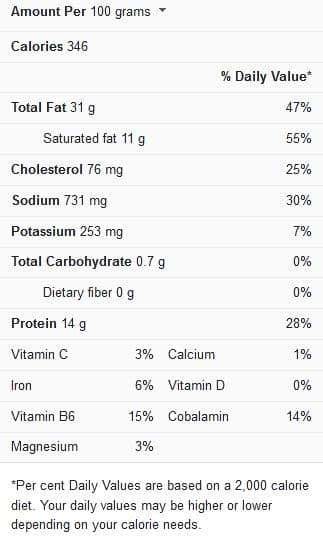 Tips for Cooking Chicken Sausage in Oven
We have outlined some tips below to ensure optimal results when cooking chicken sausage in the oven:
The perks of cooking chicken sausages in the oven – If you need some convincing to try this recipe, perhaps some of the points listed below will sway you:
When cooked in the oven, chicken sausages can go from start to finish in as little as 20 minutes when using pre-cooked sausage, making it a really quick and easy supper choice!
Combining baked chicken sausage with veggies such as potatoes, peppers, broccoli, and onions can easily make up a whole dinner on a single sheet pan.
You can ensure that baked sausage chicken with vegetables is low-carb, gluten-free, keto, sugar-free, and dairy-free; tweak your ingredients to meet your dietary requirements.
Whether you're preparing for a small family or a large group, chicken sausages in the oven are greatly adaptable and can handle anything.
Let it reach appropriate doneness – The inside of a pre-cooked chicken sausage that only has to be heated through should not be pink. A digital cooking thermometer is the best way to tell if a chicken sausage has been heated and cooked thoroughly. Before serving, the chicken should have reached an internal temperature of at least 165 degrees Fahrenheit.
Ideal temperature and timing – Ideally, you should cook sausages for 30 minutes at 400 degrees, or until an internal temperature of 165 degrees F is reached; you can check this internal temperature with a meat thermometer.
When working with frozen chicken sausages – If you decide to make your oven-roasted chicken sausages with frozen sausages, you can still cook them as directed in the recipe you're following. Still, you should add 15 to 20 minutes to the standard cooking time for optimal results.
When working with raw chicken sausages – The majority of oven-baked recipes for chicken sausage call for the use of pre-cooked forms of chicken sausage. If you choose to use raw chicken sausage, the cooking time will need to be increased by at least 10 minutes to reach the appropriate doneness level.
Before serving, you should use a digital meat thermometer to verify the internal temperature of your chicken sausages.
Recipe variations to try – these are some suggestions you could work with:
Different types of pre-cooked sausage can be used in place of chicken sausages; feel free to try any of them for a recipe variation.
Bell Pepper — While baked chicken sausages are great with red bell pepper, you can choose to use whatever variety you like.
Use mushrooms, sweet potato cubes, cauliflower, green beans, or any other vegetables your family prefers to switch up the vegetables you use in your recipe.
View this post on Instagram
Cooking Time for Chicken Sausage in Oven
Follow the timing guidelines in the table below for delicious end products when cooking chicken sausage in the oven:
Cooking Procedure
Cooking Time
Cooking chicken sausages in the oven at 375 to 400 degrees Fahrenheit
20 to 25 minutes
This recipe delivers delicious results, as you may have already guessed. Feel free to try it at home and watch how appreciative your loved one will be of the flavorful results.
Print
Chicken Sausage in Oven (4 Servings)
---
---
Instructions
For the simple baked chicken sausage
Adjust the oven's temperature to 375 degrees Fahrenheit and let it preheat; set the oven rack in the middle.
Place the chicken sausage on a baking sheet sprayed with cooking spray or olive oil, making sure to leave some space between each of the sausages.
The chicken sausages will take around 20 minutes to cook in the oven. Cook the chicken sausages for 10 minutes on a side before flipping them with tongs. Cook the sausage for another 10 to 15 minutes, or until the chicken sausage reaches an internal temperature of 165 degrees Fahrenheit.
For baked chicken sausages with potatoes and vegetables
Set the oven's temperature to 400 degrees Fahrenheit and preheat. Using parchment paper, line a sheet pan.
Combine all vegetables, salt, olive oil, and pepper in a medium-sized mixing bowl.
On a big sheet pan, spread the potato and vegetable mixture. Bake this mixture for 20 minutes.
Cook for another 10 minutes after adding the pre-cooked chicken sausages into the pan. Combine the vegetables in a mixing bowl and turn the chicken sausages over.
Bake for another 10 to 15 minutes, or until the chicken sausages get browned, and the vegetables become tender.
Season with salt and pepper for extra taste.
Notes
You can substitute mushrooms, green beans, cauliflower, or sweet potato cubes for the vegetables.
Other pre-cooked sausages can be used in place of the chicken sausage.
To bake uncooked sausage, increase the cooking time by about 10 minutes and place it in the oven with the veggies at the same time.
Include two garlic cloves, mince them, and put them in a while adding the sausage
Finish with fresh parsley and toss everything together before serving.
It's simple to double the recipe by using two sheet pans and switching them halfway through the baking process.
If you'd like more ideas for cooking chicken sausages in the oven, then check out this video recipe.