Cauliflower cooked in the oven can be achieved through a simple but always delicious. The florets caramelize thanks to the delicious butter and olive oil in the recipe, and they're cooked to crisp-tender perfection. The best part about cauliflower oven recipes is that you can season the cauliflowers with anything you have available and still get fantastic results.
In this article, we'll teach you how to cook cauliflowers in the oven properly, and we'll provide you with tips that will guarantee perfection with your results.
Cauliflower Nutrition Facts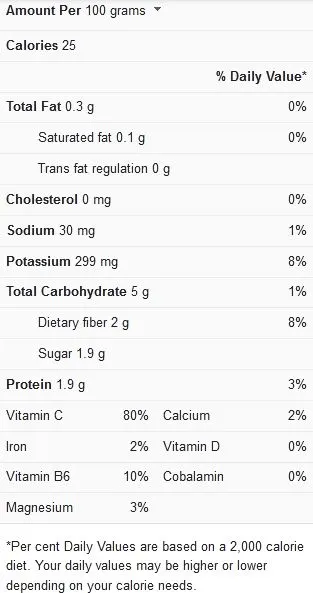 Tips for Cooking Cauliflower in Oven
Slice the cauliflower to take advantage of flat edges – We advise that you cut up your cauliflower into bite-sized pieces with enough flat edges for the best results in your cooking. The flat sides will rest smoothly against the pan, allowing caramelization, and you'll need as much taste as possible from caramelization.
This is how to do it:
To make a flat bottom, cut off the stem end of the cauliflower.
Turn the cauliflower over on the chopping board so that the dome is facing up.
Cut the cauliflower into four even wedges by slicing through it downward.
Slice off the inner core portions to get rid of the hard, fibrous stem. Then cut each piece in half to produce ½-inch broad slices.
Any florets that are glued together should be separated. It'll all make sense as you go along, and you'll find that it's quite simple.
Avoid overcrowding the pan – Cauliflower, like all vegetables, requires some space on the pan. If not, the florets will emit so much steam that their edges will never crisp up. Using two pans, set on different racks near the center of the oven, is preferable to cramming too much into one pan.
Working with frozen cauliflowers – It's even better if you start with frozen cauliflower florets and don't defrost them first. Here are some suggestions for modifying your recipe to work with frozen cauliflower:
Increase the oven's temperature to 450°F (232°C) by 50 degrees Fahrenheit (10 degrees Celsius). Use searing dry heat as this will remove any condensed ice crystals on the frozen cauliflowers, allowing them to roast rather than steam in the oven.
Before putting the florets in the oven, toss them in a substantial amount of oil, ensuring that they are completely covered. The oil will aid in browning the cauliflower edges and the preservation of the florets.
Halfway through frying, stir the florets to ensure high heat touches all sides.
Roast at high temperatures – Cauliflower should ideally be baked at a high temperature. The temperature must be high enough to achieve crispy, golden edges in your florets, but not so high that your olive oil begins to burn, resulting in a foul odor and taste. Ideally, your oven should be preheated to 400 and 425 degrees Fahrenheit.
Flip, flip, flip – Halfway through baking, flip the cauliflower pieces. This is a necessary step to allow each side of the florets to caramelize properly. As previously said, as much caramelization as feasible is desired in the results.
Achieve a golden brown color – Don't stop cooking the cauliflowers too soon, or you'll miss out on some of the desired caramelization. Roast until the undersides of the florets attain a deeply golden color, with some brown patches on top. Keep an eye on the cauliflower toward the end, as it will take between 25 and 35 minutes to cook in total.
Seasoning ideas for cauliflower recipes – Cauliflower is a versatile vegetable that may be seasoned in various ways. Even a simple seasoning of salt and pepper will suffice. These are our favorite seasonings:
Fine sea salt is a popular favorite; you could try it too.
Garlic powder; a garlic salt is also an option
Black pepper – ensure that it is freshly cracked for optimal results
Paprika — brings color and taste to the dish; even a little bit goes a long way in flavoring your recipe.
Cheese is another popular favorite when it comes to cauliflower recipes. For a parmesan roasted cauliflower, sprinkle ½ cup of shredded parmesan cheese on top in the last 5 minutes of cooking.
View this post on Instagram

Cooking Time for Cauliflower in Oven
The baking time will differ somewhat according to how large your cauliflower florets are cut. Also, expect some differences based on the temperature you choose to bake. The timing guidelines in the table below are specifically for cauliflower recipes when cooking them in the oven:
Cooking Procedure
Cooking Time
Roasting the cauliflower in the oven at 400 degrees Fahrenheit
25 to 30 minutes
This recipe can be made within an entire duration of 40 minutes, including a prep time of 10 minutes and a cook time of 30 minutes.
Print
Roasted Cauliflower (4 Servings)
---
---
Instructions
Set the oven to 400 degrees Fahrenheit (205 degrees Celsius) and preheat it. Line a baking sheet or large roasting pan with aluminum foil; alternatively, you could lightly oil it.
In a bowl, place the cauliflower florets. Toss them with already minced garlic bits. Add a squeeze of lemon juice. Drizzle olive oil over the florets then tosses to coat them with the oil lightly.
On the roasting pan, arrange the florets in a single layer, season to taste with salt and pepper.
Roast the cauliflower for 25 to 30 minutes, uncovered, at 400°F (205°C), do this until the tops are gently browned. Check for doneness with a fork; when the cauliflower is done, the tines of the fork should easily pierce through them.
Take the cauliflower florets out of the oven, top them with a liberal amount of Parmesan cheese, and serve them right away.
If you'd like to see more ways to roast cauliflower florets in the oven, we recommend this video recipe for you to watch.