When you're short on time, you'll particularly appreciate the ease and speed of an instant pot frozen pork roast. It's a quick, simple, and healthier alternative to other cooking methods such as pan-frying the meat. Put the frozen tenderloin in the instant pot with some chicken stock and spices, and you'll have on your plate a delicious and easy dinner.
In this article, we'll teach you how to cook a pork roast from frozen straight to delicious in an Instant Pot. You'll also learn really helpful tricks and guidelines to help you achieve the best results every time.
Pork Roast Nutrition Facts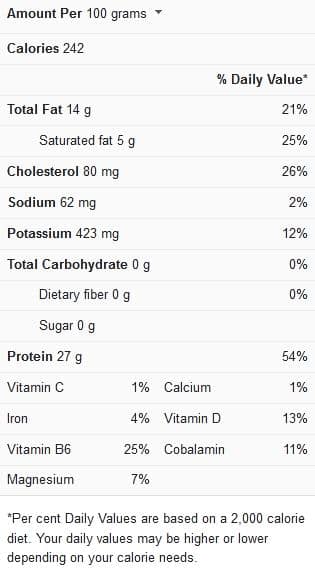 Tips for Cooking Frozen Pork Roast in Instant Pot
The tips and guidelines we have outlined below will help you achieve the best results when cooking frozen pork roast in an Instant Pot:
Ideal cooking duration – The cooking time for instant pot pork roast will typically be longer than usual because you are using frozen meat. Cook the frozen pork roast on high pressure for 30 minutes per pound, and it will turn out perfectly.
You should typically cook for 20 minutes per pound of fresh or thawed meat on high pressure for 20 minutes. Please keep in mind that there will be an additional 10 minutes of Natural Pressure Release.
Working with more than one roast – You can cook well over one tenderloin in your pressure cooker. Make sure they're stacked properly inside the pressure cooker. Unless the tenderloins are frozen together, the cooking time is not extended.
Also, scatter or criss-cross them so that the roasts don't overlap. Calculate the cooking time based on the number of pounds of meat you're preparing.
Ideal internal temperature – It's better to use a meat thermometer to check the internal temperature of the roast you're cooking. The FDA recommends that pork be cooked to a temperature of 145 degrees F. So, depending on your preferences, you should aim for a temperature of roughly 145 degrees F before relaxing the meat.
Also, if the internal temperature of the meat is just below 165 degrees F (by about 5 degrees) after pressure cooking, a tent in foil to allow the pork carryover to finish cooking as it rests.
If your pork roast is still too tough – If your pork roast is still too tough to cut with a fork instead of virtually falling apart, you may need to give it extra time to cook in the pressure cooker. This will give the braise more time to break down the meat's connective tissues, resulting in more tender meat.
Recipe variation – If you like, you can use a frozen beef roast in place of pork in your recipe. The dry rub mix that includes onion powder, garlic powder, black pepper, chili powder, and salt works great when it comes to beef.
If you prefer beef to pork, you'll be pleased to know that you can opt for this variation.
Suggestions for a keto or paleo diet – If perhaps you're on a keto or paleo diet for health reasons, you'll be pleased to know that instant pot is frozen pork roast recipes are both keto and paleo-friendly.
If you're following one of these diets, be careful what you serve with your pork roast. You'll want to stick to low-carb vegetarian side dishes or low-carb replacements such as cauliflower rice.
View this post on Instagram

Cooking Time for Frozen Pork Roast in Instant Pot
Follow the timing guidelines in this table below to cook a frozen pork roast in an Instant Pot
Cooking Procedure
Cooking Time
Cooking frozen pork roast in the instant pot
30 minutes per pound; 60 minutes for a two-pound roast
This recipe for instant pot frozen pork roast takes a total duration of 1 hour and 5 minutes, including a prep time of 5 minutes and a cook time of 1 hour. Instant Pot Frozen Pork Tenderloin is a quick and easy method to cook an excellent supper in under an hour. The procedure is really simple to work with, and you can use it with different meat cuts as well.
Print
Frozen Pork Tenderloin in the Instant Pot (4 Servings)
---
---
Instructions
Pressure Cook your Pork Tenderloin: Combine 2 cups of chicken stock and bay leaves in a pressure cooker pot.
Put the trivet with the handles on top of the frozen tenderloin. Cut it in half if it doesn't fit.
Shut the lid of the Instant Pot and check that the valve is set to close.
Adjust the timer of the Instant Pot to 60 minutes for frozen pork tenderloin and 40 minutes for thawed or fresh tenderloin using the Pressure Cook option. After that, there's a 10-minute Natural Pressure Release.
After 10 minutes, physically remove any leftover pressure.
Raise the trivet with the pork tenderloin carefully off the lid. Remove any extra fat from the pork tenderloin before placing it in a foil-lined roasting sheet.
Select the sauté mode in the pressure cooker pot after cleaning it.
In a medium mixing basin, whisk together all the sauce ingredients until smooth.
Add the sauce combination to the IP once it reads HOT. Cook the sauce for a few minutes, constantly stirring, until the sauce has thickened sufficiently to cover the back of a spoon.
Brush half of the sauce over the pork tenderloin, covering the top and sides. Set aside the other half of the sauce.
Broil for several minutes or until the pork tenderloin turns golden brown. Once the sauce has dropped into the pan, baste once more.
Allow 10 minutes for the pork tenderloin to rest before slicing.
Cut the pork tenderloin with a sharp knife and drizzle with the leftover sauce.
Serve with green onions and sesame seeds as garnish.
If you'd like to see more ways to cook a frozen pork roast in an instant pot, then check out this video recipe.