Meatballs are tasty and work in many dishes, from pasta to sauces and even sub sandwiches. And because we love them, we like to prepare a batch and store it in the freezer for later. But then, dinner calls, and you've forgotten to thaw them in the fridge. So how do you face your kids to tell them spaghetti night isn't going to hold?
I'll tell you how; you don't! Instead, take those frozen meatballs out and put your crockpot to use. But you may wonder, how would that work? And for how long do I cook to consider it okay? Well, we've got your back on all fronts, so read on.
Meatballs Nutrition Facts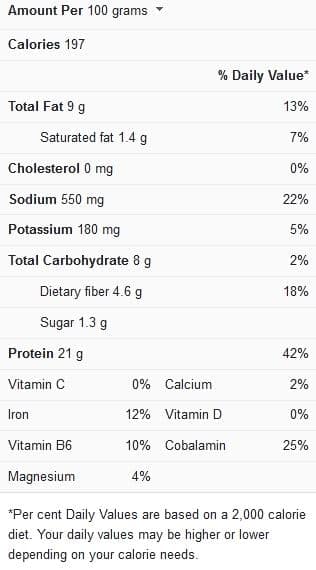 Why Use A Crockpot for Frozen Meatballs?
Let's start with the first query that pops into anyone's head when you say frozen crockpot meatballs. It does sound laudable but let's think about it for a second. Slow cookers are famous for well, slow-cooked foods, and there's a reason for that. But it also offers tons of advantages to recipes, including producing the softest, most delicious batches of slow-cooked meats ever! So, for your frozen meatballs, the slow cooker idea isn't far-fetched. And it'll offer the following perks;
It's Convenient: You won't need to spend the whole day waiting for the meatballs to thaw. Once they're tossed into the crockpot, you can walk away and let it do its thing.
It's Economical: You can cook a large batch in one swoop, especially if you use a bigger crockpot. So, if you've got guests and family around, check this off the list.
It's Versatile: Slow cookers are great for a wide range of sauces, which you can prepare with your meatballs at one go. It's also the best way to add super tastiness to the recipe.
 

View this post on Instagram

 

Tips for Crockpot Frozen Meatballs
So, you see how not crazy it sounds to cook frozen meatballs in a slow cooker? Now, we can continue with the recipe. But before we do, let's touch on a few basic tips you must obey when using this method. Yes, the crockpot is kind but only to those who respect its laws and instructions.
Sit the Frozen Meatballs
Let's face it; you can't just toss a batch of solid-frozen meatballs into your crockpot and expect it to turn out great. I mean, they're frozen, remember? And no matter how late you are, you can still spare a bit more time. So, it would be best to consider letting the meatballs sit in a colander at room temperature for about an hour before you proceed. They won't defrost all the way, but the temperature will rise slightly.
When using the colander, place it somewhere around the sink, so whatever melts out will drain directly into it. And arrange the meatballs so they don't sit on each other and have room to defrost a bit. So if you're making a large batch, use two colanders- the point is to ensure the meatballs have enough space in the sieve.
Put Meatballs First
Crockpots cook for a significant amount of time, but when dealing with frozen foods, you'll need those to come to heat as quickly as possible. And the best way to do so in a crockpot is by putting the meatballs in first. This way, they'll sit close to the heating element, getting direct cooking the entire time.
Use Small Meatballs
Due to the wider surface area and denser texture, large meatballs will take longer to cook. So crockpots are best-perfect, in fact- for small meatballs. They'll cook faster at these sizes, and the heat will penetrate the middle quicker. Plus, they aren't as dense, so you won't need to worry about them getting toughened from the extended cooking time.
Cook on Low
Now, don't be tempted to crank the slow cooker too high for frozen meatballs. Yes, it sucks that you forgot to thaw, but you'll feel worse if your kid bites into one and says the center is ice cold. Note that slow cookers will heat faster at a HIGH setting, but the time it cooks isn't enough for frozen meatballs. So you want it at LOW settings, and then add a few more hours to the time, so the meatballs cook to tenderness.
Cook in a Sauce
You also can't toss frozen meatballs in without some liquid. And since most meatball recipes are made for sauces and soups, why not cook both at once. So we recommend cooking them in a sauce of your choosing. And you've got tons of options, from spaghetti to teriyaki, BBQ, chili, and anyone else you can think of.
 

View this post on Instagram

 
Cooking Time for Crockpot Frozen Meatballs
You want the meatballs to not just defrost in the crockpot but also cook to tenderness with enough heat at its core. And the best mode to set the crockpot for this is LOW, then let it cook for six hours straight. Then, after that, give the meatballs another two hours to attain that sweet tenderness and core heat. So, the total cooking time will be eight hours for frozen meatballs, using the LOW settings.
Print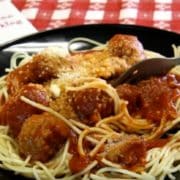 Crockpot Frozen Meatballs (12 Servings)
---
Two bags of meatballs, frozen, brought to room temperature for one hour
One jar spaghetti sauce, 16 ounces
---
Instructions
Arrange the meatballs in the crockpot's bottom and pour the sauce all over the top so they're completely coated.
Place the lid and program the pot to LOW for eight hours. And once the time is elapsed, turn it to warm and leave I t be until you're ready to serve.
Find more help in this video recipe.