Whether you're looking for a simple vegan recipe or preparing a healthy side dish, cauliflower makes a great option. And while steam in the microwave or roast in an oven, the stovetop technique remains the easiest. Making cauliflower on the stove is a quick-fix solution to urgent menus and healthy snacks. And not only is it a great way to improve the nutrient value of the dish, but it also adds a mild but tasty flavor.
Cauliflower Nutrition Facts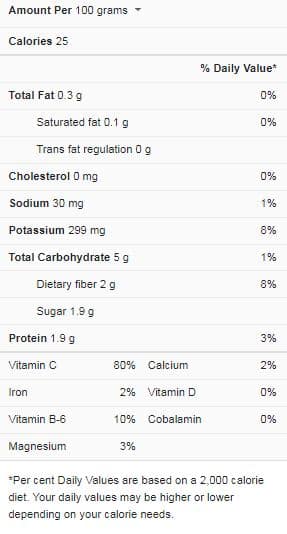 Tips for the Best Stovetop Cauliflower
If you plan on making cauliflower on the stovetop, you'll want the best from the recipe you're preparing. So, try keeping these tips in mind before you begin;
Make Small Pieces-Try cutting the cauliflower into as small pieces as possible. The reason is smaller pieces of cauliflower cook faster compared to large ones.
Watch the Cooking Texture-Only leave the cauliflower to tenderness if you're serving it at once. But if you plan on adding it to another cooked recipe, take it down as soon as it can be pierced with a fork.
Making Cauliflower on the Stove
Take a look at this overview on how to go about cauliflower recipes on the stove;
View this post on Instagram

Cutting the Cauliflower
The cauliflower needs to be chopped into tiny pieces before you cook them. And the size depends on how you prefer them. You could dice the florets into sizable chunks or slice the florets into quarter pieces. And if you'd like the cauliflower to be almost grain-like (as in cauliflower rice), blend them into much smaller bits with a food processor. But note that you still need to cut the cauliflower into small florets before tossing it in the food processor.
Cooking the Cauliflower
You can prepare cauliflower on the stove in two main ways. You can choose between boiling it in water or sautéing the cauliflower pieces in oil or fat. Whichever method you select, be sure it works well with the profile you seek. And this factor is also essential when you're adding it to another recipe.
By Boiling- Set a pot of salt over high heat, and let it reach a boil. Then, reduce the temperature to medium-low and pour the cauliflower pieces. Cook them for about five to seven minutes, or until they're fork-tender. Then, drain the water and season with salt and pepper if you're eating right away. The boiling method is excellent for large pieces, so you won't have to fear cooking them too soft.
By Sautéing- Place a skillet on medium-high heat and let it grow hot. Then add some olive oil and when it shimmers, add the cauliflower. Sauté until it reaches a preferred tenderness, but this mostly takes between six to eight minutes. Then, season the cauliflower as desired. The sautéing method is perfect for cauliflower processed into smaller pieces, like cauliflower rice.
Print
Boiled Cauliflower (4 servings)
---
One cauliflower head

Two tablespoons

melted butter

½ teaspoon

onion powder

½ teaspoon

garlic powder
Pepper
Salt
Water
---
Instructions
Cut the cauliflower florets into large chunks and put them in a pan. Then add enough water to cover the florets and sprinkle in a tablespoon of salt.
Boil the cauliflower for five to seven minutes on high heat. Then, check for doneness by piercing the florets with a fork.
Drain the florets in a colander and dry with paper towels. Then, pour the butter into a pan and cook briefly over medium heat. Stir in the onion and garlic powder, and when it thoroughly mixes, turn off the heat.
Serve the cauliflower hot, with the butter and seasoning mix, poured on top.
You can also watch this video recipe for more ideas.