If you are a health freak, a big fan of the kitchen, you just like doing things neatly, or perhaps you have a restaurant, and you care about your customers, getting a kitchen hair net should be at the top of your list kitchen affairs. Apart from keeping your hair away from your food, hairnets also help you protect the food from you. How so? If you are the type of person that can't keep your hands off your hair for too long, getting a hair net will save you from future mishaps in the kitchen.
A few years ago, I was cooking for a sleepover party, and the hair I had on was a fringe hairstyle. I couldn't keep my hands off my face. To make matters worse for every time I touched my hair, I had to wash my hands. It was a vast kitchen disaster for me, and while eating, I couldn't help but pay attention to the food to make sure there was no hair in it.
For me, hairnets make me feel more comfortable while cooking, I don't have to worry about washing my hands countless times, and I also get to rock that chef look when I put on my apron. Hairnets are made with different materials, and they come in different styles that will suit your needs. In this review, I will be sharing the top ten cooking hairnets that will be suitable for you. Let's get started! Are you still skeptical?
Top 10 Hair Nets for Cooking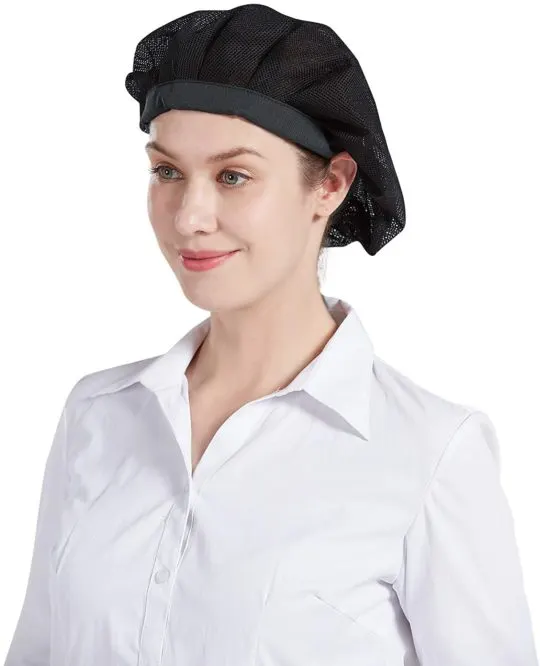 If you own a restaurant and are worried about the sizes to get for your workers, or you are concerned about your head size and hairstyle, then this baby is definitely the best pick for you. I love the Nanxson 3pcs chef hat CF9060 because it is suitable for all head sizes and all types of hairstyles. If you made fuller hair, there's absolutely no need to worry.
Features
Made from high-quality polyester cotton material
Adjustable shrink buckle that can be adjusted to fit head size
Breathable mesh fabric
Available in black, red, blue, and white colors
Suitable for both gender
Pros
It is made from a soft and comfortable fabric
It can be adjusted to fit various head sizes
Its breathable mesh fabric helps to prevent sweating on the head
It can be used in temperate places
Cons

If you are worried about keeping track of when last you washed your kitchen hair net, you should opt for a comfortable yet disposable hairnet, which can do the trick. It is also suitable for those who have an aversion to latex products.
Features
Made out of 100% nylon netting
They are lightweight, breathable, latex-free hair nets
Each pack contain 144 disposable hair nets
Available in sizes 24 and 28
Available in black, dark brown, light brown, and white colors.
Pros
Suitable for individuals who don't like latex products
Ideal for both men and women
Lightweight and breathable netting that prevents sweating on the head.
Suitable for the home, restaurants, food production facilities, and cookouts.
It prevents hair from touching the wearer's eyes and keeps hair off the food.
Cons
Not suitable for individuals with long or rough nails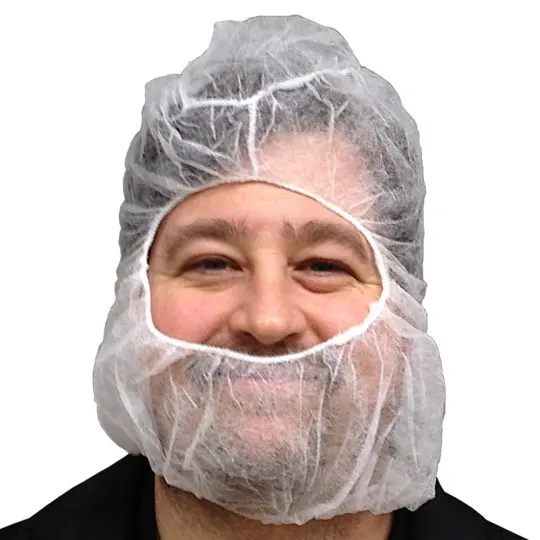 Sometimes hair nets don't do the trick for both men and women. Sometimes, male chefs, dads, or you may have many beards and would love to cook without worrying about your beard hair. I find this hairnet quite handy for males with beards.
Features
Made out of polypropylene material
They are lightweight, breathable, latex-free hairnet/ beard covers.
Available in large and extra-large sizes
Elastic bands to ensure a comfortable fit.
Each pack contains 100 pieces of disposable hairnet/ beard cover.
Pros
Lightweight, breathable material prevents sweating, heat, and discomfort
Provides complete head protection and protects food from hair
It prevents sweat from reaching the eyes or from getting the food
Suitable for use in restaurants
Cons
Chin band may be too small for some individuals.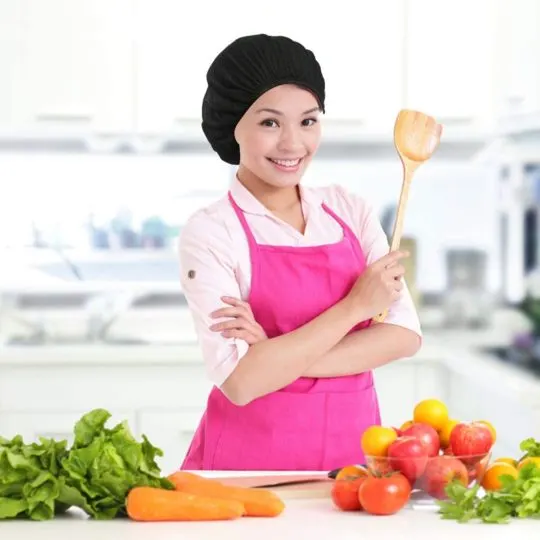 What makes this product unique is the fact that it is comfortable reusable wear. If you don't want to get worried about a missing cooking hairnet all the time, this hair net comes in a set of 4 or 8 in a pack which makes it suitable for restaurants as well. You could also keep on with you as an emergency hair net that will come in handy in case of an impromptu cookout. I know I was glad that I carried mine.
Features
It has an elastic drawstring closure
Durable soft, skin-friendly fabric
Durable and breathable mesh fabric
Each pack contains 4 or 8 pieces.
Pros
Comfortable to wear
Skin-friendly, breathable fabric helps prevent heat from accumulating on the head.
The reusable and washable characteristic makes it durable for a chef
Absorbable soft fabric helps to prevent sweat from reaching the face and reaching the food.
Elegant and simple design that leaves the chef confident
Cons
May not lock in place, making it feel loose on the head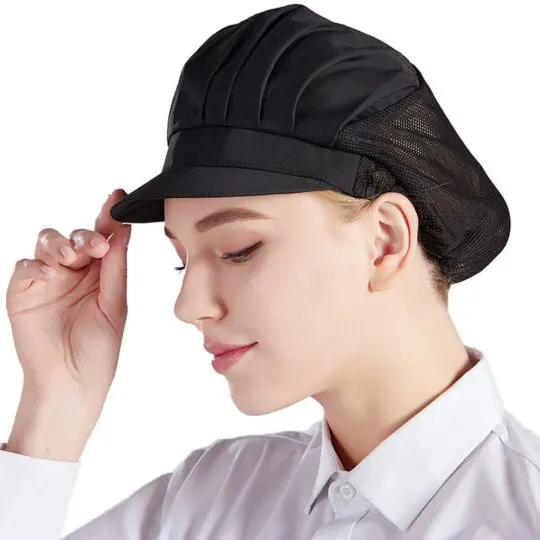 Not only is this durable, but it is also one of my favorite fashionable cooking hair nets. You should go for this if you love looking good in the kitchen. It is also suitable for individuals who own a restaurant, and you get to save costs from replacing disposable hairnets and making your chefs look fancy.
Feature
Made from soft polyester cotton fabric
High elastic design that is Adjustable to fit all head types
Breathable mesh fabric to prevent sweating
It has an elastic closure
One pack contains three-piece of hair nets
Pros
Soft, comfortable fabric that prevents sweat from reaching the food
The breathable mesh fabric helps to avoid heat accumulation and discomfort
Beautiful and fashionable
Suitable for all seasons and great for temperate regions
Adjustable design that makes it ideal for individuals with different head sizes
Cons
One has to wash with care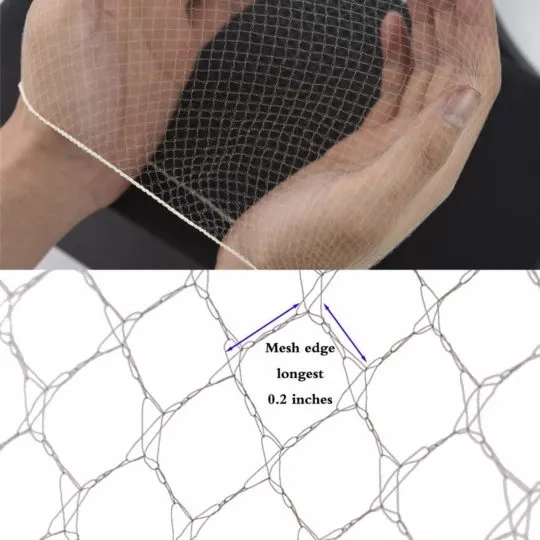 This hair net is suitable for just about anything; although it is excellent for the kitchen, it is also a must-have for ballet dancers and skaters.
Features
Highly elastic nylon lace fabric which can withstand 30 pounds of pull without tearing.
Available in black and brown color
Each pack contain a hundred pieces of hairnets
Knotted close up
Lightweight and breathable design
Suitable for males and females
Pros
Breathable fabric that helps to prevent sweating.
Ideal for both males and females
Suitable for all hair types and hairstyles.
Cons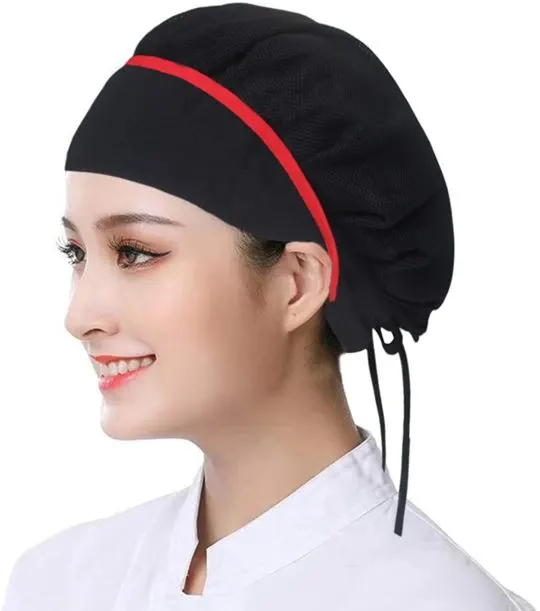 This two-in-one piece of hairnet is my favorite because it was a perfect choice for my sister and me. So, if you are looking for a comfortable hair net set for you and your friend, spouse, or chef, then this is definitely your best pick.
Features
High-quality cotton and polyester material
Soft, lightweight, comfortable, and breathable mesh fabric
Machine washable
Available in one size, adjustable to suit most individuals
Available in black, red, and white colors
Pros
Soft, moisture absorbing fabric that protects the individual and food from sweat and hair
Comfortable to use
Durable as it can be washed and reused
The breathable mesh fabric that prevents heat and sweating on the head
Suitable for temperate places.
Suitable for homes and restaurants.
Cons
Not suitable for long hair
Not ideal for all sizes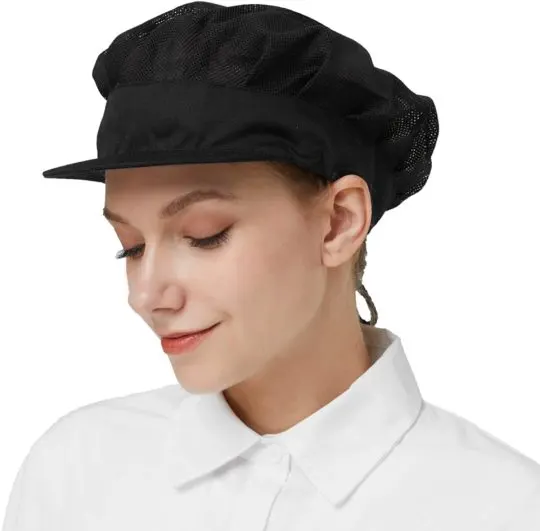 This is a simple hair net, it has a lovely style and sporty look, and it is pretty perfect for a picnic cookout.
Features
Nylon sports mesh+ Polyester-cotton blended brim
Tie closure
Breathable mesh, lightweight and comfortable
Machine wash
Pros
Suitable for hot temperature environment
Suitable for homes, café, restaurants, and cookouts
Breathable mesh fabric to control sweating on the head
Durable and reusable
Tie closure enables an individual to adjust to the desired fitting
Cons
Not available in different sizes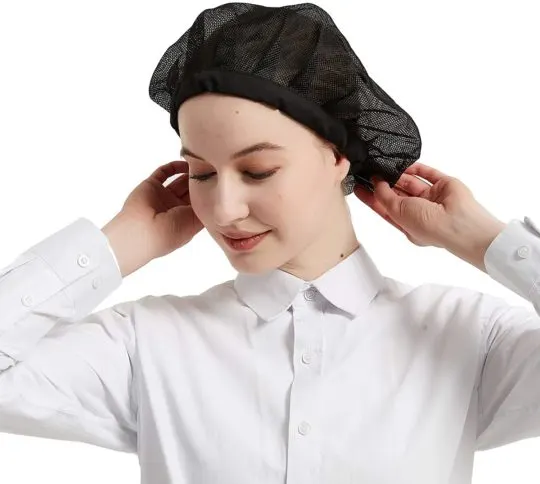 This is quite a simple yet multifunctional and versatile hair net, and it is not restricted to the. If you are looking for something elegant that can serve other purposes, this is your best pick.
Features
Adjustable elastic closure/ drawstring closure with cord stopper
2-inch wide sweatband
Suitable for both adult males and females
Pros
A one size fits all type of hair net
Multifunctional and versatile hair net
It prevents stray hairs from coming out
Protect food from hair and sweat
Cons
Not suitable for temperate regions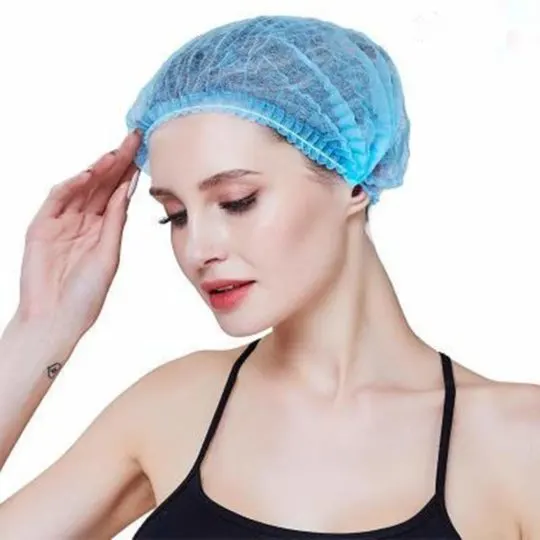 This is a simple, comfortable, and multi-purpose hair net. It is perfect for the house, a café, restaurant, or food-producing industry.
Features
Polyester and cotton fabric
Elastic closure
High elastic band to hold in place
Breathable nylon mesh puffed out design
Pros
Comfortable and suitable for temperate regions
Multifunctional and durable
Breathable mesh that allows air to circulate on the head and reduce heat
Suitable for homes, catering, cafes, and restaurant
Cons
Not enough reviews on this hairnet
Buying Guide
There are so many styles and brands for hairnets, which can make picking the right one quite challenging. If you are interested in getting the right one that suits your needs, that of your workers, or that of a friend, there are some factors you should consider before getting one. The following guidelines can help you make the best choice:
Material
Many individuals have preferences for what they use in covering their hair, as this determines how comfortable they will be while working. The point of using a cooking hairnet is to prevent the incidents of hair entering the food, not to make your head all sweaty and uncomfortable.
For this reason, you might want to consider opting for cotton, or cotton mixed with polyester, or a lightweight hair net. Many persons are also aversive towards latex, so make sure you ask before purchasing a latex cooking hair net.
Consider Weather
If you stay in a temperate region, you have to opt for a cotton reusable cooking hair net, a lightweight cooking hairnet, or a cooking hair net with a breathable mesh fabric to reduce the heat on the head. A cooking hair net with an absorbing material can help reduce the sweating on the head, thereby protecting the wearer and the food from sweat.
Consider Occasion and Location
For those of us who organize cookouts or picnics once in a while, getting a hairnet that has the face coving/shield at the top is your best bet to protect you, the caterers, and chef from the sun. It is both fashionable and comfortable. This doesn't prevent it from carrying out the purpose of protecting the food from hair.
Consider the person you are getting it for
This could be you; what are you comfortable with? Do you need the hair net for other purposes as well? Or do you want something simple or fancy? These are questions you should ask yourself before getting one.
If you are getting one for your workplace or workers, do you have male and female chefs? Do your male chefs have beards? Or do you want something fashionable and comfortable for them? There are many disposable, cooking hair nets for males with beards covering. Consider getting disposable cooking hair nets for hygienic purposes.
Conclusion
Getting a hairnet can be a fun yet tasking process. However, choosing the right cooking hair net will determine how comfortable you will be while cooking. The purpose of wearing a hair net is to keep hair off the food and keep your hands off your hair, and that is why a good hair net should serve this purpose. You should choose from the hairnets listed above, and you will feel more confident in your kitchen. Good luck!