In many nations around the world, sausage is a common food item. They are wonderful and flexible and may typically be prepared in a variety of ways to provide flavorful outcomes. However, regardless of the method you choose, determining how long to cook sausages can sometimes be tricky, so this article was created to assist in resolving this challenge.
If this is a problem, you also face in the kitchen, no need to worry. Pay attention to the tips, instructions, and timing guidelines in this article, as they will ensure optimal results when cooking sausages through whichever method.
Sausages Nutrition Facts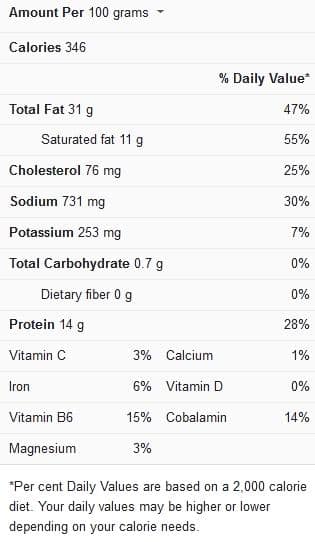 Tips for Cooking Sausages
The tips, instructions, and guidelines below have been compiled to help you get the best out of your sausage-based recipes, as well as to ensure flavorful results:
Different cooking methods to choose from – Sausages are adaptable dishes that may be prepared in a variety of ways. Here's a rundown of some of the more popular approaches:
Boiling: One of the simplest ways to create sausage links at home is to boil them. Simply throw the sausages one at a time into a pot of water at a rolling boil, then leave them to simmer. Precooked sausages take about ten minutes to cook, whereas raw sausages might take up to thirty minutes.
You should keep in mind that the outside of boiled sausages will not be golden and crispy. You can, however, brown them afterward using a frying pan and a bit of oil.
It's also important to note that only sausage links, not patties, can be boiled. Some of the other cooking techniques are superior and better suited for preparing patties.
Grilling and broiling: Grilling and broiling are both high-temperature, dry-heat cooking methods. The main distinction is that the source of heat for grilling is below the meal, whereas for broiling, it is above.
To grill your sausages, simply set the sausages on the grill and cook for 8 to 12 minutes, rotating them every so often until they're evenly colored.
Set the sausages on a broiler pan inside the oven and turn on the broiler function if you choose to broil them. Cook for 5 minutes on one side, then flip and cook again for the next 5 minutes.
Note that the high temperatures used in grilling and broiling can result in the development of potentially dangerous chemicals, which have been related to an increased risk of numerous malignancies and diseases such as diabetes, heart disease, and skin disorders.
Pan-frying and Stir-frying: Cooking in a pan, wok, or pot at a high temperature is what pan- and stir-frying entails. While stir-frying sausages requires constant flipping or stirring while they cook, pan-frying does not.
To pan-fry or stir-fry sausages, it's as simple as browning them on both sides on the skillet with a little oil, and this takes 10 to 15 minutes, depending on their size.
Coconut, olive, and avocado oils, as well as butter, are healthy oil choices since they work well at moderate to high temperatures and are also high in micronutrients.
By slicing into one of the sausages in the middle, you can see if it's done. You'll know it's done when the meat is firm, but if it's still pink and runny, it requires extra time. Cooking time can be reduced by slicing or butterflying the sausages.
Deep frying: Deep frying is the process of totally submerging an item in fat while it is being cooked. Sausages are usually breaded before being cooked in this manner.
To deep-fry sausages, dip them in an egg wash (a mixture of beaten eggs plus either water, cream, or milk) before coating them in a mixture of breadcrumbs or batter to deep-fry them.
Heat a deep fryer to 375°F (190°C) using a healthy oil like coconut, olive, or avocado oil. Cook the sausages for 5 minutes, or until fully cooked.
Because they have a medium to the high smoke point and are less processed than other choices, the aforementioned oils are good for deep frying.
Even though deep-fried sausages tend to be delicious, cooking sausages in this manner increases the total fat and calorie content in the sausage. As a result, if you're controlling your weight, calorie consumption, or overall health, deep-fried sausages should be avoided.
 

View this post on Instagram

 

Baking: Baking is a terrific way to get crispy sausages, especially if you're making a large batch.
To begin the baking process, preheat your oven to 355 degrees Fahrenheit (180 degrees Celsius) and arrange the sausages on a baking sheet.
Bake the sausages for 15 to 20 minutes for small-sized sausages or 30 to 40 minutes for bigger sausages, flipping midway through to ensure even browning and complete cooking.
If your sausages are drying out too quickly in the oven, you could boil them beforehand. This will keep them juicy on the inside after they've been baked.
Cooking Time for Sausages
Ideally, you should follow the timing guidelines in the table below when cooking sausages:
| | |
| --- | --- |
| Cooking method | Cooking time |
| Boiling sausages on the stovetop | 10 minutes for precooked sausages; 30 minutes for raw sausages |
| Grilling sausages in the oven | 8 to 12 minutes |
| Broiling sausages in the oven | 5 minutes per side |
| Pan-frying or stir-frying sausages | 10 to 15 minutes |
| Deep-frying sausages in a deep fryer at 375 F | 5 minutes |
| Baking sausages at 355 F | 15 to 20 minutes for small sausages; 30 to 40 minutes for bigger sausages |
Print
Sausage and Lentil One-pot (4 Servings)
---
400g

pack of sausages

1

onion, finely chopped

1

garlic clove, crushed

250g

lentil (puy lentils were used in this recipe)

150

ml of vegetable stock

125

ml of red wine or extra stock
---
Instructions
In a pan, heat the oil and brown the sausages before removing them.
Add the remaining oil, onion, garlic, and pepper, and simmer for another 5 minutes, or until the onion, garlic, and pepper are softened.
Add the lentils and sausages, as well as the stock and wine, if used, to the pan.
Bring to a boil, then reduce to low heat and cook for 20 minutes, or until the lentils have softened adequately and the sausages are fully cooked.
Feel free to serve the sausages and lentils as much as crusty bread, of course.
This recipe serves deliciously cooked sausages and lentils, and it's one you can definitely try and enjoy with your family. If you'd like to see more sausage-based recipes, then check out this video recipe.