During the winter, bok choy is popularly consumed green, especially in Asian cuisine. This is because it is filling and works well in hot recipes. When bok choy is prepared in soups, the resulting combination is a healthy and nutritious dish that many people use to cure the flu, and it's also a recipe that's a lot of fun to prepare.
If you're not familiar with the procedure, we'll show you quick and easy ways to prepare bok choy in soup, as well as helpful tips to make your recipe an enjoyable one.
Bok Choy Nutrition Facts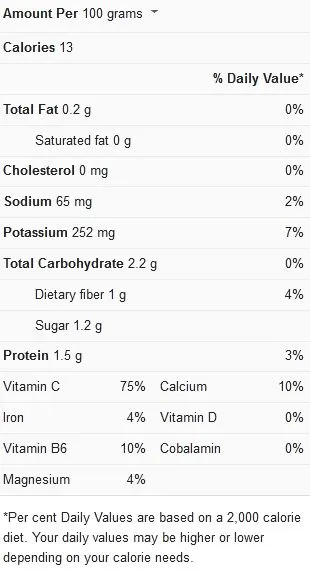 Tips for Cooking Bok Choy in Soup
The following have been compiled to help you achieve the best results with bok choy in soup recipes:
What is bok choy? – Bok Choy, also known as Pok Choy or Pak Choy, is one of the few Chinese cabbage variants. The vegetable is a green leaf variation that has become popular in China.
It has gained popularity in the Western world due to its distinct flavors, texture, and nutritional benefits. The lower white section resembles a bulb and develops into green leaf stalks with a crisp texture, and it resembles a hybrid between ordinary cabbage and celery in appearance.
"Bok choy" versus "baby bok choy" – The terms "baby bok choy" and "bok choy" is very much comparable. Baby bok choy, on the one hand, is typically harvested early, resulting in smaller, more sensitive leaves than the regular bok choy. This means that baby bok choy is sweeter than regular bok choy, and you'll find it frequently used in soups and salads.
Bok choy, on the opposite hand, is a lot heartier, making it ideal for stir-fries with extended cooking durations.
How to keep your bok choy fresh – Below are some helpful tips to maximize bok choy's freshness:
The major goal of keeping bok choy in the refrigerator is to keep it as dry as possible.
Because grocery stores keep them moist, place all the bok choy you buy on a towel when you get home from the store so they can dry.
Poke holes in a plastic bag and place a paper towel inside before putting it in the refrigerator. This aids in the absorption of excess moisture.
To make soup, you'll need to peel the exterior layers of the bok choy stalks. These are typically the firmest and most fibrous layers, so they're ideal for soups.
The inner layers of the bok choy should be saved for bok choy stir fry recipes.
Storing cooked bok choy in soup – For the best possible texture, it is recommended that you freeze the soup without the bok choy. Cook only as many veggies as you can finish in 1 to 2 servings so that the bok choy stays crisp and fresh in the broth.
View this post on Instagram
Cooking Procedure
Cooking Time
Cooking bok choy in soup
5 to 8 minutes
Print
Ginger Garlic Noodle Soup with Bok Choy (2 Servings)
---
---
Instructions
Heat 1 to 2 tablespoons of olive oil in a medium-sized stockpot over medium heat.
Pour the diced shallots into the oil and stir well. Cook for 4 to 5 minutes over medium heat, or till the shallots become translucent and soften. Stir the mixture frequently.
Remove the white and green parts of each green onion by cutting off their ends. Chop the green section and set it aside as a garnish. Meanwhile, carefully cut each green onion's white half.
Toss the shallots with the white-colored part of the green onions, ginger, and minced garlic. Cook for 1 to 2 minutes, stirring occasionally, or until both the garlic and ginger are fragrant.
Allow the water or chicken stock (or a combination of both) to simmer in the pot. Pour the soy sauce and stir into the mixture in the pot. Afterward, cover the pot and cook for another 10 minutes.
Remove the cover from the pot and carefully take out each star anise from the broth, discarding them.
Add the uncooked noodles, bok choy, and sliced mushrooms to the mixture in the pot and cook for 5 to 8 minutes, just until the bok choy and noodles get soft. Add salt and pepper to season the mixture.
To serve, divide the soup among bowls and top with sesame seeds, green onion greens, and red pepper flakes (if preferred).
Notes
The flavor of star anise is not for everyone. However, it is essential to the flavor of the soup. If you don't like it or don't have any to use in your recipe, you'll find that cinnamon sticks work well as a substitute.
If you want to include some protein in your recipe, feel free to introduce some chopped chicken or shrimp into the soup around 5 minutes before serving (provided that the chicken has already been previously cooked).
If preferred, low sodium soy sauce and unsalted chicken broth can be substituted for a lower sodium diet.
Cilantro can also be added as a garnish if desired.
This recipe delivers a beautiful soup that you'll love on cold days. The entire cook time for this recipe is 20 minutes, including a prep time of 5 minutes and a cook time of 15 minutes.
We also have this video recipe for you to watch if you need more ideas on how to cook bok choy in soup.