The prospect of preparing yellowfin tuna steaks may seem quite intimidating, but this shouldn't be the case in any way. You'll find that this healthy, fresh and delicious seafood is adaptable, quick, and easy to cook in a variety of ways, provided that you are armed with the appropriate directions, suggestions, and guidelines.
This article will provide you with all the right information to properly cook fresh yellowfin tuna steaks. With the directions you'll find here, don't be surprised by how quickly you'll be able to cook tuna steaks properly and wow your guests with delicious end results.
Tuna Nutrition Facts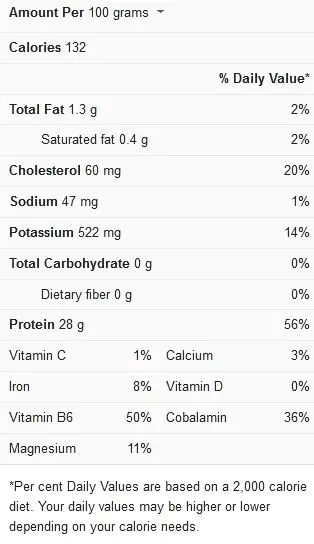 Tips for Cooking Yellowfin Tuna Steak
You'll be needing the following helpful tips when cooking yellowfin tuna steaks, so pay close attention to get the best results:
What is yellowfin tuna? – Yellowfin tuna (Thunnus albacares) are members of the Scombridae family, which includes the very large mackerel (Thunnus albacares). They are found in warm ocean waters, and they tend to roam the deeper offshore areas of Florida's Gulf and Atlantic coasts.
The meat of yellowfin tuna can be eaten raw, roasted, smoked, or tinned, making it a versatile culinary fish. Lean meat is commonly utilized in sashimi, a Japanese raw fish dish that is also a favorite in the United States.
Yellowfin tuna steaks tend to have a strong, dense beef-like texture that makes them ideal for grilling, and they are generally cooked to doneness levels ranging from rare to medium-rare in the center, just like beef steaks.
Buying and storing yellowfin tuna steaks – When buying yellowfin tuna steaks to use in any recipe of your choice, ensure that the steaks you pick are sufficiently firm, with no discoloration and a fresh sea breeze scent.
Fresh fish can typically be kept in the coldest area of the refrigerator for up to two days at 32 degrees.
To freeze tuna steaks, securely wrap the fish to avoid freezer burn; you should also date the storage box and keep it at an ideal temperature of 0 degrees for up to two months. When you're ready to use your steaks, refrigerate them or place them under cold running water to thaw.
Safety tips for handling – there are some important tips to keep in mind when handling yellowfin tuna steaks in order to ensure maximum safety of consumption and to ensure great results with the cooking process:
When shopping for yellowfin tuna steaks amongst other grocery items, make sure to buy them last, so it stays cold on your way home.
To avoid bacterial cross-contamination, keep cooked and raw seafood separate from each other.
It is also important to wash your knives, cutting surfaces, sponges, and your hands thoroughly with hot, soapy water after handling raw yellowfin tuna steaks, as well as other seafood.
Seafood should always be marinated inside the refrigerator.
To avoid bacteria through contact with raw fluids, discard the used marinade before adding raw seafood; set aside a portion of the marinade if you want to baste your tuna steaks while cooking them.
Timing your cooking – When learning how to cook fresh fish, you should not try to cook your yellowfin tuna steaks until the middle is no longer pink. Take the steaks off the heat source while the middle is still pink to keep them juicy and tasty, and cook them according to the recipe's timing instructions for the best results.
View this post on Instagram
Cooking Time for Yellowfin Tuna Steak
In the table below, we have highlighted ideal timing guidelines for the best results when cooking yellowfin tuna steaks:
| | |
| --- | --- |
| Level of doneness | Cooking time |
| Extremely rare yellowfin tuna steak | 30 seconds |
| Medium rare yellowfin tuna steak | 1 to 1½ minutes |
| Medium–well to well-done yellowfin tuna steak | 2 to 2½ minutes |
Print
Six-Minute Seared Yellowfin Tuna Steaks (2 Servings)
---
---
Instructions
Using a paper towel, pat the yellowfin tuna steaks dry. Place the steak pieces on a platter or in a plastic bag.
Combine the toasted sesame oil, soy sauce, kosher salt (omit this ingredient if you're marinating your steaks for longer than a few hours), honey, pepper, and cayenne pepper in a mixing bowl; do this until the honey is completely dissolved.
Toss the yellowfin tuna steaks in this mixture and turn them over to ensure complete coating. Marinating the steaks is optional, but if you decide to, allow for at least 10 minutes of marinating time, or up to overnight in the refrigerator. Also, if you prefer, before coating the fish, you could set aside one or two teaspoons of the marinade mixture to drizzle on top once it's cooked.
Preheat a medium skillet (ideally nonstick or a well-seasoned cast-iron skillet) on medium-high to high-temperature settings until the pan is extremely hot ( use the medium to medium-high heat for nonstick skillets). Allow 3 to 5 minutes for cast iron to heat up, and 1 minute for nonstick, depending on the skillet's thickness.
In the heated pan, add the canola oil. For medium-rare results, sear the tuna for 1 to 1½ minutes on each side (2 to 2½ minutes for medium-well to well, 30 seconds for extremely rare). This timing will also vary depending on the thickness of the yellowfin tuna steaks.
Allow for at least 3 minutes of resting on a cutting board. Cut the steaks into ½-inch slices. Afterward, serve the yellowfin tuna steaks hot, topped with toasted sesame seeds, green onions, and a dash of fresh lime juice, if desired.
This recipe for seared yellowfin tuna steaks is quick and easy and delivers great-tasting results onto your plate. If you'd like to see more recipe ideas to explore when cooking yellowfin tuna steaks, we recommend this video recipe for you to watch.