Tuna possesses a characteristic meaty feel that appeals to beef enthusiasts searching for a change from their usual steak fare. Tuna is a far healthier option than a 20-ounce porterhouse steak, with way less fat and calories. You lose nothing with a tuna steak meal because it's delicious and highly adaptable.
However, cooking tuna steaks may not be the most straightforward process, especially because most people can't tell when it's done. No worries; however, we'll turn you into a pro in cooking pan-seared tuna in no time. Just pay attention to all the basics we've covered in this article.
Tuna Steak Nutrition Facts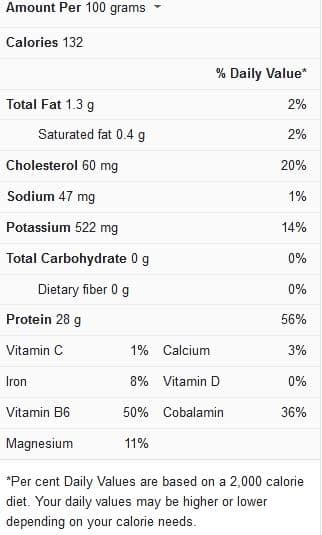 Tips for Cooking Tuna Steak in a Pan
When cooking tuna in a pan, you'll need some tips to get the best results:
Buying the right tuna – If you start with an excellent piece of tuna, any way of cooking it will yield the best results. Here are some things to keep an eye out for:
Fresh tuna comes in a long loin that is sliced into tuna steaks by a fishmonger (a person or shop that sells fish). Tuna season runs from late spring through early autumn, but it's also accessible frozen all year. If you have no idea how to cook frozen tuna steak, simply thaw the tuna steaks in the fridge for 24 to 48 hours and follow the same cooking directions as for fresh tuna.
Raw tuna can range from light pink to reddish-brown, depending on the variety. It is possible to have a dark area of the steak that is edible but has a greater flavor. This section is sometimes cut away before you buy it.
Skinned tuna steaks are also typically available for purchase. Be on the lookout for tuna that has juicy flesh and a fresh, not fishy, aroma.
Estimate one 4- to 5-ounce tuna steak per person when shopping. Cook tuna the same day you get it to ensure maximum freshness.
Don't overcook your tuna steaks – Tuna is really easy to overcook; as such, it is important to keep a watchful eye and take some precautions.
Always get tuna steaks that are 1 inch thick, at the very least.
Grill your tuna over a high heat source or sear it in a hot pan.
Remember that the tuna steak will continue to cook for a few minutes after taking it from the fire.
Also, fresh tuna should not be cooked more than medium-rare for the best results.
It's relatively popular to serve tuna pink, so if you buy quality fresh tuna, it may not make much sense to cook it all the way through and turn it into canned tuna. Fresh tuna of good quality should always be served rare or extremely pink.
Cooking Tuna Steak in a Pan
Tuna steaks can be cooked in a pan in two ways: on a griddle pan or in a frying pan. Searing tuna steaks in a hot skillet caramelizes the fish's exterior while locking in moisture. Fresh tuna meat keeps together effectively in a pan, making it ideal for pan-searing. For these reasons, pan-searing is one of the more popular ways of cooking tuna and can be done following these easy steps:
Pat the tuna steaks down with a paper towel to absorb any surface water. Water should not be used to rinse tuna that will be grilled in a skillet.
Place a grill pan over medium-high heat on the stove. Drizzle a few lines of olive oil over the metal's surface.
Add 2 to 3 tablespoons of olive oil, salt, and pepper to taste. With your finger, rub the oil and seasoning combination into the meat of the tuna steaks.
Using kitchen tongs, place the tuna steaks in the heated grill pan. Allow the fish to sear. Don't move the steaks about in the pan to get a properly seared surface.
In a grill pan, cook the tuna steaks for 2 minutes. Using tongs or a spatula, gently lift each steak and flip to the other side. Cook for an additional 2 minutes.
Remove the tuna steaks from the grill pan and place them on a serving platter.
The cooking process is pretty easy and straightforward and delivers really tasty results onto your plate. Try pan-searing tuna steaks whenever you want a quick, healthy, and extremely tasty meal.
 

View this post on Instagram

 

Cooking Time for Tuna Steak in a Pan
Follow these timing guidelines for ideal results when cooking tuna steaks in a pan:
| | |
| --- | --- |
| Cooking procedure | Cooking time |
| Cooking thin tuna steaks in a pan | 2 to 4 minutes |
| Cooking thick tuna steaks in a pan | 3 to 5 minutes |
Print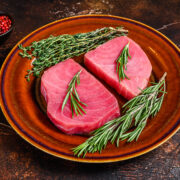 Savory Pan-Seared Tuna Steaks (2 Servings)
---
¼ cup

of soy sauce

¼ cup

of extra-virgin olive oil

2 tablespoons

of lemon juice

2 teaspoons

of Asian (toasted) sesame oil

2 teaspoons

of molasses

1 teaspoon

of cayenne pepper, add extra to taste if preferred

6

thin slices of fresh ginger, minced

2

cloves of garlic, minced

2

tuna steaks, 1-inch-thick and thawed
---
Instructions
In a mixing bowl, combine soy sauce, olive oil, lemon juice, sesame oil, molasses, cayenne pepper, ginger, and garlic.
Pour the marinade over the tuna steaks in a large resealable bag or airtight container. Allow steaks to marinate for 20 minutes at room temperature.
Preheat a nonstick skillet over medium-high heat. Remove the steaks from the marinade and place them in the heated pan, shaking the pan gently to avoid sticking. Cook for 1 ½ minute before flipping. Cook for another 1 to 2 minutes on the other side, or until the tuna steaks are done to your liking. The temperature should read 140 degrees F on an instant-read thermometer put into the center (60 degrees C).
Serve your delicious tuna steaks and enjoy!
This recipe is quick and easy, it goes from raw to done and ready to eat in a total of 35 minutes, including a prep time of 10 minutes, a cook time of 5 minutes, an additional 20 minutes. If you'd like more cooking and serving ideas for pan-cooked tuna steak recipes, then you may want to watch this video recipe.