Tuna is coveted by the world's most prestigious restaurants for a reason. The belly is prized for its rich, fatty flesh, while the loins offer a silky texture and a clean, savory flavor. Generally, tuna can make for a really delicious mealtime experience, especially when cooked properly.
If you've been craving a good homemade tuna steak but have no idea what goes into the cooking process, then you've come to the right place. We've outlined an easy process for cooking tuna steaks on the stovetop. Also, pay attention to our tips and recommendations to guarantee perfect results.
Tuna Steak Nutrition Facts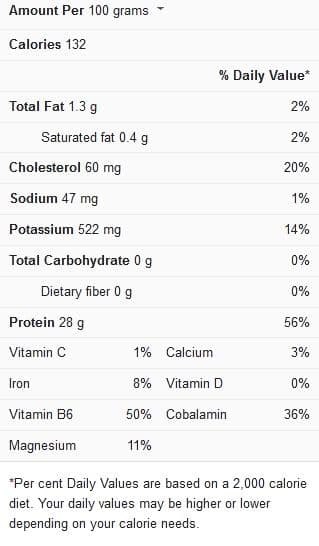 Tips for Cooking Tuna Steak
Adhering to the following tips when cooking tuna steaks will help you get the best results:
Buying tuna – Tuna is available primarily in already skinned forms. Choose tuna with juicy flesh and a fresh, not fishy, aroma. Estimate one 4- to 5-ounce tuna steak per person when making your purchase. Also, make sure that you cook tuna the day you get it for maximum freshness.
Ideal cooking duration – When learning how to cook fresh tuna, don't try to cook your tuna steaks until the middle is no longer pink. Remove them from the heat while the middle is still pink to keep them juicy and tasty, and follow the cooking times specified in your preferred recipe.
Cooking Tuna Steak on the Stove
The key to flawless tuna steak when your preferred method is stovetop cooking is a blazing hot skillet that allows you to sear the outside while keeping the inside raw. Because it will only be on the stove for 2½ minutes, it must be scalding.
You can follow these easy steps to cook your tuna steaks on the stovetop:
Season the tuna steak with salt and pepper after rubbing it with oil. Olive oil is preferred because of its flavor, although any oil would suffice.
Use a heavy-bottomed skillet that may be warmed until smoke is visible coming from the pan. Use a non-stick skillet instead. You will destroy the non-stick coating if you use these for high-heat cooking. Before preheating the skillet, do not oil it. If you need to oil a pan (and you don't have a cast-iron skillet), wait until it's scalding before brushing it lightly with oil. Use a heat-resistant basting brush or a paper towel lightly dipped in oil, or remove the pan from the heat and lightly spritz with oil.
Place the tuna in the skillet once it is very heated. To get a lovely sear on the exterior while keeping it rare on the inside, grill a 2.5cm (or a 1-inch thick, 200g / 7-ounce) tuna steak for 90 seconds on the first side and 60 seconds on the other side.
View this post on Instagram

The interior temperature should be 48°C (118°F). As a result, the inside will remain rare and delightfully warm rather than cold.
If you want to get the fancy grill markings that you see in restaurants, using a cast-iron skillet with grill lines, cook the tuna for 45 seconds. The tuna should be turned 45 degrees and left for 45 seconds before being flipped. Cook for another 60 seconds on the second side before transferring to a cooling rack.
This indicates that the criss-cross is only applied to one side. This is done to make cooking easier. Serve the tuna with the criss-cross side up.
Allow the tuna to cool for 5 minutes. The tuna is simpler to slice when cool since the seared crust settles and is less prone to crumble when cut. Because the midsection of the tuna rarely climbs over 48°C/118°F, it's best served at room temperature (barely above raw). If you serve and eat the tuna while still hot, the temperature difference between the outside and the interior might be unsettling.
Serving Suggestions: Tuna, like a mild-flavored fish, lends itself to a wide range of sauce choices. Sauces and bright and fresh accompaniments, rather than buttery or creamy, go best with tuna steaks.
Cooking Time for Tuna Steak
Follow this guideline for cooking tuna steaks on the stovetop:
| | |
| --- | --- |
| For a 2.5cm / 1-inch thick, 200g / 7oz tuna steak | Cook for 90 seconds on the first side and 60 seconds on the other side |
| Cooling time | 5 minutes |
Print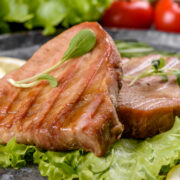 Six-Minute Seared Ahi Tuna Steaks (2 Servings)
---
2

4-ounce ahi tuna steaks

2 tablespoons

of soy sauce

1 tablespoon

of toasted sesame oil

1 tablespoon

of honey

½ teaspoon

of kosher salt

¼ teaspoon

of black pepper to taste

¼ teaspoon

of cayenne pepper (optional)

1 tablespoon

canola oil or olive oil
toasted sesame seeds, green onions, and lime wedges (optional serving suggestions)
---
Instructions
Using a paper towel, pat the ahi tuna steaks dry. Place on a platter or in a plastic bag to keep warm.
Combine the soy sauce, toasted sesame oil, honey, kosher salt (omit if marinating for longer than a few hours), pepper, and cayenne pepper in a mixing bowl until the honey is completely dissolved. Toss the ahi tuna steaks in the sauce and turn to coat completely. Allow for at least 10 minutes of marinating time, or up to overnight in the refrigerator. Before coating the fish, save a spoonful or two of the marinade to drizzle on top once it's cooked.
Preheat a medium skillet (ideally nonstick or a well-seasoned cast-iron skillet) on high until extremely hot ( or medium medium-high for nonstick). Allow 3-5 minutes for cast iron to heat up, and 1 minute for nonstick, depending on thickness.
In a heated pan, add the canola oil. For medium-rare, sear the tuna for 2 minutes on each side (1.5 minutes on each side for rare; 3 on each side for medium).
Note that depending on your stove, different burners grow hotter. Use your best judgment when deciding whether to use medium, medium-high, or high heat; if you use too much heat, the marinade may burn.)
Allow for at least 3 minutes of resting on a cutting board. Slice into 1/2-inch slices and serve with green onions, toasted sesame seeds, and, if desired, a squeeze of fresh lime juice.
Notes
These seared ahi tuna steaks are healthful, crispy, seared on the exterior, medium-rare on the inside, and brimming with umami flavor. They require only 6 minutes to prepare, with a prep time of 1 minute and an optional marinating time of 10 minutes.
If you'd like more ideas on how to cook tuna steaks, then you should take a look at this video recipe.