Tuna steaks are an exciting cut of fish and have amassed massive recognition in the culinary world. And they can be prepared on the stove, grill, or in an oven. But tuna steaks need to be cooked fast since they're best enjoyed rare or medium-rare, with the insides still pink. This need is why one of the best ways to prepare a tasty dish of tuna steak is by wrapping it in foil before baking.
Cooking tuna steak in the oven in foil uses a steaming and baking combo known as en papillote. The technique effectively makes fish come out tender and with a rich infusion of flavor. En papillote makes this possible because it allows the addition of other handy ingredients to the mix. As such, you'll find one-bake tuna steak recipes, including aromatics like leeks, onions, fennel, and carrots. It also employs various liquid bases like citrus juice, white wine, or sauces for steaming and flavor enhancement. Other handy ingredients you'll find in such types of recipes include tomatoes, olives, parsley, mushrooms, spinach, capers, garlic, butter, and margarine.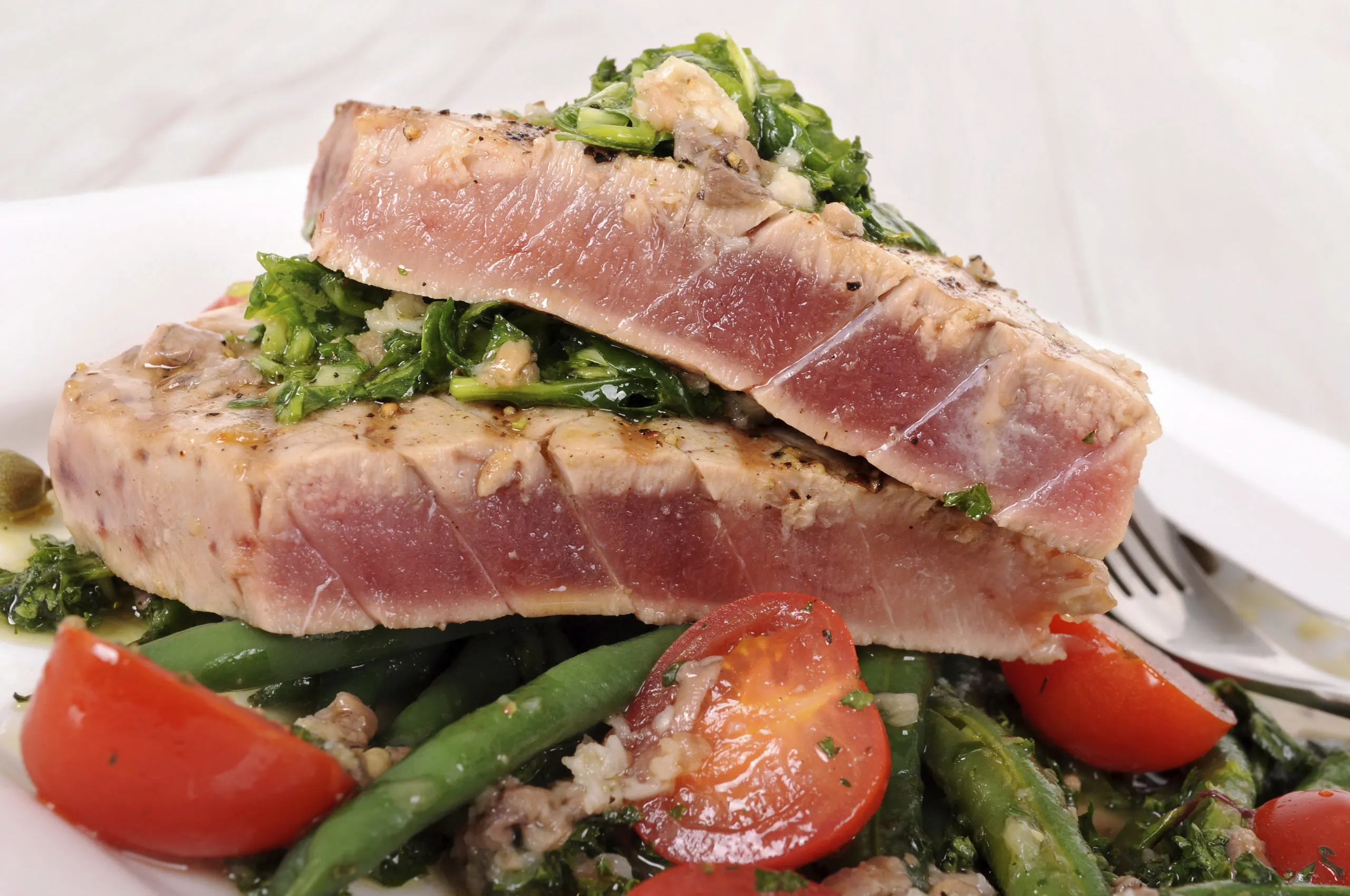 Cooking Tuna Steaks in Foil in the Oven
Preparing tuna steaks in the oven in foil is pretty straightforward. And if you follow the directions right, you won't have to spend extra time with the recipe. In summary, what you'll need to do is;
Preheat the Oven
This recipe needs to cook real fast, which means the oven must be set at a very high temperature. As such, you'll need to select the oven to preheat at a range between 350 to 400F.
Prepare the Tuna Steaks
If you're using frozen tuna steaks, you'll have to let them properly thaw before cooking them. If you use them frozen, you'll need more time to cook in the oven and ruin the texture of the steaks with excess moisture. But if the tuna steaks are fresh, then proceed to the next step.
Season the Tuna Steak
Tuna steaks easily absorb any seasoning mix, so how you do, is up to you. You could make a traditional dry herb mix and add a quarter cup of broth or white wine. Or you could go extreme with a combination of butter and spices. Whichever you choose, remember that it would determine how your tuna steaks come out.
Seal in Foil
Once you've added all the seasonings, place the tuna steak in the middle of two layers of foil. Next, add the extra ingredients- wine, herbs, and aromatics- and seal the foil by merging edges to form a seal. The foil should be folded above the fish and at the sides.
Cook the Tuna Steaks
Once the tuna steaks are sealed in the foil, place them on a baking pan and toss them in the oven. The fish should cook at 15 to 20 minutes per inch of thickness, so use that parameter to calculate your doneness time.
Print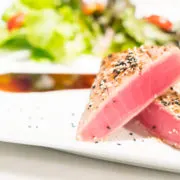 Oven-Baked Tuna Steaks in Foil (2-4 servings)
---
Four tuna steaks, 6 ounces each
Eight medium mushrooms, chopped

Four tablespoons

Italian parsley, finely chopped
Three cloves garlic, minced
Two medium onions, chopped

Two tablespoons

butter, unsalted

One cup

dry white wine
Black pepper, freshly ground
Salt
---
Instructions
Set the oven to preheat at 350F. Let the butter melt in a pan over medium heat and sauté the onions and garlic for three minutes. Next, toss in the mushrooms and cook for another five to seven minutes, stirring constantly.
Arrange two layers of aluminum foil in four places, and place a tuna steak at the center of each foil sheet. Fold the edges so the foil forms a makeshift dish.
Scoop a quarter of the sautéed mix onto each tuna steak, sprinkle pepper, salt, and parsley, and add a quarter cup of white wine over each steak.
Tent the foil over the tuna steaks and seal the edges tightly. Then, place the foil-wrapped tuna steaks on a baking sheet and toss them in the oven.
Bake the tuna steaks for about 15 to 20 minutes, depending on your preferred doneness.
Another impressive oven-cooked tuna steak in foil can be found here.