Tri-tip is one beef cut that never escapes the mind of the avid lover of roast. But the Triangle Roast isn't only prepared on a hot grill but can also be cooked to perfection in an oven. And for those who wish to whip up a menu, roasting tri-tip at 425F does come in handy.
But unlike most of our favorite beef cuts, tri-tip has an uneven surface, so you expect varying levels of doneness along with the chunky slab of meat. And because of this nature, not everyone is fluent with the proper duration for cooking it at 435F. As such, you need to master a few tricks if you wish always to trump your oven-roasted tri-tip game.
1. Consider the Size
As a rule, the larger the tri-tip, the longer it'll cook. And tri-tips tend to come in hefty sizes, with most cuts weighing between 1.5 to 2.5 pounds. But at 425F, the meat cooks faster in the oven, with the 1.5 pounders reaching doneness faster than their larger counterparts.
2. Consider the Fat Amount
Tri-tips may come as trimmed or untrimmed. The trimmed tri-tip has been stripped of its fat layer, so when cooked, you'll get a leaner, drier beef roast. Still, you can infuse moisture into this lean beef cut by either marinating it overnight or cooking it in a liquid ingredient like beer, wine, or broth.
But the untrimmed cut has a thick layer of fat on one side and a thin one on the other. The thinner layer is usually trimmed off, and the thick layer is first seared and then faced side up in the oven. And as it cooks, the fat melts into the meat, acting as a self-basting agent for the cut.
Cooking Tips for Oven-Roasted Tri-Tip
Regardless of the temperature, you're roasting this beef cut; you'll need to keep these tips in mind when cooking tri-tip in the oven.
Pat the beef cut dry with paper towels before you season it. Not only does this allow the spice rub to stay on the meat, but it also ensures you don't extend the cooking time.
A simple dry rub is enough to season the tri-tip before cooking. But you can also use any of your favorite dry rub spices for this. However, don't use leafy herbs like thyme in dry runs, as they'll burn off during searing.
Consider marinating the tri-tip first before you roast it in the oven. A marinade would help infuse more flavors in the meat than the typical dry spice rub.
Sear the tri-tip, fat-side-down on a cast-iron skillet before tossing it in the oven. This process creates a crispy exterior on the beef cut and locks in moisture in its fibers.
Doneness for Tri-Tip at 425F
At 425F, tri-tip will cook for about 15-20 minutes per pound. And the final result depends on how done you prefer your roast to be. As such, note that;
130F is rare,
135F is medium-rare, and
145F is medium.
Tri-tip is barely cooked beyond 145F, so it doesn't dry out. Once the preferred doneness temperature is reached, set the beef cut down and let it rest for about 20 minutes. Afterward, serve the tri-tip by slicing against the grain.
Print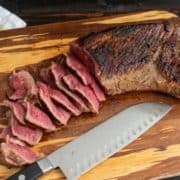 Oven Tri-Tip Roast (4-6 Servings)
---
2½

pounds Tri-tip roast
Black pepper, freshly ground
Salt
Marinade
1/3 cup

red wine

One tablespoon

olive oil

Two teaspoons

onion powder

Two teaspoons

fresh thyme
Two garlic cloves, minced

One teaspoon

dried basil

½ teaspoon

smoked paprika
Black pepper, freshly ground
Salt
---
Instructions
Pat the tri-tip dry and trim lower fat if untrimmed. Leave fattier layer if present. Season the beef cut generously with black pepper and salt.
Blend the marinade ingredients in a bowl and rub it over the tri-tip. Keep it in a plastic bag and refrigerate it for one hour. Bring out the beef cut and leave it to sit at room temperature for five minutes. Set the oven to preheat at 425F while you wait.
Cook the olive oil in a cast-iron skillet at high heat and sear the tri-tip, fat-side-down. Reduce the heat to medium-high and let it cook for five minutes- by now, it's browned. Flip the beef cut and cook the other side for another two minutes.
Transfer the beef cut with the skillet to the oven and roast at 15 minutes per pound. Inspect the internal temperature with a meat thermometer for preferred doneness.
Once it's done, tent the tri-tip on the counter with foil to rest for five to ten minutes. While it cools, boil the marinade in a saucepan over medium-high heat till it thickens. Adjust the salt and pepper to taste, and serve with the tri-tip. Slice the beef cut halfway against the grain on its ends and at the center point.
If you want more clues, check out this video recipe.