The eye of round steak is a lean, boneless cut of beef from the cow's hind leg that offers excellent value. It's a versatile cut best used for different cooking methods, including pot roasting, slow cooking, stewing, or braising to ensure soft, juicy, and flavorful beef.
In this article, we'll show you how to make an underappreciated cut of beef into something succulent and delectable, regardless of the cooking method you choose for an eye of round steak.
Also, watch out for our suggestions and recommendations to achieve desirable results.
Round Steak Nutrition Facts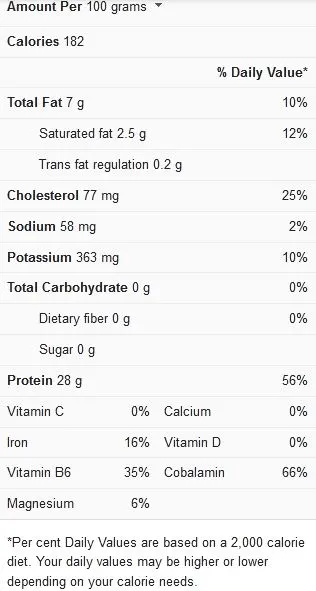 Cooking Beef Eye of Round Steak
The following are some of the most common and popular cooking methods for the beef eye of round steak. These are the most common ways to prepare beef, but you may use it in any recipe you like, such as a stir-fry, steak salad, or something else entirely.
Baking
One of the most popular methods for cooking round roast beef is to bake it. To coat the outside of the steak, all you need is a large roasting pan and some of your favorite herbs. Brush some olive oil on the steak's exterior to keep the herbs from sticking to it. Then, pat any herb mix you choose into the olive oil with a paper towel. Season it with salt, pepper, garlic, onion powder, thyme, and rosemary for around roast.
Air Frying
Air fryers have become quite popular as kitchen equipment nowadays due to the fact that they can cook most meals — even an eye of round steak recipe — in 20 minutes or less. In addition s, because you don't require as much oil as you would for pan-frying, air fryers can result in a healthier meal overall. In an air fryer, the eye of round steak cooks quickly. Remember to season it with a little olive oil and your preferred spices before serving. Flip it halfway through the cook cycle to crisp it up on all sides.
Sous Vide
Sous vide is a cooking technique that works well with meats that require a little extra tenderization, such as round steak. As the meat cooks, sous vide uses a vacuum-sealed container to lock in tastes and natural fluids. To avoid overcooking and drying out the bag, it is submerged in temperature-controlled water. This approach ensures that the roast cooks evenly and thoroughly without the need for air, as in an oven.
Braising
Braising is a method of cooking meat that employs a small amount of liquid to keep it moist while it cooks. To crisp up the outside of the round roast, sear it first. Then, put it in a Dutch oven with some water, pan sauce, or beef stock, cover it, and simmer it slowly in the oven. This is a good approach to employ if you want to cook some vegetables with your roasts, such as potatoes and carrots, to infuse some of those tastes into your steak.
Slow Cooking
Slow cooking is a practical technique to cook a dish all day without having to lift a finger. When it comes to a beef eye of round steak, the Crock-Pot produces a delicate, juicy roast. It can be cooked on its own or combined with beef broth and veggies to make a delicious beef stew.
Frying
Fried eye of round steak can be prepared in a variety of ways. One option is to pan-fry the meat first, sear it like other steak cuts, and then finish it in the oven. You may also make country-fried steaks by coating the beef slices in an egg and crumb mixture before cooking them. Both produce very distinct flavors and dinners, yet both are great ways to eat an eye of round steak.
View this post on Instagram

Cooking time for Beef Eye of Round Steak
The following table contains guidelines for the right temperature and cooking duration when preparing steak.
| | | | | | |
| --- | --- | --- | --- | --- | --- |
| Thickness | Rare (125-130 degrees) | Medium – Rare (130-140 degrees) | Medium (140-150 degrees) | Medium – Welldone (150-160 degrees) | Well done (160-170 degrees) |
| ½ Inch Steak | 2 minutes per side | 2-3 minutes per side | 3-4 minutes per side | 4-5 minutes per side | 5-6 minutes per side |
| ¾ Inch Steak | 2-3 minutes per side | 3-4 minutes per side | 4-5 minutes per side | 5-6 minutes per side | 6-7 minutes per side |
| 1 Inch Steak | 3-4 minutes per side | 4-5 minutes per side | 5-6 minutes per side | 6-7 minutes per side | 8-9 minutes per side |
| 1 ½ Inch Steak | 5-6 minutes per side | 7-8 minutes per side | 8-10 minutes per side | 10-12 minutes per side | 13-15 minutes per side |
However, the number of minutes the steak cooks per side should not be used to determine its doneness. To accurately check for doneness, always use an instant-read thermometer.
Print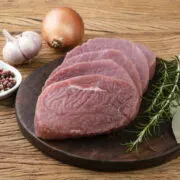 Eye of Round Steak Recipe (2 Servings)
---
Steak
Gravy
½ cup

of beef broth

1 teaspoon

of onion powder

1 teaspoon

of paprika

½ teaspoon

of cornstarch, or

1 tablespoon

of flour
---
Instructions
Place a tablespoon of butter in a hot skillet. Make sure the butter doesn't burn
Season the eye of round steaks with salt and pepper and brown them in a pan. Unnecessarily moving the steaks will make them tough and rubbery.
Sear the edges of your steak until they are crisp and golden brown. You can also use the finger test to determine whether it is medium-rare.
Toss an extra tablespoon of butter into the skillet.
Add a couple sprigs of fresh rosemary and 2 crushed garlic cloves to the mix. The rosemary-garlic flavored butter will give your steak a lot of flavors. Set the steak aside after removing it from the skillet.
To make the gravy, follow these steps
Combine the beef broth, onion powder, and paprika in the same skillet.
Cook for 2 to 3 minutes, or until it comes to a boil, after adding a few teaspoons of balsamic vinegar.
Increase the heat to medium-high and whisk in the cornstarch (or flour) until the gravy boils.
Drizzle the sauce over your medium-rare eye of round steak and enjoy
This recipe will certainly leave you craving more. The total cook time is 15 minutes, with 5 minutes prep time and 10 minutes cooking time. If you're interested in other recipes that use the eye of round steak, you should check out this video recipe.