Do you love sweet potatoes as much as we do? Then, you must be itching to know more ways to make them. And since every recipe works best with time, the various cooking methods need to be properly programmed. So, see how long it takes to cook sweet potatoes using different kitchen areas.
Sweet Potatoes Nutrition Facts
On the Stovetop
You can prepare sweet potatoes on the stove in two ways, boiling or sautéing. And by boiling, the potatoes can be cooked whole or cut into small pieces.
Boiling
Based on their size, it'll take around 30 to 50 minutes if you're cooking whole potatoes. But the cubed, diced, or sliced potatoes will need around 12 to 15 minutes for one-inch pieces or 20 to 25 minutes for two-inch ones.
The typical boiling procedure involves cooking it in salted water until it softens. And the whole sweet potatoes are boiled straight with the skin on, while diced ones need first to be peeled before they're chunked.
Sautéing
If you're sautéing the sweet potatoes on the stove, then they'll need first to be peeled. Then, you'll cut them in half-inch pieces, which is the best size they'll cook in hot oil. Then, add them to the pan, stirring to coat them in oil, and season with any spice mix you prefer. Finally, you'll need to cook them for 15 to 20 minutes, stirring until they're soft inside but crispy outside.
In the Oven
You can cook the potatoes whole if you're baking them in the oven, and most times, a temperature of 425F is recommended. And the potatoes will need to cook for 40 to 50 minutes until the skin is puffy and the flesh pierces easily with a fork. But the sweet potatoes need to be first poked with a few holes so steam can escape as it cooks in the oven. And if you're in a rush, cut them in half, and they'll take 30 minutes tops to cook.
If you prefer peeled sweet potatoes, you can take off the skin before roasting in the oven, but you'll also have to cut them in chunks. This method also adds more seasoning and flavor so the potatoes can cook as a complete meal. And most times, it'll take about 40 minutes to an hour to cook to softness in a 425F oven.
View this post on Instagram

In an Air Fryer
Sweet potatoes can be cooked whole or in pieces in an air fryer basket, and each type takes a different duration. First, you'll need to wash, dry, and pierce the body with a fork for whole potatoes. Then, they're coated in seasoning and oil and cooked for 40 to 50 minutes in a 400F air fryer.
The air fryer is also a splendid way to turn sweet potatoes into fries. The vegetables are washed, peeled, and then cut into half-inch wide fries. Then, they're tossed in seasoning and oil and cooked in the air fryer basket for 10 minutes or until golden. You can make them into wedges or discs, but it's advised not to exceed half-inch thickness. But you can consider reducing the heat to 350F for one-inch wedges.
In a Slow Cooker
You'll need to cook sweet potatoes for three to four hours on LOW or six to seven hours on HIGH in a crockpot. And the potatoes don't need to be dried after washing since steam is what cooks food in the crockpot. And if you prefer them peeled, do so and add them to the pressure cooker with whatever seasoning and sauce you desire.
On the Grill
Whole sweet potatoes are first poked with holes, then seasoned and tightly wrapped in foil. Depending on the size, they're then cooked over indirect heat (preferably 350F) for 30 to 60 minutes. You'll need to flip the potatoes halfway through the cooking time.
Some prefer to place whole potatoes directly without covering them with oil, making the skin crispier. And it also works with quarter-inch-thick wedges; toss them in seasoning and cook at three to six minutes per side.
View this post on Instagram

In a Pressure Cooker
Medium-sized sweet potatoes take about 35 minutes to cook in an instant pot, while smaller sized ones 33 minutes. And large sizes will need up to 40 minutes to become super soft. Note that all these times are done at high pressure and comprise the 10 minutes of preheating and another for natural pressure release afterward.
Print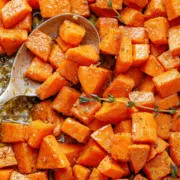 Baked Sweet Potatoes (4 Servings)
---
Three large sweet potatoes

Two tablespoons

olive oil
Black pepper
Kosher salt
---
Instructions
Heat the oven to 350F, and coat the inside of a baking dish with non-stick cooking spray. Then, wash the potatoes, peel them, and cut them into medium-sized chunks.
Pour the potato chunks into the baking dish and sprinkle the olive oil on top. Then, toss them, add the other spices, and toss again till they're evenly coated.
Bake the potatoes until they turn soft- this should take up to an hour. Check by poking them with a fork about halfway through the cooking time.
More information can be seen here.