Rice noodles are pretty quick and easy to prepare; however, if this is your first encounter with these noodles, you may be having a hard time achieving that springy, chewy texture. And because they have a lighter taste than noodles made from wheat, they require a good amount of attention when cooking them.
This article aims to take breakdown the steps to achieve the perfect rice noodles, irrespective of the width of the noodles or the serving portions. Getting the perfect rice noodles isn't all about preparing them; you also have to get the right rice noodle type for your recipe.
In this article, you would also get to know the different types of rice noodles that you can purchase from the grocery store.
Rice Noodles Nutrition Facts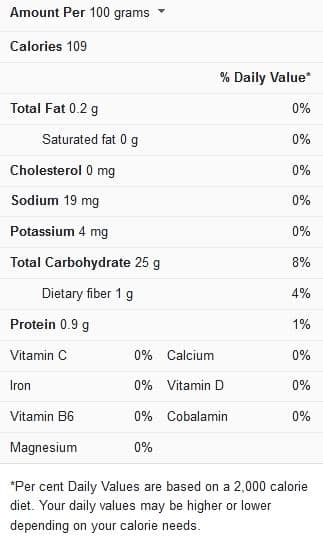 Tips to Cook Rice Noodles Fast
Rice noodles take a fairly short time to prepare, but if you want to reduce this time, you could follow these tips and get faster well-cooked rice noodles.
Chop your vegetables beforehand
Chopping your vegetables before you start cooking will drastically shorten the cooking time. You shouldn't chop them into very small pieces; rather, bite-sized would be perfect.
Prep your wet and dry ingredients
After preparing your vegetables, you should measure out your sauces and your oil according to what is stated in the recipe; also, remove your rice noodle sticks from the packet. This will make the complete cooking process more convenient.
Rinse off the noodles in cold water
If your recipe involves boiling rice noodles, rinse the noodles in cold running water after you have drained off the hot water. This will help prevent your noodles from sticking, and this will also enable better handling of the noodles.
How to Cook Rice Noodles (Stir-Fry Method)
The stir-fry method should take just about 10 to 15 minutes to prepare. For this method, you need to;
Boil some water for the noodles
Chop some broccolini into bite-sized pieces (you could use any other vegetable on hand) and chop some mushrooms and green onions.
Place rice noodles in a bowl and completely submerge them in the pre-boiled water.
Allow the noodles to sit and soak for about 3 to 4 minutes, stir the noodles to get rid of excess starch, then strain to remove water.
In a pan, sprinkle some olive oil, start sautéing the vegetables starting with the broccolini, because it is the toughest.
Add your soft rice noodles to the pan with the sautéed veggies, add some soy sauce or hoisin sauce and sauté for another 2 to 3 minutes until the noodles are properly coated in the sauce.
Tips on How to Get the Best Rice Noodles
Make sure it says "rice noodles" on the packet
When shopping for rice noodles in a grocery store, make sure you check the packet of the noodles because there is another type of noodle called "glass noodle" or "cellophane noodle," and it is identical to rice noodles. However, these noodles are different because glass noodles are made from beans.
Consider the size of the noodles
Some recipes will specifically call for thin rice noodles, and wide rice noodles may not work for these recipes. It would help if you kept this in mind when shopping for rice noodles.
Pick a rice noodle pack with clear wrapping
To get the best rice noodles, it is always good to pick a packet with a clear wrapping to check if the noodles are broken, uneven, or in bad shape.
Where is it produced?
Picking noodles based on where it produced is often overlooked but can play a huge role in the authenticity of the noodles. For the best results, stick to rice noodles produced in Asia.
Pick fresh rice noodles over-dried
Most rice noodle recipes require the noodles to be slightly or fully cooked before stir-fried. Picking fresh rice noodles will help shorten the cooking time because you do not have to soak them to boil the noodles.
View this post on Instagram

Cooking Time for Rice Noodles
The timing guide in the table below is crucial to obtaining desirable results with cooking rice noodles.
| | |
| --- | --- |
| Cooking method | Cooking time |
| Soaking rice noodles | 2- 3 minutes |
| Boiling rice noodles | 2 – 4 minutes |
| Sautéing rice noodles | 3 minutes |
Print
one

pack rice noodles
Water
Already prepared sauce
---
Instructions
Rice noodles should be removed from the packets and placed in a bowl.
In another pot, pour in three cups of water and heat on medium to high heat until it reaches a boil
Pour the hot water directly inside the bowl of rice noodles. Make sure it is properly covered with water.
Allow soaking for three minutes
Drain off excess water and cook-off in cold running water
Add any sauce of your choice and enjoy.
The quick and easy rice noodle recipe comes out great every time, and anyone with basic culinary skills can prepare it without stress. If you would like to see more recipes, check out this video recipe.