Home-cooked black beans have a considerably more flavorful and richer quality than canned beans, especially if cooked and seasoned correctly. These beans turn out to be rich and creamy but also lively and flavorful, and they make for a really tasty side dish as well as an entrée component. It's definitely a recipe to try!
This article guide is for you if you've ever wanted to learn how to properly make black beans from scratch. Ensure to pay attention to our tips, suggestions, and recommendations in order to get the best results possible with your recipe.
Beans Nutrition Facts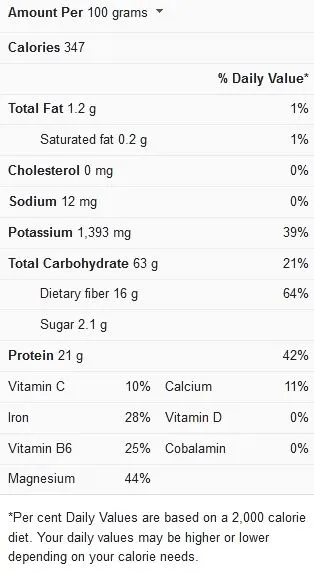 Tips for Cooking Black Beans
Consider the tips and suggestions below in order to get the best possible results with your black bean-based recipes:
Soak the beans – You can soak the beans overnight before cooking them. This procedure is not an absolute necessity, but according to some people, soaking black beans overnight may help with digestion and even cooking. To soak, pour the beans in a large basin with enough water to cover them by 3 to 4 inches, then soak them overnight. The beans will typically grow to be about three times their original size due to the soak.
Comparing cooking methods – It's best to cook your black beans on the stovetop. Stovetop black beans have a reduced, creamy cooking liquid that you'll definitely appreciate. It's excellent, and because the water can't evaporate during cooking, you'll never get the same beautiful cooking juice with Instant Pot black bean recipe varieties.
Assuming you do manage to cook the beans properly, they will be watery. The results from Instant Pot black beans might be good as a substitute for drained canned beans, but they won't make a terrific side dish on their own.
Timing concerns – Cooking beans right from their fresh, raw state has the unpleasant truth that you may never really know how long they'll take to cook. Some beans, especially those that are quite old, will never soften well enough.
If you purchased your beans from a shop with high turnover, they might be ready to eat after only an hour of cooking on the stovetop. They'll most likely be done cooking around 1½ to 2 hours.
Look for a harvest or expiration date on your bag of black beans. Ideally, you should try to cook your black beans within a year from the time of harvest. Keep the beans in an airtight container in a dark, cool area in the pantry when storing them.
If unsure about how long your dry beans have been lying in your pantry, it may be hard to estimate the cooking time or if they'll ever fully cook through. As such, when you choose to prepare beans from scratch, you're taking a chance.
View this post on Instagram

Cooking Time for Black Beans
The ideal timing for cooking black beans is described in the table below:
| | |
| --- | --- |
| Cooking procedure | Cooking time |
| Cooking black beans on the stovetop | 1½ to 2 hours |
| Cooking black beans in a pressure cooker | 30 minutes on high pressure |
Print
Black Beans From Scratch (8 Servings)
---
1

pound (450 grams) of dried black beans, rinsed (this should be about

2 cups

)

3

medium cloves garlic, peeled and gently smashed, use more for garlicky beans

½

medium peeled onion, see notes

1

bay leaf

1

medium lime, halved
Water
Salt and fresh ground black pepper
---
Instructions
Cooking black beans on the stovetop
In a large saucepan, combine the beans, onion half, garlic cloves, and the bay leaf, then cover them all with about 3 to 4 inches of water. Bring this mixture to a boil, covered, over high heat. Remove the lid once it has boiled, then stir the beans and turn the heat down to maintain a gentle simmer.
Cook the beans, stirring periodically, at a gentle simmer for 1 ½ to 2 hours, or until the beans are cooked. If the beans appear to be dry while they cook, add a little extra water into the saucepan.
Remove the bay leaf, onion, and garlic cloves. Sprinkle the beans with salt and the juice from 1⁄2 a lime. Begin with ¼ teaspoon, then keep adjusting until it suits your preference.
Increase the heat to medium and simmer until the fluid around the beans thickens and adheres to the beans, or serve the beans right away to form a creamy gravy. If needed, you can also squeeze more lime juice over the top before serving.
You may also decide to try the pressure cooker method for cooking black beans; follow the instructions below
After rinsing the dried beans, place them in a 6-quart pressure cooker. Combine the bay leaf, garlic cloves, and onion half, then add them to the pot. Fill the pot with enough water to cover the beans by 1½ inch, but not past the "max fill line." 1 teaspoon of a neutral oil should also be added, options to try include vegetable or olive oil (adding the oil keeps the beans from foaming during cooking).
Cook on High Pressure for 30 minutes, then let the cooker naturally release the pressure (it is safe to open the cooker lid when the steam release valve drops). Before using this approach, we recommend reading the user manual for your specific pressure cooker.
Take out the onion, bay leaf, and garlic cloves from the beans, then throw them away. Season the black beans and the cooking liquid with salt and the juice of 1⁄2 a lime. Begin with ¼ teaspoon, then adjust according to your preferences.
Turn the pressure cooker to SAUTE mode and simmer without using the cooker's lid; do this until the liquid gets thicker and starts to stick to the beans. You can also serve the beans right away. If necessary, top with more lime juice.
As you may have already learned, the stovetop method for cooking black beans from scratch is the best, so this recipe promises very flavorful results, especially when cooked following the right instructions. The entire cooking duration is 2 hours and 5 minutes, including a prep time of 5 minutes and a cook time of 2 hours.
If you'd like to see more ways to cook black beans, then we recommend this video recipe.