Pork ribs are delicious when cooked the proper way, and being able to cook pork ribs the proper way may not be something every amateur chef can brag about. The most common way to cook pork ribs would be to grill them, but if you do not own a home grill, or if it's winter, you can also make a delicious and tender pork rib dish using your crockpot (slow cooker).
This article wants to guide you through the process of making very tender and juicy pork ribs; I have also included a very quick and easy pork rib recipe to help you get started if you have no ideas.
Also, follow the timing guidelines in the article for the best results whenever you cook pork ribs in a crockpot.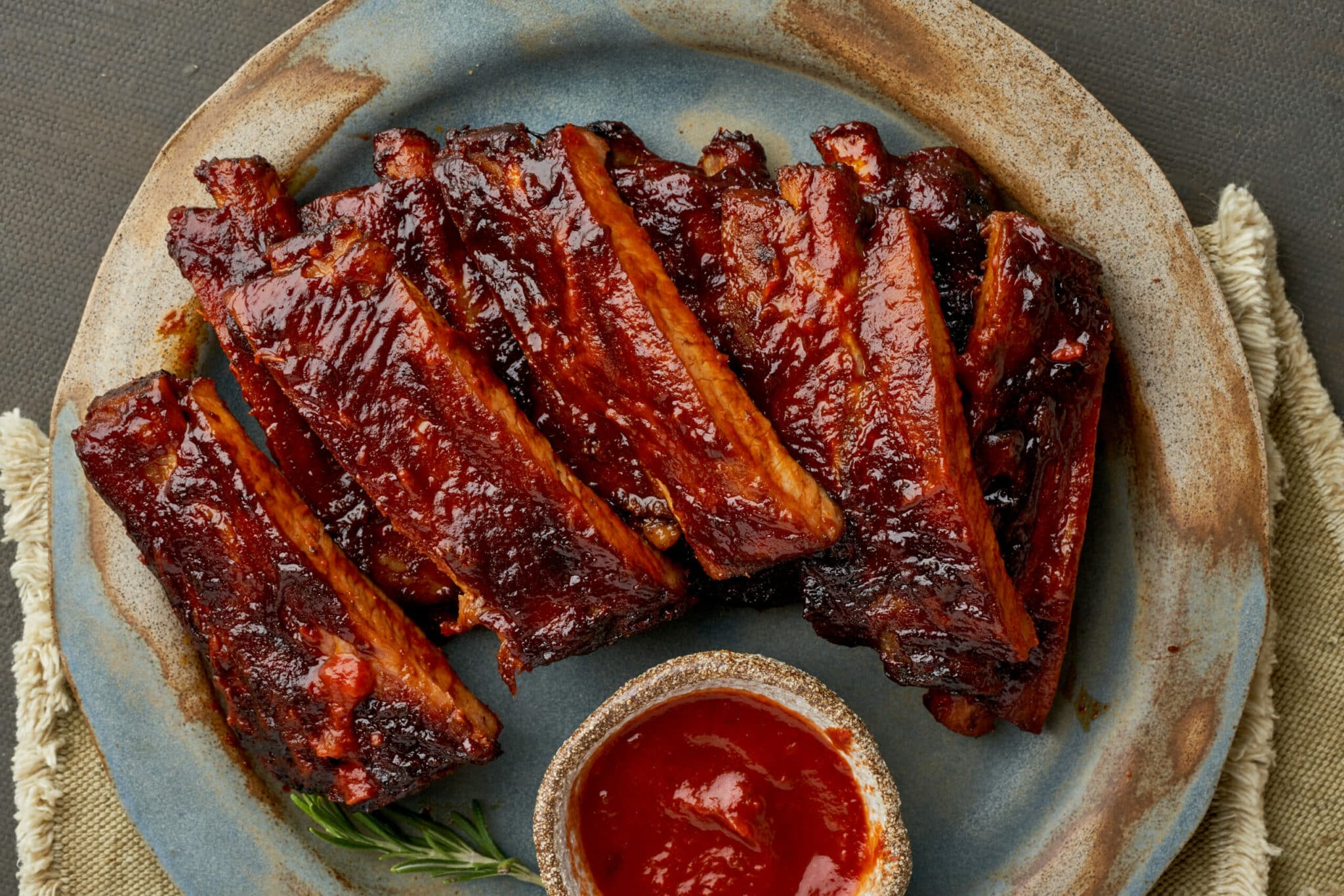 Pork Nutrition Facts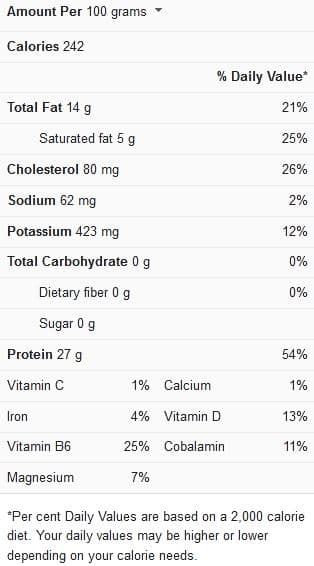 Guidelines to Follow when Cooking Pork Ribs in the Crockpot
Cooking pork ribs in a crockpot may be challenging if you are new to it, but if you adhere to these guidelines, you will be getting the most tender (fall-off the bone) pork ribs each time.
Remove the membrane – No matter how you choose to cook your pork ribs, it is always best to remove the membrane. Whether it is baby back ribs or spareribs, there is always a tough silverskin covering the bone side of the meat; this needs to be removed because it prevents the seasoning from penetrating the meat, and the result is usually an under-seasoned pork rib. The membrane itself would become leathery and unpleasant to chew when cooked. To remove this membrane, make a small cut on it, slide your fingers into it, and slowly but firmly pull back until it comes off; you can also use a paper towel to assist this process because it is usually slippery.
Use a dry rub – Seasoning your pork ribs is very important, and I always use a dry rub when I season my meat. You have to season the front and the back of the pork ribs, not leaving out any piece, and with the membrane gone, the seasonings should stick pretty well. Some chefs would even apply mustard to the meat before adding the rub to make it stick. For a quick dry rub, mix one tablespoon of smoked paprika and one teaspoon of salt, black pepper, onion powder, garlic powder, and ground mustard.
Use a crockpot liner – This step is completely optional, but you should use a crockpot liner because it helps for a quicker clean-up. Many people may find it stressful to begin scrubbing off caramelized barbecue sauce that was stuck on the slow cooker, but using a liner stops all that.
Add BBQ sauce halfway in – You can add your barbecue sauce before cooking the ribs, but to get the best flavor, you should consider adding your barbecue sauce halfway through the cooking process. Waiting for the meat to cook a little before you add your sauce would allow the meat to absorb more of the sauce and, in turn, would get a better-tasting pork rib.
Use an oven – Cooking pork ribs in a crockpot may differ from cooking pork ribs on a grill; grilled pork ribs usually have this beautiful brown color, whereas the one cooked in a crockpot doesn't. To easiest way to fix this problem would be to brush some extra barbecue sauce when the ribs are cooked and place them directly under the broiler setting on your oven; the heat from above will heat the sauce and cause it to caramelize; this will also give your meat a slightly crispy outside.
 

View this post on Instagram

 
Cooking Time for Pork Ribs in Crockpot
To get the best results when cooking pork ribs in a crockpot, follow the timing guidelines in the table below:
Cooking Method 
Cooking Time 
Cooking pork ribs in crockpot on low heat
6 to 8 hours
Cooking port ribs in crockpot on high heat
3 and 1/2 hours
Caramelizing pork ribs in the oven
7 to 10 minutes
Print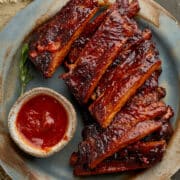 Easy slow cooker pork ribs (1 – 2 servings)
---
3

lbs to 6lbs of pork ribs (baby back ribs or spareribs)
Salt
Garlic powder
Onion powder
---
Instructions
Quickly put together a quick rub by combining one tablespoon of smoked paprika, one teaspoon of black pepper, salt, garlic powder, onion powder, and ground mustard; whisk everything together until it becomes one particular color. You can also make things faster by getting a store-bought rib rub like the Plowboys, Yardbird rub, or Trader Joe's BBQ Rub.
Flip your meat over on a flat surface and make a small cut on the membrane with a knife. Slowly insert your fingers into that cut and pull back; when you have a good piece of that membrane, use a paper towel to help pull it back, and throw it away.
Sprinkle dry rub generously on the meat and rub it into it. Make sure you cover every part of your meat with this rub, flip it over and repeat the same process.
Insert a slow cooker liner in your crockpot and place your pork rib gently into the crockpot; you could stand your meat up so it can cook better.
Set the crockpot to low heat and cook for 6 hours; at this point, add in your barbecue sauce and cook for extra 2 hours
Remove the pork ribs and place them on a baking tray (cover your baking tray with aluminum foil for easy clean-up). The pork rib is completely edible, but the next step is important if you want a restaurant-style pork rib.
After placing your pork rib on the baking tray, brush on some more barbecue sauce (make sure you completely cover the top of the meat with the sauce). Place the ribs directly under the broiler settings in your oven and heat them for about 7 to 10 minutes until they become brown.
Take out the pork ribs, ready to be served. You can serve this alongside any starchy food of your choice.
This delicious rib recipe delivers a "fall-off-the-bone" tender pork rib each time; make sure you follow all the instructions to get the best results. If you'd like to see more recipe ideas, we recommend checking out this video recipe.