You will achieve excellent quality when cooking Brussel sprouts in an air fryer. The hot air from the fryer flows around each sprout, browning, and crisping the outer layers of the sprouts.
Moreover, an air fryer can achieve that crispiness while using less oil, which is one of the reasons it has become so popular. The air fryer transforms the healthy yet plain Brussels sprout into an exquisite appetizer that pairs well with any main course.
Read on as you learn more about cooking Brussels sprouts with Bacon in an air fryer. In addition, I also highlighted some extra tips to guide you through your cooking.
Brussel Sprouts Nutrition Facts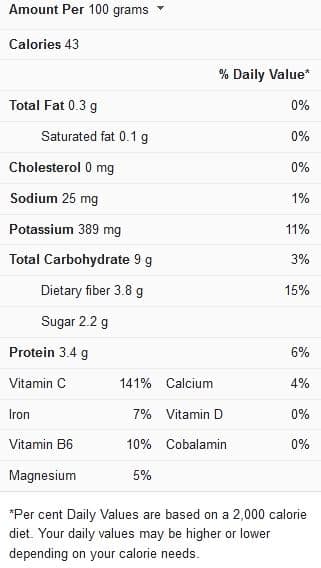 Tips on How to Cook Brussel Sprouts with Bacon in Air Fryer
Cut the Brussels sprouts – Brussels sprouts should be cut into even-sized pieces. Brussels sprouts are thick vegetables, so you will have to cut them into uniform pieces to ensure that they cook evenly.
Frozen brussels sprouts – You can use frozen Brussels sprouts too. You can put the frozen Brussels sprouts in the basket as it is to cook in the air fryer. You can cook for 20-25 minutes, flipping 2-3 times throughout that time. The Brussels sprouts will be entire, crisp on the outside, and delicate on the inside.
Coat the air fryer tray in oil – Before you put your brussels sprouts in the air fryer, you will have to spray the tray with cooking spray to keep them from sticking while you cook.
Season your brussels sprouts – A good amount of oil, salt, and pepper will work well for your recipe. However, garlic salt, parsley salt, or another flavoring salt can also add to the trick. Remember that you will be adding parmesan cheese, so don't go overboard with the salt.
Try to toss your Brussels sprouts with seasonings in a big mixing basin so you can coat each mouthful thoroughly. Then transfer them to the air fryer tray once they have been well-coated.
Bacon – If you follow a gluten-free diet, be sure the Bacon you're using is gluten-free.
Likewise, use sugar-free Bacon if you follow a keto or sugar-free diet.
Pick your cheese carefully – It is important to use high-quality parmesan cheese. You have to skip the "parmesan cheese" shakers in favor of a chunk of the good stuff you will have to grate yourself. When you bite into that exquisite parmesan crust, I promise you'll be glad you did.
Avoid overcrowding – You have to make sure your Brussels sprouts aren't too crowded. Therefore, you will have to arrange the sprouts in a uniform layer in the air fryer tray.
Moreover, when the Brussels are exposed to the hot air blowing around them in the tray, you get that golden brown and extremely crispy Brussels.
However, don't worry if you think you've overstuffed your tray. You can agitate the tray halfway into cooking to reveal any Brussels that may have been hidden. However, you may need to cook them for a little longer to get them crispy and tasty.
Flip it – To prevent the Brussels sprouts and Bacon from burning, you will need to turn them halfway through cooking. You can even flip them 2-3 times for even greater results.
View this post on Instagram

How to Cook Brussel Sprouts with Bacon in Air Fryer
Step 1: Get a pound of fresh brussels sprouts – washed, trimmed, and halved. Larger sprouts should be quartered to ensure consistent cooking and crispness. You might like to purchase pre-washed and ready-to-use bags from the market.
Step 2: In a large mixing bowl, toss the chopped Brussels sprouts with the diced Bacon. Then, you can pour the mixture into the basket of your air fryer.
To help prevent smoke, pour roughly ¼ cup of water into the bottom of your air fryer. Every air fryer is built differently, so you can skip this step if you can't pour water into the bottom of your air fryer – below the basket.
Step 3: You can set the temperature to 375 degrees Fahrenheit and cook for about 18-20 minutes. You will have to toss your Brussels sprouts about halfway through and make sure they aren't burning.
Step 4: The sprouts should have started to brown when they are finished cooking. The Bacon should be browned and fully cooked too.
You can serve these Air Fryer Brussels Sprouts hot with a balsamic vinegar drizzle on top for added flavor. Notably, this simple side dish pairs well with practically any main course.
Moreover, this delectable side dish features crispy Brussels sprouts on the outside and delicate Brussels sprouts on the interior. Seasoned to perfection, then combined with smokey, delectable Bacon. You can add grated parmesan to the finish for a side dish that you will find excellent for any occasion.
How Long to Cook Brussel Sprouts with Bacon in Air Fryer
Preparation Time
Cooking Time
Total Time
5 minutes
17 minutes
22 minutes
Print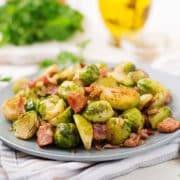 Air Fryer Brussels Sprouts with Bacon Recipe (6 Servings)
---
Description
This Air Fryer Brussel Sprouts recipe with Bacon is incredibly flavorful and tasty. Moreover, the sprouts are cooked with bacon bites, making them extremely crispy.
---
2

lb of Brussels sprouts

One tablespoon

of olive oil

Four tablespoons

of Parmesan cheese

½ cup

of precooked Bacon

One tablespoon

of garlic parsley salt
---
Instructions
Brussels sprouts should be washed and cut into bite-size pieces.
Then combine all of the ingredients – olive oil, garlic parsley salt, and parmesan cheese to season it – in a large mixing bowl.
Fill an air fryer basket halfway with Brussels sprouts.
Preheat the air fryer to 390 degrees Fahrenheit and go on to cook for 12 minutes.
Proceed to remove the Brussels sprouts at the 6-minute mark and shake them to ensure that all sides are crispy.
You can add the Bacon to the Brussels sprouts and cook for another 5 minutes in the air fryer.
Go ahead and serve the Brussels sprouts right away; they are best enjoyed when served hot.
You can watch this video recipe to know more about cooking brussels sprouts with Bacon in the air fryer.