Cabbage is one of those unusual veggies that people either really despise or totally adore. If you don't like cabbage, however, frying it with bacon may be just what you need to change your mind. Give cabbage and bacon recipes a try, and you could find yourself beginning to appreciate cabbage as well.
If you'd like to try cooking cabbage with bacon, you'll need to pay close attention to the instructions, tips, and recommendations in this article. We'll guide you through an easy process that ensures you obtain really delicious results.
Cabbage Nutrition Facts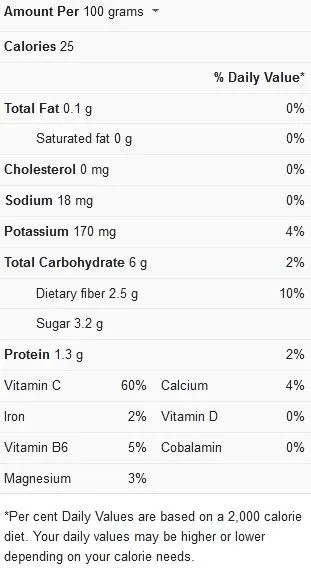 Tips for Cooking Cabbage with Bacon
Cooking cabbage with bacon is an easy and straightforward process, but you have nothing to lose by learning a few tips to guarantee great-tasting results. Pay attention to the following tips:
When chopping cabbage – When you're cutting a head of cabbage, place it on a cutting board with its core facing up and slice it into quarters. After removing the core, slice it into 1/2-inch pieces. If desired, chop the strips. A medium head of cabbage weighs about 2 pounds and yields 8 to 10 cups of coarsely chopped or shredded cabbage.
Don't overcook – Make sure the cabbage isn't overcooked; you want it to be soft but not soggy. When cabbage is cooked for too long, chemical molecules with a sulfur stench are released.
Variation for vegetarians – Replace the bacon with vegetarian bacon or skip the bacon and sauté the onion in vegetable oil for a vegetarian version. Instead of chicken stock, use veggie broth or water.
To replace bacon – Instead of using bacon in your recipe, you could sauté onion in 2 tablespoons of butter, then toss the cabbage with diced leftover ham, smoky sausage, or corned beef 10 minutes before serving.
Other variations – If you want to deviate further from the cooking method described in this article, here are some suggestions:
To make a lighter version, use less bacon or turkey bacon instead.
Add a cup or two of fresh chopped kale to the cabbage to add color and nutrients to the dish.
Toss the cabbage with peeled and chopped potatoes and/or apples.
Caraway seeds go well with cabbage meals; use a tablespoon or two of the seeds if desired.
Storage tips – The best way to enjoy fried cabbage and bacon is to eat them right away, but you may store leftovers in the refrigerator. Allow the cabbage to cool slightly before placing it in an airtight container. Wrap with aluminum foil and store in the refrigerator for three days. The cabbage will become soggy with each passing day; therefore, we recommend cooking it as soon as possible.
Freezing cabbage – You can freeze any leftover fresh cabbage if you don't intend to use it all. Simply quarter your cabbage and then separate the leaves. Freeze for up to 4 weeks in an airtight freezer bag. Defrost it first, then dice and use it when you're ready to use it. It won't have the same crisp texture as fresh cabbage, but it's fantastic in soups, stews, and fried cabbage dishes.
Bacon Nutrition Facts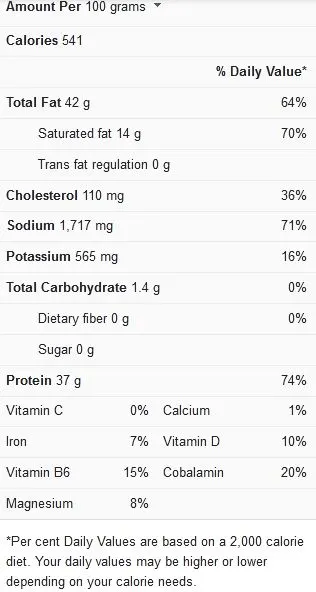 Cooking Cabbage with Bacon
Some popular ways to cook cabbage with bacon include boiling and frying.
To fry cabbage with bacon, follow these easy steps:
In a skillet, cook bacon until the fat is rendered and crispy.
Keep the crispy bacon for serving and a little of the rendered grease to sauté the cabbage.
Cook the cabbage with garlic, red pepper flakes, and a pinch of salt in the bacon grease.
Toss in a little mustard, apple cider vinegar, and the fried bacon from earlier when the cabbage is wilted, sweet, and starting to brown around the edges. The mustard and vinegar give the cabbage a burst of acid, which counteracts the sweetness of the cabbage and the smokiness of the bacon.
Serve and eat.
To boil cabbage with bacon, follow these easy steps:
In a large saucepan over medium-high heat, bring the cabbage, bacon, water, and vinegar to a boil. Reduce heat to low and cover, cooking until cabbage is very soft, about 20 minutes.
Whisk together some water and flour in a small bowl, then gradually add this to the cabbage mixture. Continue to cook for another 5 minutes or until the sauce has thickened. Add salt & pepper for taste.
View this post on Instagram

Cooking Time for Cabbage with Bacon
Follow this timing advice for the best results with cabbage and bacon recipes:
| | |
| --- | --- |
| Cooking procedure | Cooking time |
| Cooking onions in bacon drippings | 4 to 5 minutes |
| After adding chopped cabbage | Cook for 15 minutes |
| If adding extra broth | Cook for an extra 5 to 10 minutes |
Print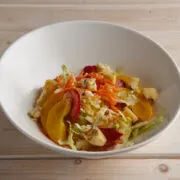 Boiled Cabbage with Bacon (6 Servings)
---
Boiling cabbage with bacon is a basic combination of ingredients that packs a lot of flavor in a plate. The recipe requires no particular preparation; simply dice and sauté the bacon and onions, then add the cabbage and boil for 20 minutes in chicken broth or water.
6

strips of thick bacon

1

large onion

1

medium head of cabbage (about

2

pounds), cored and chopped coarsely

½ cup

of low sodium chicken broth, or more as needed
Kosher salt, to taste
Freshly ground black pepper, to taste
---
Instructions
Assemble the necessary ingredients.
Bacon strips should be diced into 1-inch chunks.
Set aside the onion, after it has been peeled and coarsely chopped.
Cook the diced bacon in a large Dutch oven or deep sauté pan with a lid until it is thoroughly cooked but not crunchy.
Remove the bacon bits to paper towels to drain with a slotted spoon; put aside. About 2 tablespoons of the bacon drippings should be left in the pot.
Cook the chopped onion in the bacon drippings for 4 to 5 minutes, turning regularly, until soft and lightly browned.
Pour the chicken broth over the caramelized onions and chopped cabbage.
Reduce the heat to low and cover the pot tightly. Cook for 15 minutes on low heat.
If the mixture appears to be dry, add more broth or water as needed and continue to boil for another 5 to 10 minutes, or until the cabbage is soft.
Stir in the bits of bacon. Serve after heating through.
Served with ham, pork roast, chicken, or roast beef, boiled cabbage is a delicious side dish. Cabbage goes nicely with beets and carrots, as well as brown or white rice. This side dish is also perfect for a Sunday feast or a regular family dinner.
This recipe can be made in a total of 30 minutes, including a prep time of 10 minutes and a cook time of 20 minutes. If you'd like more ideas on how to cook cabbage with bacon, we recommend watching this video recipe.