The ideal side dish is roasted potatoes (yes, we said it!). They're a fantastic addition to any dinner, but they're particularly well-suited to more traditional meals and holiday suppers. You might be missing out on a lot of good if you've never tried roasting potatoes.
When you decide to try your hand at a roasted potato recipe for the first time, you'll need a lot of information to guide you through the process. Keep reading through this article to find out the basics and helpful tips and timing guidelines for the best results.
Potatoes Nutrition Facts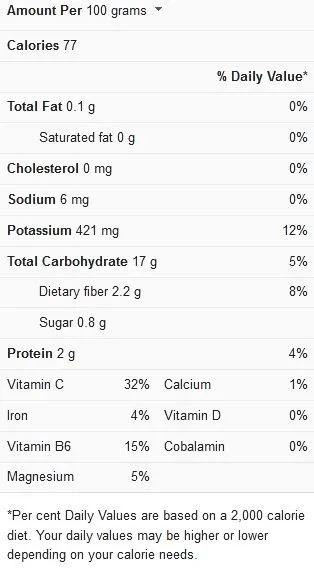 Tips for Cooking Roast Potatoes
You'll be needing these tips when making roasted potato recipes:
The right kind of potatoes to use – In truth, any type of potato, including red-skinned russets, Yukon gold, and even sweet potatoes, can be roasted.
For some intriguing texture and color contrast, you can choose to use a combination of red potatoes and Yukon golds. Crimson potatoes have a fluffy inside, a distinct earthy flavor, and a bright red surface, and Yukon golds have a rich, creamy texture. Certainly, you could use just one type, but varieties can be really great.
Measuring the right quantity of potatoes to use – If you increase the other numbers by 50%, you can bake up to three pounds of potatoes on a half-sheet pan. However, the potatoes will not get as crisp and will likely need a few extra minutes in the oven. If you put more than three pounds of potatoes on a baking sheet, the potatoes will steam instead of roast.
You can roast two pans concurrently by putting the racks in the upper and bottom thirds of the oven. Switch the location of both pans halfway through tossing the potatoes (the pan on the upper rack goes to the lower rack and vice versa).
Peeling potatoes – While peeling potatoes before roasting is an option, it is not necessary. The flavor that the skin of russet or Idaho potatoes adds is very enjoyable, and the appearance and color of red skin potatoes!
If the size of potatoes you're using is small, you can chop them in half or, if they're really small, just puncture them with a fork or knife before baking to let the steam out.
Seasoning the potatoes – You can use dried herbs to season your potatoes, but you can also use them if you have fresh herbs. Because the high temperature causes fresh garlic to burn, it is advised that you use garlic powder in place of fresh garlic when roasting potatoes.
We recommend using garlic powder for a mild but tempting flavor and salt to bring out the best in the potatoes. We also recommend adding some finely chopped fresh rosemary if you have any on hand. While the potatoes bake, the rosemary simmers in the heated oil, imparting herbal flavors to the meal.
Feel free to experiment with seasonings on simple oven-roasted potatoes; they go well with almost everything.
Ideal roasting temperature – One really nice fact about roasted potatoes is that they can be cooked at almost any temperature and are significantly faster to prepare than baked potatoes. You'll discover that a higher temperature produces the crispiest exterior and fluffiest interior.
When potatoes are roasted at 425°F, they get quite crispy outside. You can cook potatoes at a lower temperature if necessary, depending on what else is cooking in the oven (but you may need a longer baking time).
Freezing roasted potatoes – Potatoes freeze quite well, despite the fact that they may not be something you'd think to freeze. Simply place them in a freezer bag and reheat in the oven (or toaster oven) or on the stove in a frying pan.
View this post on Instagram

Cooking Time for Roast Potatoes
Follow the timing guidelines in the table below when roasting potatoes:
| | |
| --- | --- |
| Cooking temperature | Cooking time for 1-inch potato cubes |
| Roasting at 350°F | 45-50 minutes. |
| Roasting at 375°F | 35-40 minutes |
| Roasting at 400°F | 30 minutes |
| Roasting at 450°F | 20-25 minutes |
Print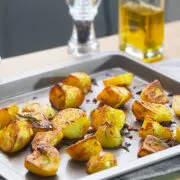 Ultimate Roast Potatoes (4 Servings)
---
1

kg of Maris Piper potatoes

100g

of goose or duck fat (for a luxurious taste), or 100ml/3½ fl oz of olive oil

2 teaspoons

of flour
Maldon salt, to serve for taste
---
Instructions
Preheat the oven to 200C/fan 180C/gas 6 and place a roasting tin in it (one that is large enough to hold the potatoes in a single layer).
Prepare 1 kg potatoes, if they are medium-sized, peel and chop them into 4 even-sized pieces, if they are smaller, chop them into 2-3 pieces, 5cm each.
Place the chopped potatoes in a large pot with just enough water to cover them.
Wait for the water to boil before adding salt. Reduce the heat as soon as the water reaches a full rolling boil, set your timer, and simmer the potatoes, uncovered, for 2 minutes.
In the meantime, heat up100g of duck or goose fat or 100ml olive oil in a hot roasting tin for a few minutes until it's extremely hot.
Drain the potatoes in a colander and fluff up the outsides by shaking the colander back and forth a few times.
Add 2 tsp flour and give them another shake or two to make sure they're uniformly and thinly coated.
Carefully place the potatoes in the heated fat – they will sizzle – then spin and roll them around to coat them completely.
Spread them out in a single layer, with plenty of space between them.
Remove the potatoes from the oven after roasting for 15 minutes and turn them over.
Turn them over after another 15 minutes of roasting. Return them to the oven for another 10-20 minutes, or until golden and crisp, whichever comes first. It will be unevenly colored, which is exactly what you want.
Serve immediately after sprinkling with Maldon salt.
This recipe yields deliciously roasted potatoes that can be enjoyed with any side dish of your choosing. The entire recipe takes a total of 50 minutes to make, with a prep time of 15 to 20 minutes, so it's pretty quick and easy. If you'd like more inspiration on how to roast potatoes, check out this video recipe.